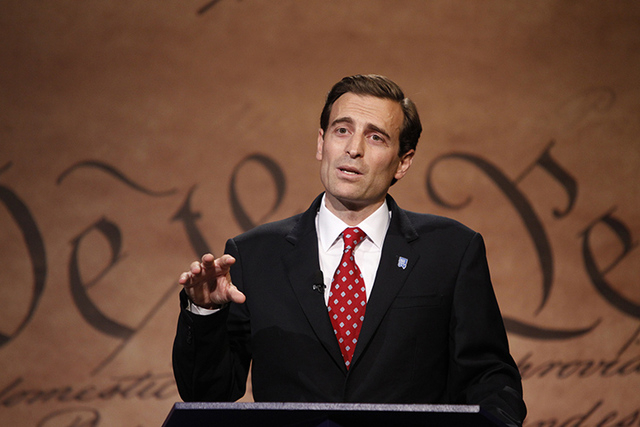 Nevada kingmakers have a new/old name to factor in to the game of future leaders of the state: Adam Laxalt.
He's the grandson of Paul Laxalt and he just got swept in to the Attorney General's office in the 2014 Republican wave.
Oh, and by the way, in doing so he defeated another old name in Nevada politics: Miller.
Laxalt beat former Gov. Bob Miller's son, Ross, sending Democratic kingmakers into head-scratch mode. Ross was to be a factor in the years to come, they figured. But he couldn't parlay his name and his performance as secretary of state (what little there can be in that job) to another statewide win.
The media is at a loss too. Two many of them developed an unhealthy relationship with Miller as secretary of state (check out the banter on Twitter of a few years ago to what I mean). One prominent political pundit again shat upon his credibility by working hand-in-glove with the Miller forces to tarnish Laxalt's ability as an attorney without disclosing his ties to the Miller family. But that's his problem.
Now there is a Laxalt in the picture and no Miller. That's not to say that Ross Miller is politically dead. He's not.
But Adam Laxalt is now the top law enforcement officer in Nevada. He will take over from Democrat Catherine Cortez Mastos, who's tenure has been non-descript at best. He'll have a clear and open field for which to distinguish himself.
If he does that, the Laxalt name is back big in Nevada.
PS: As a matter of full disclosure, all Nevada newspapers endorsed Miller except my newspaper group, Battle Born Media.
PPS: I'm not claiming any special powers for predicting Nevada winners and losers. That's not how we endorse at BBM.
PPPS: Laxalt worked harder in rural Nevada. He visited us in Ely and spent time talking about his vision. Miller was nowhere to be seen.
PPPPS: All candidates running for statewide office should have the drive to visit Mesquite, Caliente, Panaca, Alamo, Ely, Eureka or Mineral County and all points between. Call me old fashioned, but I believe that.