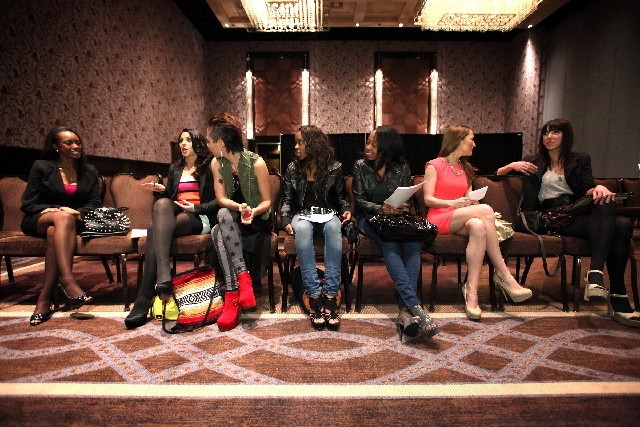 Anxiously waiting to be ushered in to their scheduled audition is an eclectic mix of eight individuals. The group, gathered in a room at a luxury resort on the west side of the Las Vegas Strip, is trying out neither for a role in a film nor a part in a stage play. Instead, they are taking a test to be employees at The Cosmopolitan of Las Vegas.
"We're looking for co-stars who will play a supporting role in the guest's experience. They are auditioning for the role," said Daniel Espino, vice president of people at The Cosmopolitan.
Auditioning is the first step in the application process for future employees, or co-stars as The Cosmopolitan calls them. Espino said this process is an opportunity to see the person behind the application in a fun and interactive social setting.
In much the same way, Solari Hospice Care's concern is how a prospective employee interacts with other health care professionals at the center.
"In hospice, we all work together as an interdisciplinary team, so it's important that the applicant is a good fit for our organization," said Candis Armour, executive director.
"In some cases, we'll bring prospective employees back for interviews with their peer team to make sure the chemistry is there," she added.
The interviews done by Solari Hospice and The Cosmopolitan illustrate different types of interviews that job seekers may face when searching for employment.
The career center at the University of Southern California, in a recent handout, lists the different types of interviews that are commonly used by most employers today .
It is the mission of the USC career center to provide its graduating students and alumni with career counseling services and workshops to aid in a job search.
In the handout, USC said the traditional face-to-face interview is still the most common. The center advises job applicants to focus on the interviewer, listen well and respond appropriately. This advise also is given to those who will undergo a panel interview — focus, listen and respond — to each person in the panel.
Other types of interviews not as commonly used include the telephone interview, stress interview and breakfast or lunch interviews.
"During an interview, you and your potential new employer become acquainted to see if you both might be a good fit," the USC handout stated.
Interviews are the vehicle for an employer to examine an applicant's qualifications, at the same time, the future employee can evaluate the company.
The Cosmopolitan Co-Stars
At The Cosmopolitan, employees are the heart of its operations and they are what define the company's thrust of being different and making a difference. Since opening in 2010, the resort prides itself in being different. In a 2012 interview with CNBC, CEO John Unwin said, "In a market of sameness, The Cosmopolitan is different. It's this difference that matters."
The luxury boutique resort's co-stars are considered as one of its greatest assets, Espino said. "So we take our time to ensure we select the right person for the right position."
True to its culture of being different and making a difference, the careers and employment page of the company's website are not looking for employees. Instead, they search for "professional game changers."
"The Cosmopolitan of Las Vegas seeks an eclectic mix of authentic people — people who want to share their whole selves and experience genuine interactions with others, someone who's out to change the game and provide our guests a story worth telling," states the website, which vow s to make future employees redefine the way they think about work.
"To start with, let's scrap the word employment … also jobs," it state s.
The Cosmopolitan's website also states that the application process is referred to as talent engagement. Applications for any position at The Cosmopolitan are accepted online at www.cosmopolitanlasvegas.com/careers.
"The application process takes longer than some expect. But we feel it's critical to our success," Espino said.
"We're not out to hire a simple set of credentials or a person who looks good on paper. It's more than that. It's someone who has hospitality at their core, deep in their heart," The Cosmopolitan also state s on its website.
After a team reviews online applications, candidates are invited to a group audition, which is the first step in talent engagement.
In the audition, as many as 12 applicants who are vying for different positions at the resort are put together in a room by The Cosmopolitan's talent team.
The talent team, which serves as moderator for the discussion, starts off with a question that is designed to let the applicants share their thoughts, ideas and past experiences. The session ends with "a robust group discussion around the proposed topic."
It is in this stage of the application that potential co-stars get to interact with each other. "The applicants have an opportunity to ask questions about the role, the culture and, generally speaking, what it's like to work here," Espino said.
"Regardless of the position, all applicants participate in our group audition, where we determine if he or she is a good fit for our organization, he said.
After an applicant completes the group audition successfully, he or she will meet with the specific department that he or she is applying for. These meetings can be one on one or in small panels with different members of that department.
Each department also tailors the interview experience for the specific position that is open. "It's a personalized approach to hiring," Espino said.
"During these conversations, the department will look to see if the applicant has the desired experience and will fit well into the team," he added.
After the applicant completes all department interviews , the hiring team will make a decision on the applicant.
Once accepted, the new co-star begins his or her career at The Cosmopolitan with two days of cultural immersion. "During this training the new co-star learns the ins and outs of our culture, our policies and procedures and what it takes to be successful in our organization," Espino said.
Although The Cosmopolitan asks for the requisite educational background and licenses, and although skills and work experience also count, one thing that it looks for in a potential co-star is passion.
"We look for passionate people who are masters of their craft," Espino said . "(We look for) people who want more than a paycheck, (who) are excited each day for a new adventure."
The vice president also said potential co-stars at The Cosmopolitan are those who "have hospitality in their heart and who will leave guests with a story worth telling and a feeling worth returning to."
"They want a place to belong to, to make a difference, to create a new experience for our guests and fellow co-stars," Espino said. "They see working at The Cosmopolitan as an opportunity to make their mark in hospitality."
An employee's hospice heart
Although passion is paramount at The Cosmopolitan, compassion is the crucial character trait that Solari Hospice Care looks for in future employees.
"Our employees must have a willingness to get involved with people in the final stages of their lives. It's not always easy. It's a stressful and intimate time," Armour said.
"Our employees need to have emotional strength and character to do what they do," Armour, a registered nurse, said.
"Someone can have a stellar resume but lack the necessary people skills to work with terminally ill patients," she added.
In its website, Solari Hospice Care said the center is designed "for hospice patients and their loved ones to feel as if they were in a home away from home."
Solari's inpatient home in Las Vegas at 5530 S. Jones Blvd. is one of the few free-standing centers in the country that is exclusively devoted to hospice care. Another Solari inpatient home is in Houston .
At the Las Vegas home, a specially trained team of physicians, pharmacists, registered nurses, certified nursing aides, administrative staff and counselors "offers the most sensitive and comforting care designed for each patient's unique needs."
Armour said employees of the hospice tend to fall into two camps. The first group is composed of those who develop a "hospice heart" and stay with the facility forever, "because they can't see themselves doing anything else," she said.
The second group is composed of those who stay for a year or two and decide that working in a hospice is not right for them.
"More than just a job, hospice is a calling. We're always on the lookout for employees with the right set of skills, education, heart and mindset," Armour said.
Solari Hospice Care advertises jobs in the classifieds and on job search engines. After a job has been posted and applications are received, the supervisory manager of that position begins screening resumes of applicants to see who best matches the qualifications.
In this stage of the screening process, Armour and the rest of the hiring team searches for tell tale signs that an employee is less than honest.
"(This is because) the most important quality aside from education and experience is honesty. If I spot discrepancies or exaggerations on a resume, a red flag immediately goes up in my mind," Armour said.
In most positions at Solari Hospice, employees work by themselves in patients' homes. They do not punch a time clock or check in at the office. "So there needs to be a strong comfort level of honesty and trust that they are carrying out the tasks they have been assigned," Armour said.
It is on these trips that Solari Hospice employees' dependability is needed as well. They need to take direction well and be self-starters who are willing to take initiative, she said.
"Our employees often travel to the homes of hospice patients and their caregivers, so we need to trust that they will professionally and competently represent our company at every interaction," Armour said.
Once the field of applicants has been narrowed , hiring managers would set up the interviews.
The applicant will get to talk to at least two managers including the supervisory manager and another manager who would regularly interact with that employee. There are times when interviews are done in groups.
"Our interviewing process at Solari Hospice Care is consistent in that all employees must interview with at least two managers prior to being hired," Armour said Managers "tailor the interview questions to the specific job traits and skills we're seeking."
"For example, we're not going to ask the same set of questions to a nurse as we would to a secretary or billing coordinator. We're going to delve into different topics," she said.
But one topic that will always surface in every interview is the hospice itself. Managers, during the interview, will ask, "What do you know about hospice? What do you know about Solari? Why do you want to work here specifically?"
"I don't expect a long dissertation, but I do expect that a prospective employee has done some homework and can converse intelligently about the hospice industry and our company," Armour said.
"Sometimes, that's just a matter of spending a few minutes looking through our website or going onto our Facebook page," she added.
After the interviewers have conferred and compared notes about an applicant, and the requisite background checks are completed, Solari extends an offer to the best candidate.