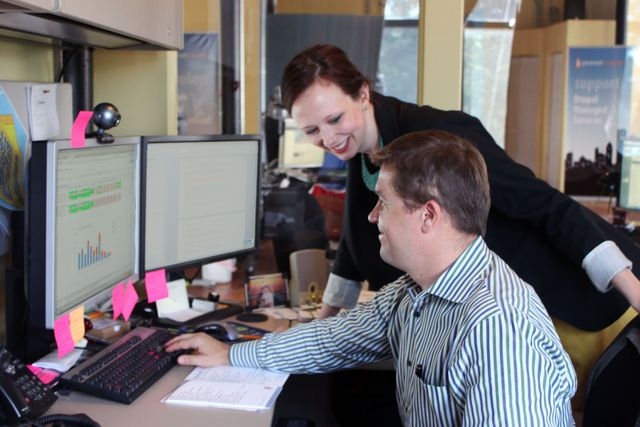 What gets people hired? Let successful former job seekers describe the smartest job-hunting tactic they ever used in their careers. Of the four here, one reduced his reliance on online searching, another decided to be who she is, a third sourced contacts from the business that let her go and a fourth relentlessly followed every lead.
DETOX ONLINE
Scott Barlow gave his new employer six months' notice. Then he called and interviewed for human resources positions in 19 companies that really appealed to him. In five months he had five offers. He now works as an HR manager at ConAgra Foods Inc., where he started in 2010.
Simultaneously during the search, "I was meeting with friends of co-workers for fun to help them progress in their careers," he says. He founded Happen to Your Career LLC in Moses Lake, Wash., where he's officially a coach.
"The smartest thing that I ever did was to not worry so much about open job postings online," Barlow says. "They have too much competition."
TRUE-TO-SELF
Maggie Graham hid her personality in her 20s for corporate America, a real challenge given her years in theater. She also wore "corporate" clothes. A product development firm allowed her to work at home when she started becoming comfortable with herself.
"I realized that within business," she says, "there's absolutely room for people to be 100 percent themselves, and it's respected. I didn't have to pretend to be average."
A comedian in her off-hours, Graham referred in cover letters "to conversations with toothless hobos and linked to my absurd Facebook profiles and articles outlining my comedy. In interviews, I was a bit outlandish, never obsequious."
If she didn't understand something, she'd admit it outright, just as she would with a friend.
Her short-lived search began in mid-May and ended in August. She landed a job as marketing manager at Promet Source, a website and mobile application developer in Chicago. She'd had another offer and two promising interviews scheduled the week she'd agreed to join Promet.
MOST RECENT COLLEAGUES
Carly Fauth, an inveterate networker, lost her job through a budget cut but job-hunted only two months.
"I contacted every single person I'd worked with at my previous job," she says.
The winner proved to be a former customer in her old job with whom she'd only been working recently.
"I also checked out traditional job boards and chatted up college classmates," she says, "but nothing seemed to work."
In about a month, Fauth closed on the CEO at Money Crashers, a personal finance website in Denver. As director of marketing and outreach, she works virtually from Milford, Mass.
TRY EVERYTHING
Days before receiving his graduate degree, Brian Kelley learned about an internship. He'd been job hunting for about 18 months and getting practical experience consulting in local government while taking classes. Kelley didn't want an internship, but applied anyway. The nonresults of his search — more than 100 resumes, numerous follow-up calls, a few interviews, then nothing — motivated him.
"I figured that I mustn't turn down any potential opportunity," he says.
After one-and-a-half years of job-hunting, he started in management, full time, at Portage County in Ravenna, Ohio. That was 23 years ago. Today he's chief information officer.
Are bells ringing? Even if they are, think about the smartest thing you ever did in a job hunt. How about updating it and trying it again?
Dr. Mildred L. Culp of WorkWise® welcomes your questions at culp@workwise.net. © 2013 Passage Media.