Judicial candidates: Catherine Ramsey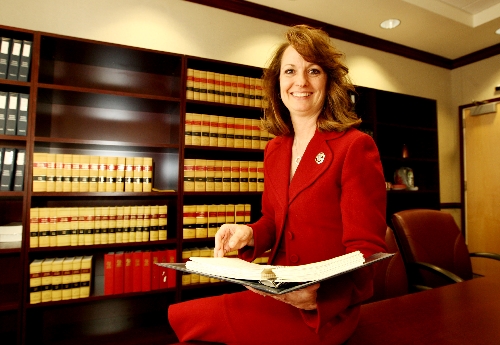 Catherine Ramsey began working when she was 13 years old as a papergirl for the Las Vegas Review-Journal.
At 16, she worked at McDonald's, climbing her way up to an assistant manager position and paying her way through college.
The 46-year-old city prosecutor is a candidate for North Las Vegas Municipal Court judge Department 1. Her mother is her campaign manager.
Ramsey is running against Marsha Kimble-Simms, 50, an attorney with her own law firm. The pair will square off during the June 7 general election.
During the primary, Ramsey took 37 percent of the vote. Kimble-Simms had 35 percent. Only 131 votes separated the candidates, one of whom will become the city's first female municipal court judge. The six-year position pays $148,438 per year. The court handles misdemeanor cases such as traffic, petty larceny, trespassing, domestic violence and DUI.
Incumbent Judge Warren VanLandschoot is retiring.
According to the 2010 Nevada Judiciary Annual Report, North Las Vegas Municipal Court has the busiest judges in Southern Nevada. There were about 9,062 cases filed during the last fiscal year, meaning the court's two judges dealt with 4,531 cases each.
If elected, Ramsey said she wants to help the financially strapped city bridge a $22.6 million budget gap by working closely with police administration to find ways to save money.
In October 2010, the North Las Vegas City Council voted to lay off 43 detention center workers and send one-third of the inmates to a federal detention center in Pahrump. Another round of layoffs is expected to hit city employees by the summer, and Ramsey said she's worried about the court losing more resources.
"The biggest thing that affected this court was the closing of the detention facility," she said. "… It's very concerning when the court needs an avenue to fight crime and, because of the city's circumstances, we might not have a facility to help the court. But we adjusted when the economy hit, and we've been able to keep going so far without compromising public services to the community."
Ramsey has worked for the city since 2007.
Before that she worked in private practice and as a deputy district attorney for Clark County.
"I've worked here every day for four years," Ramsey said. "I've listened to concerns from the community, and I know how to make it better.
"Citizens want a judge who is independent and fair. I know I have those qualities.
"I understand those values necessary to protect every day people who come into this court."
Ramsey is a graduate of Boyd Law School at the University of Nevada, Las Vegas, and was licensed to practice law in Nevada in 2002.
"To be a judge requires a special type of wisdom you gain through experience," she said. "You need to make immediate decisions when people come in front of you. … People want to be protected from crime and want their children and elderly protected.
"Everyone deserves a level playing field.
"As a judge, I'm dedicated to providing one. The law needs to work for the little people, not just the rich and the powerful."
According to campaign finance reports filed in March, Ramsey received the most money in the primary with $30,075.
Ramsey has lived in North Las Vegas since 1967. She is married to her husband, David.
They have four children, Clarissa, 17; Cory, 15; Kira, 12; and Katie, 2.
Ramsey enjoys skiing, hiking, camping, water sports, oil painting and scrapbooking.
For more information about this candidate, visit catherineramsey.com.
Contact Downtown and North Las Vegas View reporter Kristi Jourdan at kjourdan@viewnews.com or 383-0492.
Early Voting
Early Voting/In-Office Voting for the city's municipal general election will take place May 18 through June 3. Any registered voter residing in the city of North Las Vegas may vote by mail. A written request for a mail ballot must be received by 5 p.m. May 31, in the office of the Clark County Registrar of Voters. For more information, go to clarkcountynv.gov/vote.
Early Voting is scheduled from 8 a.m. to 5 p.m. at the North Las Vegas City Hall, 2200 Civic Center Drive, and from 8 a.m. to 5 p.m. at the Clark County Election Center, 965 Trade Drive, Suite B. For a list of nine other early voting locations, dates and times in North Las Vegas, visit the City's website at cityofnorthlasvegas.
com.
For more information, call the City Clerk's office at 633-1030.