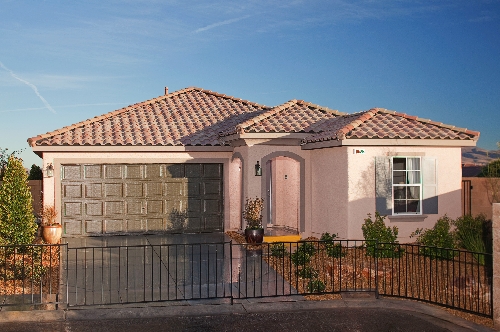 KB Home is giving its homebuyers a $5,000 credit to use at its Home Studio through April 10. It's part of the builder's celebration of its Built to Order customer program in some Vegas Valley communities.
The program allows homebuyers to choose personalizing details at the Home Studio, such as kitchen upgrades, master bath retreat or hardwood floors.
The program also allows homebuyers to choose their neighborhood and homesite.
Some of the KB communities offering this and other financial incentives are located in Providence, a master-planned community in the northwestern Las Vegas Valley.
That community's Brighton Coventry collection features a 1,670-square-foot, single-story, ranch-style home. Three additional plans range from 1,914 to 2,602 square feet with as many as five bedrooms, 2½ baths and two-car garages.
All homes are designed to be open and flexible, with great rooms located toward the back, adjacent to the kitchen.
In some plans, a traditional den space can be converted into an additional bedroom or utilized as a home office, study or media room.
The $5,000 studio credit is also available to shoppers at Brookhaven, a gated community that offers five Built to Order floor plans ranging from 1,612 to 2,165 square feet. The two-story home designs include up as many as five bedrooms, three baths and two-car garages.
After a buyer selects the neighborhood and home design they want, they set an appointment with a personal design consultant at the KB Home Studio where he or she can start spending the $5,000 credit in a retail-like showroom.
Shoppers can see and touch a variety of personalizing options available for their new home, which include carpeting and cabinets.
All KB new homes in Las Vegas earn both the Environmental Protection Agency's Energy Star as well as NV Energy's Energy Plus certification.
Features like programmable thermostats, radiant-barrier roof lining, low-e windows and efficient heating and cooling systems all help keep household utility bills low, according to company officials.
In fact, a new Energy Star-qualified KB home is up to 45 percent more efficient than a home built as recently as the 1990s and an Energy Plus-certified home is 15 percent more efficient than that, according to company officials.
KB Home is providing home shoppers with an estimate of their monthly energy utility costs. It's called the Energy Performance Guide, or EPG.
Introduced earlier this year and displayed in all model homes, including those at its Las Vegas communities, the KB Home EPG is a numerical rating of a home's energy efficiency and allows buyers to better understand what their monthly expenses will total. KB Home officials said they are the first national builder in the industry to provide such a rating for all its homes.
Similar to the miles per gallon rating, or MPG, which reflects fuel efficiency of an automobile and is a standard disclosure requirement when purchasing a car, the KB Home EPG informs homeowners and prospective buyers about the relative energy efficiency the home. This provides them with an estimated dollar amount for monthly electric and gas energy costs for the home as it was designed.
For more information, call 888-KB-HOMES or visit kbhome.com.