Knowing Vegas: What's the deal with the orb outside Container Park?
November 25, 2015 - 3:26 pm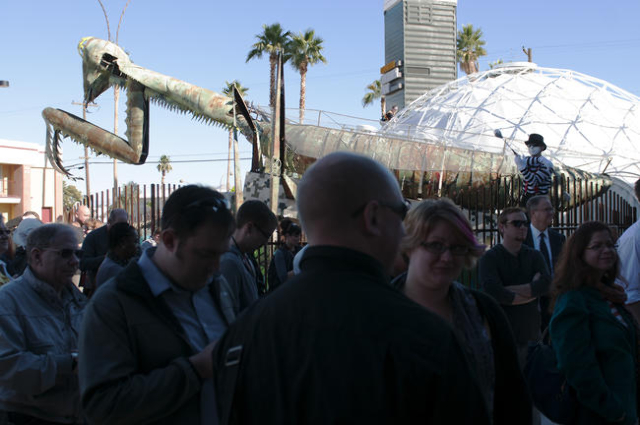 It's impossible to miss, even next to the likes of a fire-spitting praying mantis and a park made of storage containers.
But what exactly is the giant white — sometimes lit-up in various colors — igloo-looking thing that, at first sight, appears to be nothing more than a decoration in front of Container Park?
"It's actually used for private events, specifically cocktail reception mixers," explained Maria Phelan, spokeswoman for Las Vegas' Downtown Project.
Phelan said the orb, named the "Immersion Orb" after owner Vortex Immersion Media, has a capacity of about 75 people. It debuted at Container Park's grand opening in December 2013.
The spokeswoman said the orb is for rentals only, and isn't open for public viewing during the day.
Private events at the Immersion Orb are "more informal," Phelan said, and are "arranged in advance."
"I don't think we've done anything as formal as a wedding reception or a banquet in there."
The Immersion Orb's owners are "working on expanding" the dome's usage, Phelan said. She hopes to have more details in early 2016.
Contact Chris Kudialis at ckudialis@reviewjournal.com or 702-380-4593. Find him on Twitter: @kudialisrj

Worker behind praying mantis may have hottest Las Vegas job — PHOTOS