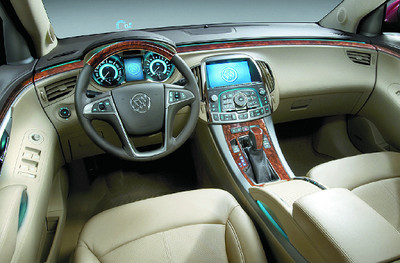 "Wouldn't you really rather have a Buick?" was the question posed by General Motor Corp.'s up-market division years ago in its advertising copy.
If the same question were asked today about the 2010 Buick LaCrosse, the response would have to be a "yes."
When considering out-of-the-box planning, the LaCrosse, due out later this year, certainly breaks away from the pack. The car is based on the Invicta concept that was partially designed in China (Buick sells a whole bunch of cars there) and was first displayed at the 2008 Beijing Auto Show. In addition, the platform and the various body panels were developed with help from GM's European engineering team, while the powertrain components come from North America.
This global effort resulted in what GM design chief Ed Welburn called "modern elegance." Put another way, the new LaCrosse is easily the best-looking sedan to roll down Buick's assembly line in years and makes the outgoing model appear instantly outdated. The gracefully shaped nose, muscular flared fenders that barely manage to envelop the (up to) 19-inch wheels, sensuously creased doors and tapered rear deck contribute to the car's planted appearance.
Crack open the doors and prepare to be doubly impressed. The shortcut-free cabin is yet another shining example of GM's interior design prowess. It's most welcoming characteristics include a two-tone dashboard/control panel that envelops the front passengers in cocoonlike comfort. An understated ribbon of ambient lighting extends ringlike across the upper dash area and illuminates the console and door panels. Even the available faux wood trim attached to various surfaces (including part of the steering wheel) has been tastefully applied.
True to its full-size roots, the new LaCrosse is dimensionally similar to the 2009 car in most respects, however, it's 450 pounds heavier than the outgoing model.
The base LaCrosse CX and midlevel CXL use a 255-horsepower 3.0-liter V-6 that replaces the previous 200-horse 3.8-liter V-6. For more spunk, the top-end CXS receives a 280-horsepower 3.6-liter V-6.
Both powerplants are controlled through paddle-shift-equipped six-speed automatic transmissions, two gears more than the previous LaCrosse used.
Not unexpectedly, the 300 horsepower 5.3-liter V-8 installed on 2009's "Super" trim level appears to have been permanently excised from the lineup in the interests of fuel economy.
The LaCrosse CX presents bargain-hunting Buick shoppers with plenty of standard content, headed by air conditioning, cruise control, cloth seats, various power-operated controls and 17-inch wheels. Many discerning buyers will likely shift to the CXL with its dual-zone climate control, leather seats (heated in front), fog lamps and 18-inch wheels. Selecting the CXL is mandatory for outfitting your LaCrosse with Buick's on-demand all-wheel-drive setup.
The range-topping CXS receives its own active suspension that constantly adjusts the shocks and struts in accordance with road conditions to maintain maximum ride control. Heated and cooled perforated leather seats and chrome-plated 18-inch wheels (19-inch rims are available) also come on the CXS.
A Buick wouldn't be a Buick without an arm-stretching options sheet. Along with upgraded audio components, navigation and DVD entertainment systems and automatically adjusting headlamps, you can spring for a power rear-window sunshade and a rearview camera. A head-up display projects the speedometer reading onto the windshield while blind-spot monitors built into both outside mirrors warn when adjacent traffic is approaching.
On paper, the new LaCrosse will tempt nontypical (as in younger) Buick buyers in its direction. It has most of the design and content you would ever want in a midluxury sedan and its overall build quality is above reproach.
A few years ago, the question of "wouldn't you rather have a Buick" might have gotten a mixed reaction, but today's LaCrosse will get the nod from a wider range of buyers who might not have considered this 100-plus-year-old brand as being stylish enough or technically savvy.