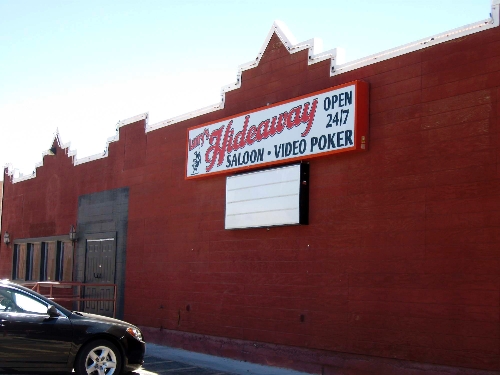 Larry Lapenta came to town a penniless Connecticuter with a sixth-grade education and high hopes.
When he died in January 2006, Lapenta was a Las Vegas pioneer of adult entertainment and the modern-day cowboy saloon who had lent his name to well-known business ventures: Larry's Hideaway, formerly Larry's Old Ranch House restaurant, and Larry's Villa.
Lapenta built a reputation as a workhorse and a gentleman who always said hi to everyone. He died with a robust trust and plans to protect the small dynasty he made from nothing.
But things don't always go to plan.
Despite Mayday efforts by Brent Howard, trustee and president of Lapenta's trust, Larry's Hideaway succumbed to the economic downturn. The closure made headlines when a water rate hike, piled atop other rising costs, put Howard in over his head, he said.
Conditions look bleak at Lapenta's other flagship business, also.
Larry's Villa, the first topless club in Las Vegas, may have about only five years left in business if its landlord follows through with plans to sell the shopping center that surrounds it, Howard said.
Howard was Lapenta's accountant for 20 years, and he took over his affairs near Lapenta's death.
The pair met at Larry's Villa when Howard was a teen.
The men maintained a professional relationship, Howard said, but Lapenta supported Howard's political aspirations and was among his first election donors.
Lapenta died of pneumonia in 2006, but Howard believes that mold in Lapenta's longtime Spring Valley home contributed to ill health in his later years, he said.
"I wish I could have put all the pieces together when he was alive," he said. "I wasn't a super-close friend – I was a business associate. But during his last few years, when he went on vacation, he'd feel better and come home and feel worse again."
He was 84 when he died.
An avid reader, Lapenta's mind was sharp up until the end, Howard said.
"He was a hard-charging individual that was learned," Howard said. "He studied and understood what to do. That's how he built all these places."
In addition to Larry's Hideaway, which opened in 1962, and Larry's Villa, which followed in 1972, Lapenta owned a True Value hardware store on Rancho Drive and a place of worship.
Lapenta was born Nov. 22, 1921, in Hartford, Conn. He served in the Navy during World War II and moved to Las Vegas in the late 1940s. He worked as a bell captain and maitre d' to save the bankroll to open a steakhouse, Howard said.
Photos of Lapenta helping build Larry's Old Ranch House lined the walls for 50 years, Howard said. The ranch house served high-end steaks and seafood until Lapenta decided he wanted to convert the space into a dance hall, he said.
"Even in his 60s, Larry enjoyed having a party," Howard said.
Lapenta renamed the honky-tonk Larry's Hideaway because it was tucked away at the corner of Rancho Drive and Cheyenne Avenue. Lapenta enjoyed a two-step with older women, Howard said.
Financial issues regarding Lapenta's assets are nothing new for Howard, he said.
He took over the trust in early 2006, when values were high and the Internal Revenue Service revised its estate tax law, Howard said.
The trust took blows as inflation and the cost of minimum wage rose.
Howard has also struggled to sell a plot of land near Rancho Drive and Cheyenne Avenue, he said. The parcel was once worth $5 million, and Howard fears it now hovers around $300,000 in value, he said.
Lapenta had three sons and two daughters, but they weren't awarded assets in Lapenta's will, Howard said. Several grandchildren were allotted monthly financial support, but Howard said that may cease soon.
Howard toyed with moving Larry's Hideaway and Larry's Villa, but zoning, licensing and permits stopped that plan, he said.
"What do you do?" Howard said. "I've been fighting it for six and a half years and I'm a bit worn from it all."
Howard was unsure how Lapenta would view the turmoil surrounding his namesake empire.
"He was a humble man who tried to treat everyone well," he said. "He enjoyed helping people and tried to keep his employees working. I'm discouraged that it has all come to this."
Contact Centennial and North Las Vegas View reporter Maggie Lillis at mlillis@viewnews.com or 477-3839.