Las Vegan recalls 'chilling' Cosby scene
November 29, 2014 - 10:15 pm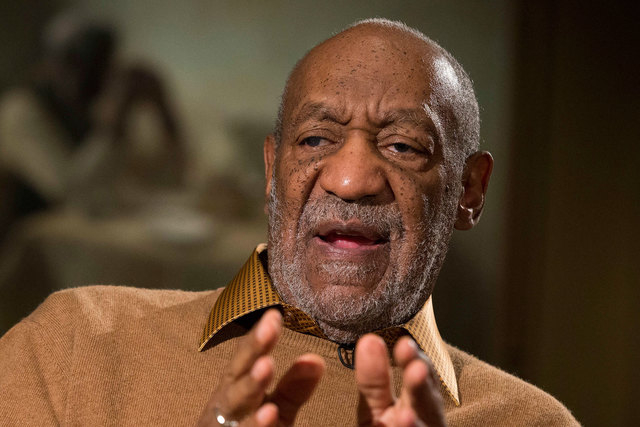 Bill Cosby used tennis to court women during his Las Vegas headlining days, according to a Las Vegas resident who says she was among those targeted.
In a blog last week, and an interview with the Review-Journal, longtime Las Vegas resident Donna Tagliaferri recalled a terrifying incident after meeting Cosby in the mid-1970s through tennis.
She had had moved here from Texas with her parents in her teens and was a tennis version of a gymrat, Tagliaferri said.
During her early 20s, she worked nights at the Cambridge Racket Club and played pickup matches most days at Caesars Palace.
She hit balls with guests and VIPs and after lessons with the pros, she would pick up balls and wash the courts.
"Not very glamorous, but it was when tennis was the thing to do and Caesars was the place to be," she wrote.
She played with Cosby several times "and he took a great interest in me. I was young and his interest seemed 'dad like.' I thought he just enjoyed playing tennis and needed someone to hit balls with.
"He even joined me on the indoor courts at the Tropicana where I played every Monday with a friend. To me, it was all about tennis, having fun playing tennis. I certainly didn't think he was dangerous. Underscore, he never acted dangerous."
Cosby took an interest in her "beautiful" friend at the Tropicana and "ingratiated himself," but the friend was married and had no interest, she told me.
About six weeks after her tennis relationship turned into a Cosby friendship, Tagliaferri accepted a dinner invitation from him and took her girlfriend, Wendy, a DJ at the Hilton's disco.
After dinner, when they returned to the Hilton, where Cosby was headlining, he asked if she would like to have a tour of his hotel room, the famous suite where Elvis stayed when he was performing at the Hilton.
She asked Wendy to come along, even though she considered Cosby "harmless."
After a brief tour of the penthouse, "things changed dramatically and quickly," she wrote.
"He made it clear to me in a very aggressive way what his intentions were. He chillingly said to me, 'I will have you.'
"Those words are imprinted on my brain along with the evil I felt. My first thought was, 'No you will not.' Then shock took over, and when words wouldn't come a paralyzing feeling did.
"Wendy started talking very fast, she was explaining that she had to get back to work, she would surely be missed and how would she explain that and that I was going with her.
"Wendy never left me. For that one instinctive act of love and protection, I will never be able to thank her enough. It is a blur (on) how we left or what force propelled us out of there, but we were safe."
Tagliaferri, who operates a catering company, said she has been shaken by reading recent allegations that Cosby drugged his victims.
"I have no way of knowing what would have happened if Wendy had not been there. What I do know is his words were an assault to me never to be forgotten. And the betrayal of a friendship was staggering."
She never interacted with Cosby after that. When they met in passing, "he acted as though nothing had occurred."
"A case can easily be made that I was foolish and starstruck, and I never should have gone to his room, agreed … but nothing I was foolish of warranted the treatment I received."
In a telephone interview, Tagliaferri said, looking back, she's convinced "it was something he had done many times before. It was how he got people to trust him."
"He may have outdone Wilt Chamberlain," she said, referring to the NBA star who claimed his conquests surpassed 20,000.
Cosby has come under fire amid allegations by women accusing him of sexual assault.
Cosby's Nov. 28 appearance at TI was canceled amid allegations by women accusing him of sexual assault.
EL SOMBRERO'S RESPONSE
The billboard is gone but not the bad blood in the simmering restaurant rivalry between El Sombrero and Mundo management.
Irma Aguirre, co-founder and general manager of the reopened El Sombrero, said the short-lived billboard placed above her restaurant is the tip of the iceberg of her dispute with Mundo, an upscale restaurant she helped establish five years ago with boyfriend George Harris.
In an email, Aguirre said she was disappointed by the billboard move that was "arrogant, bullyish, mean-spirited and disturbing considering the context of our current situation."
That situation, she said, is that she had sued Harris for "violating my civil rights and for wrongfully terminating me after I ended our personal relationship and for engaging in what is now a three-year defamatory and slanderous campaign against me."
Harris was quoted here last week as saying "she's the one who quit. She's basically taken the Mundo restaurant and took it down the block."
Aguirre said she and her culinary team are "extremely offended by his latest libelous accusation (about copying the menu)." She added: "El Sombrero's culintary team and I have have spent countless hours developing an original menu and one that is being celebrated and honored by numerous food critics that do understand the differences."
SIGHTINGS
Comedian Wanda Sykes, having lunch at La Cave (Wynn) on Saturday. … Celine Dion, touring the Magical Forest at Opportunity Village on Wednesday. It was her latest show of support for the nonprofit since she began her residency at Caesars Palace in 2003. … Steve and Andrea Wynn, dining at Lavo (Palazzo) on Wednesday with Eric Bolling, co-host of Fox News' "The Five," and his wife Adrienne. … Planet Hollywood Resort headliner Jeff Dunham, with his wife and in-laws at Strip House (Planet Hollywood) for Thanksgiving. … Comedian Brad Garrett, with a party of 29 friends and family members at Crush (MGM Grand) for Thanksgiving. … Grammy-winning Mexican superstar Luis Miguel, with friends at Surrender nightclub's "Twerksgiving" party at Encore (Wynn Las Vegas). … Former NFL quarterback Warren Moon, at Lavo (Palazzo) on Friday with friends. … Steve Schirripa of "The Sopranos," dining on the patio at The Palm (Forum Shops at Caesars) on Wednesday. … Correction: Singer and songwriter Jack Jones was mistakenly identified as a country icon in Wednesday's column.
THE PUNCH LINE
"Director Oliver Stone says he's going to make a movie about Vladimir Putin. I can't believe anyone would want to work with that insane communist. And Putin is a little crazy as well." — Craig Ferguson
Norm Clarke's column appears Sunday, Monday, Wednesday and Friday. Reach him at 702-383-0244 or norm@reviewjournal.com. Find more at normclarke.com. Follow @Norm_Clarke on Twitter.
RELATED STORIES:
Cosby deposition shows agreement to quash accuser's story
Bill Cosby charmed fans in 1990s Denver
Bill Cosby refuses to address sexual abuse claims
New Bill Cosby rape accuser speaks out
Model Janice Dickinson claims she was raped by Cosby
Bill Cosby dismisses questions about allegations — VIDEO
Cosby's Las Vegas show at Treasure Island canceled
Fla. woman accuses Cosby of 1976 rape in Las Vegas
Why is Bill Cosby in trouble now, but not then?
Ex-NBC employee on Cosby: 'He had everybody fooled'
Bill Cosby shows canceled in Washington, Connecticut