Las Vegas' Amazing Johnathan plans to ease back into showbiz in January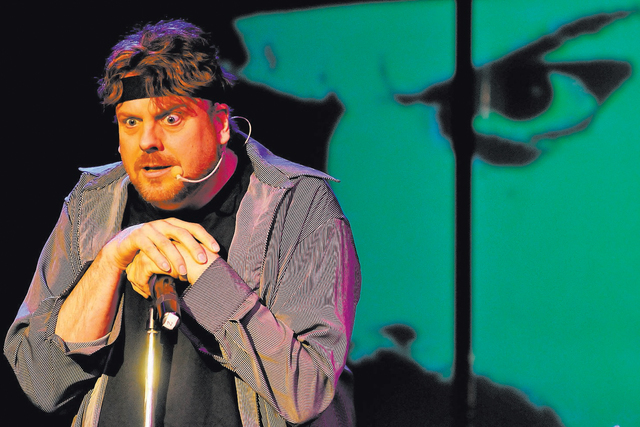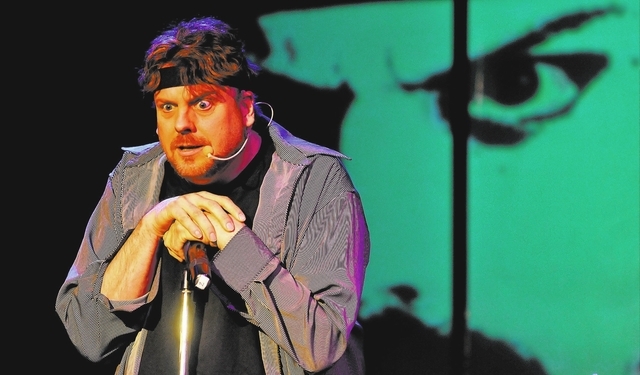 The Amazing Johnathan says he'll be performing onstage again.
The magician-mocker and prankster — whose popular stage show made me laugh harder than anyone I've ever seen in Las Vegas — posted an update on his health and career on Monday.
"It's been three years since the doctors told me I only had about two years before my heart would stop," he writes on Facebook.
An extra year of living feels good, says the man who performed farewell shows two years ago.
One of his heart-blood measurements has dropped again, which isn't great for his cardiomyopathy, Type 2 diabetes, or organs besieged by previous drug abuse.
But he says he feels good, which makes doctors think he has forgotten what it is to feel good, he jokes as Johnathan (aka John Edward Szeles, 57).
"Sometimes, I feel like I'm sitting around waiting to die, and I miss being The Amazing Johnathan, so I've decided to see if I have the stamina to do a full show again," he writes.
He says he's arranged dates in Chicopee, Massachusetts, on Jan. 12, Boston on Jan. 13 and Connecticut on Jan. 14.
"I'm working on new stuff and will also talk about how stem cell treatment got me back on my feet and what's been happening during the two-year hiatus. So if I'm still kicking, that's where the kicking will be!"
If all this is true, it ranks fairly high on the local "wow" scale.
KHLOE + SONGZ = KHLONGZ
"Khlongz" or "Trashian" — which of these two mash-up names should we call our new kissy-faced couple Khloe Kardashian and Trey Songz?
Let's go with Khlongz.
Kardashian (TV/life actress) and Songz (Vegas singer) continued to make out across Las Vegas all Fourth of July weekend.
On Sunday night, we're told they were behaving obviously "cozy" together in a VIP bay at Topgolf (the new golf range/ultra lounge) in front of their friends.
(Sidebar: Studies show public displays of affection help keep couples stay together, and PDA contributes to lower blood pressure, despite snarls from solo haters.)
(Sidebar II: Songz is a regular at Topgolf, so is this like when a guy takes his new lover to his favorite, uh, golf range?)
As we told you in our previous episode, the two were together Saturday night in Drai's nightclub, where he was singing and she was in a VIP booth by the stage.
The media first photographed Kardashian rubbing Songz's back during her recent birthday party. Afterward, she complained on her website about how we all jump to conclusions:
"If I'm 'spotted' hanging with a guy at a party — even if I'm just saying hi for a quick second — it immediately becomes a negative headline about how many guys I'm dating or how I'm getting back into a new relationship. Men don't get that reputation!"
Well, guess what, Khloe. We support your dating as many men as you want in Las Vegas. We need the copy. Bring it.
By the way, how small are famous people's social circles? Let us connect some dots:
Dot A: On Memorial Day weekend, Songz and New York Giants receiver Odell Beckham hung out at Topgolf — and that was the same weekend Khloe flirted with Beckham at Drai's the night before Songz sang there.
Dot B: Two Julys ago, Songz and Chris Brown (another previous Drai's headliner) appeared in an Instagram photo in which they had their arms around Khloe's half-sisters Kendall and Kylie Jenner.
But it's like we always say, you can't believe everything you read in the photos. Showbiz is not 100 percent honest, you'll be shocked to learn.
WYNN'S L.A. MANSION
Steve Wynn just sold a Southern California mansion for $300,000 less than he bought it for two years ago, the L.A. Times reports.
Wynn reportedly bought the 11,000-square-foot mansion for $16.25 million in 2014, couldn't sell it for $20 million last year, couldn't sell it for $17.45 million, then finally got $15.95 million in May.
It is said this price drop business is less about Wynn and the mansion than it is about the whole mansion market, which appears to be sagging, with fresh fears such real estate investments will drop further post-Brexit.
ANOTHER COUPLE IN TOWN
Actress Jillian Murray (she plays on CBS' "Code Black") shot Instagram video from behind the DJ booth at Encore Beach Club on Sunday.
She was there with her lover, actor Dean Geyer, who's been on a few episodes of Jennifer Lopez's "Shades of Blue" NBC series.
Doug Elfman can be reached at delfman@reviewjournal.com. He blogs at reviewjournal.com/elfman. On Twitter: @VegasAnonymous.