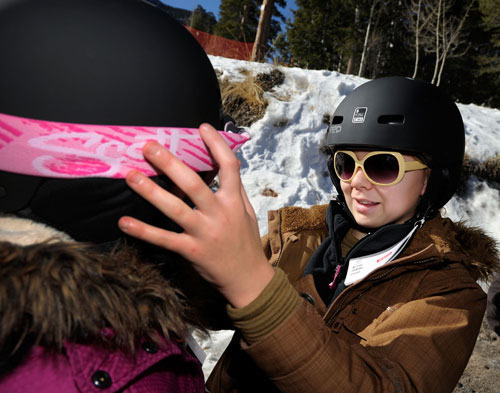 Eleven-year-old MacKenzie Lutey, left, receives assistance with her goggles from 12-year-old Skylar Dworin as the two wear helmets that they received as part of a Lids on Kids event Jan. 27 at the Las Vegas Ski & Snowboard Resort on Mount Charleston. Photo by David Becker
A program at the Las Vegas Ski & Snowboard Resort that provides free helmets to children has won a safety award.
Lids on Kids, which has been held five years at the ski resort on Mount Charleston, was recently named winner of the National Ski Areas Association's National Ski Area Safety award. Lids on Kids was recognized as the Best Helmet Safety Program for the 2011-12 season.
"This is a tremendous honor," Kevin Stickelman, president and general manager of the resort, said in a statement. "A child's safety on the mountain is of the utmost importance. By offering free helmets along with education, we can instill strong safety values in our youth. Our goal is to foster a community of responsible skiers and boarders."
The ski resort partnered with Centennial Hills Hospital to provide 318 local children with free helmets in January.
Since implementing the program, LVSSR has provided more than 1,000 area youth with free helmets. The program includes a Skier/Snowboarder Safety Responsibility Code class, presented by a National Ski Patrol member for children and their parents. After the class and short video, each child is fitted with a helmet and parents are given instructions on proper fit and use.