Las Vegas woman happy with her third Hyundai
September 30, 2011 - 1:04 am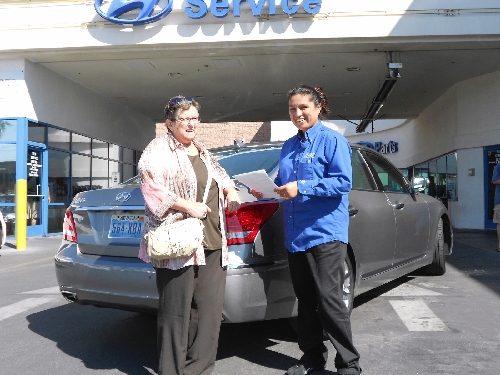 Roberta Echaves is the proud owner of her third Hyundai, having purchased a 2011 Equus from Planet Hyundai Centennial about two months ago.
Key to her purchasing a vehicle is the service department of the dealership she purchases from and, in this particular case, the native of Michigan visits both Planet Hyundai Centennial and Planet Hyundai Sahara for service work when needed.
"The Hyundai is a magnificent vehicle and it has all the bells and whistles," she said. "It has a very smooth ride and the valet parking attendants at the hotels love it, too."
Echaves praises the Equus, adding that it is superior to other vehicles priced much higher.
"The nicest feature is that it has controls on all four doors for the seats," she said. "You can see the different parts of the seat and move it accordingly and it has two memory settings. It has a lumbar massage system too."
"I just went on a long road trip from Las Vegas to New Mexico and also to New Orleans," she added. "I let my granddaughter drive it in New Orleans and she experienced firsthand how impressive the car was, especially the braking system.
"And just as I was telling her about the braking of the car, someone pulled right in front of her and she instantly discovered what a tremendous stopping ability it has. The car stopped right in its tracks.
"It corners beautifully and the eight-cylinder engine performs so well. I had a wonderful trip thanks to the Equus. I often have people stop just to look at the car. It's incredible. I got as much as 32 miles to the gallon. That blew my mind considering all the power it has."
Since owning her first Hyundai (an Azera in 2009), Echaves has been happy with the service she has received.
"In every case, I have been treated very well by the service advisers at Planet Hyundai, and especially by Chuck Zemek, who has worked at both Planet Hyundai locations. I trust these people and they treat me like family. All I have to do is call them and they will not only pick it up, but also provide me with a loaner, if needed."
Service adviser Nancy Rios loves her job.
"We're all happy to be working for Planet Hyundai," Rios said. "I have learned a lot and the Hyundai is an incredible vehicle. The cars are so reliable. I own a 2010 Elantra. I have owned many cars and my Hyundai is the best I've ever owned."
Planet Hyundai co-owner Ron Coury added, "Our customers and employees are all very pleased that we are locally owned and operated. Compared to so many Las Vegas dealerships, which are national corporate-owned operations, forcing their employees and customers to deal with some steadfast corporate policies, an owner at Planet Hyundai is on-site every day and can make decisions on the spot that make sense and provides customers and employees alike an overall better experience. … Mrs. Echaves' positive experience is the norm rather than the exception at Planet Hyundai."
Planet Hyundai's two locations are situated at 7150 W. Sahara Ave. and 6200 Centennial Center Blvd. in the northwest valley. Further information can be found by calling 938-1400 (Sahara); 483-2200 (Centennial) or by visiting www.planetlv.com