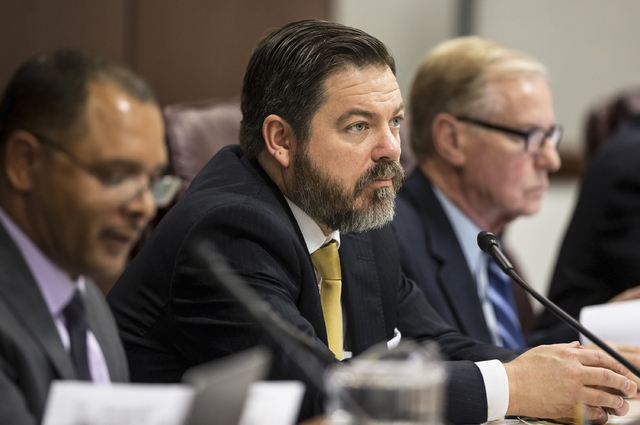 A tide of dark money started flowing in the waning days of the Republican primary race in the 3rd Congressional District.
Ending Spending, Inc., a political nonprofit group not required to disclose donors, pumped $1.6 million into the race, which largely came down to a fierce contest between state Senate Majority Leader Michael Roberson and Danny Tarkanian, a real estate developer. About $520,000 of the money was on ads supporting Roberson, and another $767,000 on ads opposing Tarkanian.
The money came during the final week of the primary campaign, but it wasn't enough. Republican voters rejected Roberson, instead giving the nod to Tarkanian. He'll face Democrat Jacky Rosen in the November election. On Tuesday, Tarkanian defeated Roberson, a Republican establishment candidate who had the support of Gov. Brian Sandoval. Matching the dark money immediately dollar-for-dollar with response ads wasn't an option.
But Google was. It was one tool in a campaign toolbox that included Roberson's record on tax increases, an aggressive campaign fundraising approach and a willingness to sit tight and weather attack ads.
For less than $5,000, Tarkanian's campaign bought a Google ad that would appear at the top of all search results in the district for "ending spending." So viewers — and voters — would see a message telling them that a "Washington front group" is trying to buy the election and directing them to information about Tarkanian's campaign. The ad had about 88,000 views, and 1,200 clicked on its link to get more information about the campaign.
"We just used the tools we had," said Jamie Fisfis, campaign manager for Tarkanian.
Anti-tax conservatives had no problem finding ammunition. During the 2015 session, Roberson played a key role in supporting Sandoval's $1.5 billion package of new and extended taxes, much of it for public education reforms. That didn't sit well with conservative Republicans, who turned the primary battle into a seven-way race.
"This issue in this election was voter betrayal," Fisfis said.
But only Tarkanian had a campaign fund with enough resources to take on Roberson. Tarkanian had slightly outspent Roberson by May 25.
Tarkanian received $692,790 in individual contributions and $5,500 from PACs, and spent $658,708 through May 25. Roberson raised $921,303: $752,103 from individuals and $169,200 from PACs. Roberson spent $628,653 in that same time period.
No one else came close.
"(Tarkanian) ran a very disciplined campaign, and he was willing to raise money and call donors he'd never talked to before," Fisfis said.
Roberson's campaign effort received guidance from the respected consulting firm November, Inc. The campaign's team members didn't respond to requests for insights about the race Wednesday, other than one who said he didn't have any background information about the race.
Tarkanian, son of the late former UNLV basketball coach Jerry Tarkanian, had the advantage of name recognition, also having run in other races over the years. The campaign realized it wasn't a matter of Roberson being a frontrunner and everyone else splitting the anti-Roberson vote.
Despite being a legislative leader, there were early signs Roberson didn't have widespread name recognition. Even polling in October by the Democratic Congressional Campaign Committee found 76 percent of Republicans polled in the district either hadn't heard of Roberson or didn't have a favorable or unfavorable opinion of him.
Fred Lokken, a political science professor with Truckee Meadows Community College in Reno, said, "You have this notion sometimes of 'heir apparentcy.'"
That can backfire, Lokken said, when a campaign starts to become complacent and make assumptions, while an opponent is "more hungry and always showing up at events."
Conservative blogger Chuck Muth said: "People aren't stupid. Roberson was shown to have turned around and lied to voters about taxes. He didn't just vote for the tax hike, he led it."
As a state Senate candidate in 2010, Roberson had signed a so-called "taxpayer protection pledge" promising not to raise taxes.
Muth said Tarkanian stood out in the field of conservative candidates with his fundraising prowess, to "show he was a credible alternative" to Roberson.
Muth's state PAC, Citizen Outreach, had "triple endorsed" a cadre of three conservative candidates: Tarkanian, state Assemblywoman Michele Fiore and Andy Matthews, former president of Nevada Policy Research Institute.
Roberson wasn't available for comment Wednesday. He wasn't available for an interview Tuesday either, though he sent out a brief statement congratulating Tarkanian.
Some campaigns, including Tarkanian's, invited the media to public watch parties where candidates get results and give interviews. Roberson's did not.
Contact reporter Ben Botkin at bbotkin@reviewjournal.com or 702-387-2904. Follow @BenBotkin1 on Twitter.