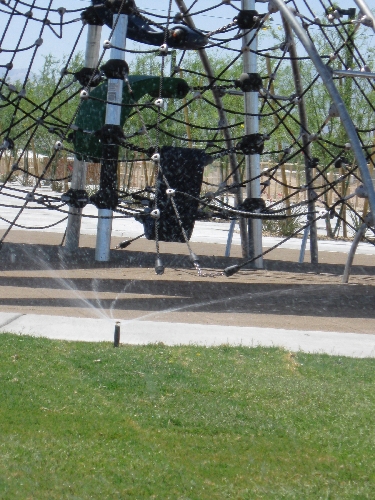 Charlie Frias Park, at the northwest corner of Tropicana Avenue and Decatur Boulevard, is scheduled to open the first week of October, exactly two years after the county broke ground on the site. The park is named for a man many consider one of the city's greatest philanthropists.
Frias and his wife, Phyllis, moved to Las Vegas in 1958, when he began working for ABC Union Cab Company as a taxicab driver.
By 1966, Frias had purchased ABC Union Cab Company and three other companies, Ace Cab, Vegas Western Cab and A-North Las Vegas Cab. He went on to start A-Virgin Valley Cab Company in Mesquite, Airline Limousine and Las Vegas Limousine, a veritable transportation empire.
Charlie Frias died in 2006.
By all accounts, Frias was a charitable and generous man. He and his wife gave extensively to education in Clark County, earning the couple the honor of having an elementary school named for them. In recognition of his generosity, fire station No. 21 was also dedicated to Frias. He started an educational endowment at UNLV and contributed to many youth causes in the valley.
According to Steve Corry, assistant director of Clark County Parks and Recreation, the Frias estate donated $1 million toward the construction of the park.
"There's not always ample construction dollars to put in the amenities we'd like to," Corry said. "We're determined to make this a nice facility for the community."
The new park is in an area where there are not many outdoor recreation options available.
"Before this, there was no centralized gathering place in that community," said Clark County Commissioner Steve Sisolak. "It's a place for residents to congregate, meet friends, take a walk, things that are taken for granted."
Making sure residents have such amenities is something Corry said his department takes very seriously.
"These types of large, multipurpose parks are hard to come by," he said. "Building parks doesn't happen as quick as people move here."
The 36-acre facility doubles as a flood control detention basin, previously home to a large transient population.
In a Las Vegas Review-Journal interview with Phyllis Frias at the groundbreaking ceremony two years ago, she said her husband had always wished someone would do something with the empty lot.
"He would be very happy to know that everyone is going to have a place to walk, exercise and to enjoy something," she said of her late husband, "especially these young ones. They need a place to go."
Contact Southwest/Spring Valley View reporter Nolan Lister at nlister@viewnews.com or 383-0492.
Naming Las Vegas
The history behind the naming of various streets, parks, schools, public facilities and other landmarks in the Las Vegas Valley will continue to be explored in a series of feature stories appearing in View editions published on the first Tuesday of every month.
If you're curious about how or why something got its name, post a comment on our Facebook page, facebook.com/viewnewspapers, or email sblust@viewnews.com.
Thanks for reading View.