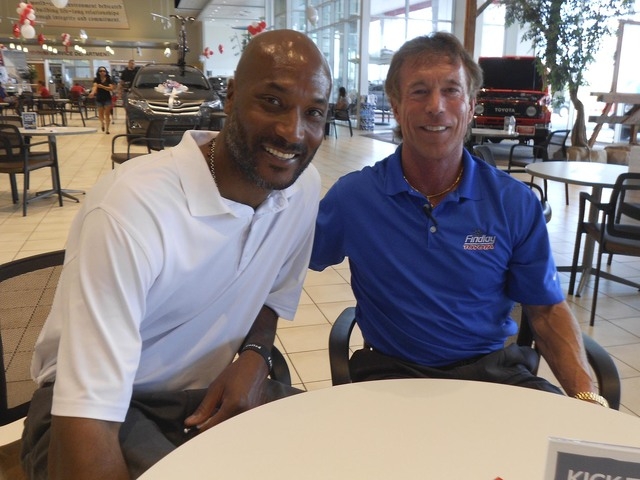 Former UCLA All-American and pro basketball player Ed O'Bannon and his wife, Rosa, knew his playing days were over in 2004. One year earlier, the couple and their three children had moved to Las Vegas from Southern California.
Now in sales at Findlay Toyota, Ed O'Bannon made the transition from standout athlete to car salesman without a flinch. He is relaxed, down-to-earth and happy with his new life.
O'Bannon has followed the same path as many other former athletes who have found a home at a Findlay Automotive Group dealership after their sports careers.
Starting with company chairman Cliff Findlay — a former Nevada Southern University basketball star — the list of former athletes with the company is long and O'Bannon fits in well. (Nevada Southern was the precursor to the University of Nevada, Las Vegas).
However, the 6-foot-8 O'Bannon just might be the most prominent former athlete to sell cars for the Findlay chain of dealerships. He was a McDonald's High School All American when he led Artesia High School to a 29-2 record.
O'Bannon committed to UNLV and coach Jerry Tarkanian before the NCAA leveled the Runnin' Rebel's program with probation. With the penalties in place at UNLV, O'Bannon enrolled at the University of California, Los Angeles, where he led the Bruins to the 1995 NCAA national championship over Arkansas.
Also, O'Bannon was named the tournament's Most Outstanding Player.
After being drafted ninth in the National Basketball Association's 1995 draft by the New Jersey Nets, O'Bannon went on to a pro basketball career that included stops with the NBA's Dallas Mavericks, the Continental Basketball Association's LaCrosse Bobcats, stint on teams in Italy, Spain, Greece, Argentina, Poland and the Los Angeles Stars of the American Basketball Association.
A focused individual, the 42-year-old O'Bannon gave up his athletic career and with his family left a very expensive Torrance, Calif., for a more comfortable and affordable home in Henderson. In 2005, he joined Findlay Toyota as a sales associate.
"I just reached the point where I didn't want to play basketball anymore," O'Bannon said. "I was burned out physically, emotionally and mentally and plus, we no longer wanted to live where it took everything we had to survive."
The O'Bannons sold their home in 2003, a home was found in Henderson and there has been no looking back. Besides working at the dealership, he works as an assistant basketball coach at Liberty High School.
"I still remember my first car deal," O'Bannon remembers. "I was helping an older couple who were interested in a Camry. I remember it was really hot and I was sweating. The people knew I was new to the car business and they told me to calm down. They seemed to appreciate that I didn't pressure them."
To a degree, O'Bannon was hooked on the car business from that moment on.
"There is a certain rush to selling a car," he said. "It's a huge purchase for someone second only to buying a home, so I always want to make sure everyone is happy. I just try to be myself."
O'Bannon is certainly happy with his automobile career. Now entering his 10th year at Findlay Toyota, he has visions of entering management.
"What I really love about the car business is that I have the best boss in the world in (General Manager) Rich Abajian," he said. "When the recession hit, Rich was insistent that he wasn't going to give up. He looked everyone in the eyes and said he was going to win. We had just moved into the new dealership and it was all about surviving. We had our backs against the wall, but we're back stronger than ever now."
Lately, O'Bannon is best known for taking on the NCAA in a landmark court case. Judge Claudia Wilken ruled that the NCAA must now compensate student athletes for money generated through participation in college athletics.
Meanwhile, O'Bannon is happy with his career in the car business, and he's well-liked by fellow employees.
"When I first interviewed Ed, he was very skeptical about entering the car business whether or not he had the skills to be successful," Abajian said. "After sitting and talking with him, I realized he was very smart, articulate and had great people skills. Those are the qualities needed to be successful in any business. Ed has turned into (a) model employee who is always willing to do whatever you ask of him."
Findlay Toyota. at 7733 Eastgate Road in Henderson, is part of Findlay Automotive Group founded more than 50 years ago by the late Pete Findlay, whose son, Cliff, now spearheads operations in Nevada, Utah, Arizona and Idaho.