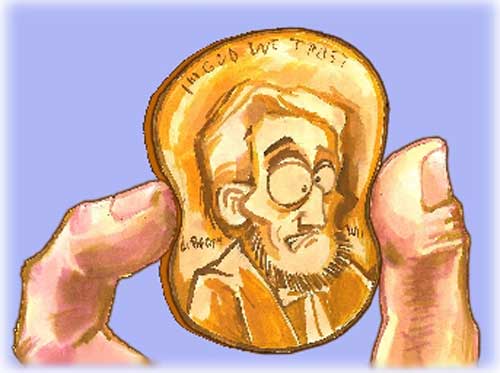 Weathering tough economic times has caused many residents to come up with creative solutions and financial tips for spending less money.
"I save money by going to places like Savers or yard sales," said Michelle Escaffier, a Henderson resident.
Escaffier, who also shops at thrift stores , said her essential tip is to look at coupons and ads to find the best deals.
"There are a lot of good coupon websites," Escaffier said. "You can even find double coupon days."
But Escaffier remains vigilant when looking for deals while shopping at the grocery store .
"What is on sale is what's for dinner," Escaffier said.
Even though Tegan Limon, a Henderson mother, doesn't have a Bank of America account, she has capitalized on the idea behind its Keep the Change program , which rounds the balance of the purchase up and puts the change in a savings account.
"I put all the (leftover) change I have from paying for something into a change jar," Limon said. "It takes about a month to see the results."
At the end of the month, Limon has saved as much as $75 in change.
"My husband and I go out on date nights with that," Limon said.
Limon also learned to cook and saves money by not eating out.
"I spend money stocking the kitchen," Limon said. "It is really good because it ends up bringing the family together."
But patience is Limon's biggest tip.
"I wait for something to go on sale," Limon said. "If it is not on sale, I don't buy it."
Limon said she tries to hold out for the product she wants to become more reasonably priced opposed to settling for a knock off .
"I'm not gonna settle," Limon said. "I'd rather wait than buy the generic."
When it comes to buying the best deals , John Wynn, another Henderson resident who was shopping at Savers, said people need to be more aware of the products they're picking up.
"You gotta read the labels," Wynn said. "Just because it says it is less expensive doesn't mean you're getting a better deal. You just have to have a keen eye."
There also are adjustments that people can make around their home that can save them in the long run.
Kathleen Richards, senior public information officer with the city of Henderson, said 70 percent of residential water use is outdoor water use.
"Landscape irrigation is, by far, heads and tails, the largest single use of water in Southern Nevada," Richards said. "Give your irrigation system a checkup . While 70 percent of your water is used outdoors, up to 60 percent of it is unnecessarily wasted due to using more water than your landscape needs, allowing water to flow off your property and leaks or broken heads."
Richards said that for a typical Henderson home, about 75,000 gallons of water is wasted per year, which can add up to about an extra $260 a year on water bills . That calculates to about $21 a month.
Because grass uses about 55 more gallons of water per square foot than desert plants, Richards suggested that people consider replacing their landscape with something that is more water-efficient.
"Replacing an average-sized lawn of 5,000 square feet will save you about 275,000 gallons of water a year, worth $950 if your consumption reaches the fourth tier," Richards said. "The Southern Nevada Water Authority's Water Smart Landscapes rebate program will give you $1.50 per square foot to convert your turf, which equates to $7,500 for that same 5,000 square feet of grass."
Richards said if people don't want to pay the landscape conversion cost right away and wait for a rebate check, the city offers a loan program that allows homeowners to borrow up to $5,000 at 3 percent interest amortized over seven years.
Along with being mindful of wasted water around the house, Wynn said there are other simple lifestyle adjustments around the house that can go a long way.
"Turn off the lights when you leave a room," Wynn said. "Turn the thermostat down. Don't leave the water running. When you are in the shower , soap up, then turn the water on to rinse off."
Contact Henderson and Anthem View reporter Michael Lyle at mlyle@viewnews.com or 387-5201.