Marijuana dispensaries fill up during holidays, CES
January 13, 2016 - 9:05 am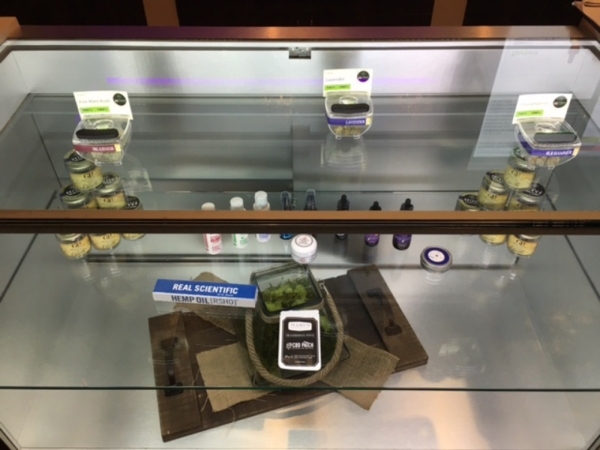 Pot tourism is heating up in Las Vegas, the only major city in America where dispensaries sell weed to patients carrying out-of-state medical cards.
"CES brought those tech-savvy, plaid-wearing San Franciscans, and they've been inundating the past week, and it's been our pleasure to serve them," said a happy Michael Jameson, assistant dispensary manager at Las Vegas ReLeaf, 2242 Paradise Road.
ReLeaf saw 20 to 30 patients a day when it opened in October, and about 50 percent of clients were hailing from out-of-state.
Now, ReLeaf business is up to 50 to 70 patients a day, with roughly 60 percent tourists.
"We are making over our break-even, every day," he said.
Dispensary owners have begun shifting specials and marketing efforts to focus on holidays and conventions.
"We saw a ton of business over the New Year's holiday," Jameson said, and that was eye-opening for future sales of marijuana flowers, edibles, disposable concentrate pens and medical oils.
Over at Nevada Wellness Center, 3200 S. Valley View Blvd., weed workers also saw an influx of Christmastime and New Year's travelers bringing medical proof from California, Colorado, Washington and other states that have slipped into the future.
"The reciprocity (system for tourists) is working really well for the dispensaries," said Andre Rhodes, assistant manager of Nevada Wellness Center.
"Nevada is setting the bar for other states to follow the medical model, to make sure people are getting quality medications, and they're getting the results they desire," Rhodes said.
A big help: The state office that approves cards for people who are dying of cancer (or dealing with epilepsy, migraines and other approved morbidity) is now taking about three to four weeks to mail cards to those dying people who spend hundreds of dollars on paperwork and office visits, begging the government if they can have their medicinal relief yet.
"Six to eight months ago, it was taking maybe eight weeks to get your card," Rhodes said. "It was bad."
The most obvious demographic of state residents is that of older men who express surprise at legal dispensaries' professionalism after the state sent them to the illegal black market for 15 years (the amount of time it took politicians to approve of dispensaries after residents voted for legalized weed a generation ago).
So where are the women?
On Saturday, Nevada's first all-female-owned dispensary, Sahara Wellness, has a ribbon cutting, then begins selling marijuana at 10 a.m. Monday.
"A lot of females have been shy to get in the industry because of the stigma," said Brenda Gunsallus, co-owner of Sahara Wellness. "I've never tried it myself. If I ever come up with an illness, I will."
Gunsallus said that like many Americans, she experienced a turnaround on weed once she got educated about it. For her, it was when she saw friends' children stop having 20 seizures a day thanks to oils.
The female-designed dispensary serves both men and women, obviously, but the owners hope women in particular feel less shame about getting a drug that isn't harmful like legal pharmaceuticals and alcohol.
The CDC's latest annual stats counted zero marijuana deaths; 25,760 deaths from prescription drugs; and 30,700 deaths from alcohol. (By the way, that booze-death number would have been two-and-a-half times higher if the CDC had counted drunken driver deaths.)
Meanwhile, new studies suggest marijuana-related products reduce tumor growths in animals (those are early studies in Spain); treat stress-related depression; and alleviate post-traumatic stress disorder.
In Colorado, where smoking recreational marijuana for fun is legal, the economy is up and schools are receiving millions in pot taxes, as close to a billion dollars in Colorado pot was bought in 2015.
"Statewide revenue from dedicated pot taxes easily topped the money from alcohol taxes," the Denver Post reported recently.
Nipping at America's borders, Mexico and Canada are on the verge of legalizing weed. And the governor of Vermont this week said he's seen the light to introduce a bill to make pot legal in his state, partly to fight the illegal underground market.
Gunsallus said her dispensary wants to educate the stigma out of weed. Her pot shop is also having a little fun with the digits 4:20, the time of day when many smoke. It's like tea time with different leaves.
Saturday's ribbon-cutting is at 4:20 p.m. The dispensary opens Monday but rolls up a grand opening on April 20 (4/20). And the address of Sahara Wellness is 420 E. Sahara Ave.
"Truthfully, our group (of owners) didn't even know what it meant when we got that address," Gunsallus said. "I was a tennis pro."
Doug Elfman can be reached at delfman@reviewjournal.com. He blogs at reviewjournal.com/elfman. On Twitter: @VegasAnonymous.