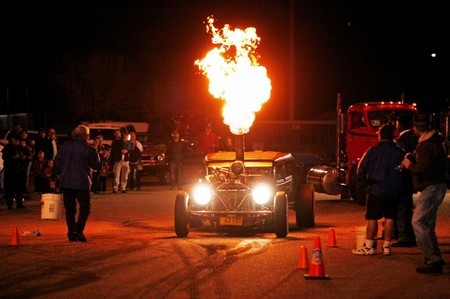 More than 800 drivers and their classic cars from 15 states, including Hawaii and New York, converged on four Mesquite hotel properties this past weekend for the annual Mesquite Motor Mania 2010 car show.
Mesquite Motor Mania packed the city about 80 miles northeast of Las Vegas. In addition, the giant event took hundreds back to the good ol' days when gas was cheap, times were fun and music was highlighted by groups such as the Beach Boys, the Beatles and the Dave Clark Five, to name a few.
"As I was walking around looking at all of the vehicles, it struck me that a 'thank you' just wasn't enough," Mesquite Mayor Susan Holecheck told a crowd at Sunday's awards ceremony, presented in the CasaBlanca Showroom. "This is an incredible show and all of us in Mesquite appreciate what you have done for this city.
"It brought back memories for me, that's for sure. Mesquite Motor Mania was a lesson in love because you can see all the love and care people put into their cars. I'm just glad that Mesquite was the recipient of the lesson of love. If only the automobile manufacturers had worried less about how many models they were going to build and stuck with models of distinction, they would be in less of a pickle than they are now."
Mayor Holecheck's praises were echoed by many others including Duck Creek, Utah, resident Brian Bates, who won the burnout contest Saturday afternoon in a beautiful '69 Mustang Mach One.
"I will definitely be back next year," said Bates, who pulled his classic vehicle out of a garage and through ice to make the trip. "I was involved in the first Super Run at the Tropicana in Las Vegas in the mid-'80s and this show is awesome."
Bates raced out of the CasaBlanca Sunday headed back to Duck Creek, which was due for a big storm. With a 685-horsepower 427-cubic-inch Bill Mitchell engine under the hood, his trek through St. George and Cedar City before heading east on treacherous Highway 14 would prove to be a memorable cap to a great weekend.
Fellow Duck Creek residents Rebecca and Andy Osterhout along with their three young children, ages 19 months to 7 years, were also at the event.
"It was a great show," Rebecca Osterhout said. "We'll be back."
Andy Osterhout, a former U.S. Marine, loved Mesquite Motor Mania.
"We just wanted to get away," said the 31-year-old handyman who is originally from New York. "It was great to see all the American muscle cars."
City of Las Vegas engineer Gary Reid brought his bubble-top Chevrolet Corvette to the event.
"We saw the $11 room rate at the Oasis and I told my wife, Royina, we had to go to Mesquite," said Reid, 50. "Mesquite is a lot like Las Vegas was 25 years ago."
Dwight Melvin, a 59-year-old native of North Las Vegas and a true car guy, has been to car shows all over the Southwest and he considered Mesquite Motor Mania one of the best. He was joined by his wife of 36 years, Ruth.
"I really like it because it's a quick little ride and we enjoy getting out of the house," said Melvin, whose '50 Chevy Fleetline with 283-horsepower drew looks all weekend.
Boulder City resident Bruce Bartlett, 65, displayed a '65 Top Fuel Dragster.
"This is a great venue," Bartlett said. "I'm sure it's going to grow even more as the economy levels out."
The event, presented in conjunction by the Las Vegas Cruisin' Association along with the Mesquite Resort Association, provided $15,000 in guaranteed purse to the top show cars.