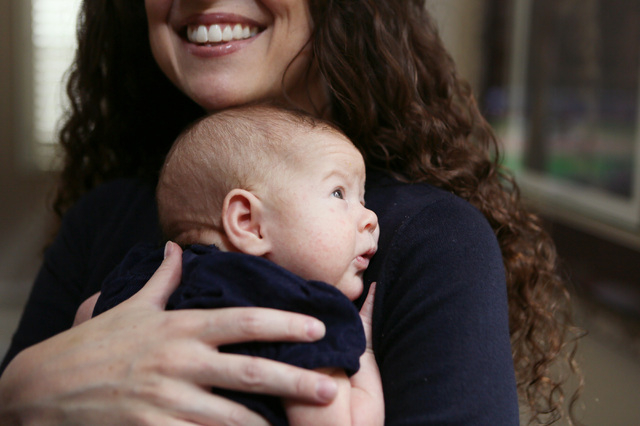 From fertility issues to cancer to a lost child, the road to motherhood for southwest resident Brittany Ferrell hasn't been easy.
But after years of hardships, Ferrell, 35, and her husband, Jerome, 36, welcomed their daughter Madeline to the family Feb. 26.
"It was so hard going through all that," Ferrell said, "but seeing the happy ending come to fruition, we've realized everything really does happen for a reason."
Originally from Michigan, Ferrell moved to Las Vegas 14 years ago and met Jerome while working as a waitress at a restaurant near UNLV.
"We actually kind of eloped about seven years ago," Ferrell said. "We didn't want a big wedding and decided we could put the money toward other important things."
In 2010, Ferrell visited her gynecologist for her annual checkup, when her pap smear results came back abnormal.
"I was diagnosed with cervical cancer," Ferrell said. "The surgeon ended up removing most of my cervix because it was more aggressive than they thought."
After the surgery, doctors told Ferrell her chances of getting pregnant were slim. If she did get pregnant, they said it would be difficult for her to carry the baby without her cervix.
"We looked into having a surrogate," Ferrell said. "We went to a fertility specialist. We talked about adoption, but all we really wanted was to be able to have our own child."
In 2012, Ferrell and her husband adopted a beagle named Gracie to raise as their "fur baby." Two weeks later, Ferrell discovered she was pregnant for the first time.
"I loved being pregnant, but I had a lot of complications," Ferrell said. "I kept bleeding, so they put me on hospital bed rest, and I pretty much lived at the hospital for quite some time."
The complications worsened, causing Ferrell to deliver her daughter Audrey at 24 weeks on Christmas Day 2012.
"She was born with a hole in her lung because she wasn't able to fully develop," Ferrell said. "She passed away in my arms six hours and 52 minutes later."
Doctors encouraged the couple to try again, saying Ferrell's body would be more prepared, but Ferrell and Jerome were too devastated.
"We were both pretty down in the dumps, so I asked her if there was anything that would make her happy," Jerome said. "She said she would like to go back to Paris, so I booked the flights, and we spent a week trying to put everything back together.
"I was willing to do whatever it took, big or small. Yes, it helped me, but it was really all for her."
When the couple returned home, they were expecting again. Brittany Ferrell visited her doctor and had an abdominal cerclage, a procedure to permanently stitch the top of the cervix to prevent miscarriages.
"I didn't know at the time the procedure was very rare and very risky," she said. "One of the surgeons told me after that a 1-millimeter difference could have ended the pregnancy."
Although put on bed rest for nine months, Ferrell said the pregnancy and delivery were "picture-perfect."
"I never got to hear Audrey cry, so hearing Madeline cry for the first time, I'll never forget it," she said. "When they held her over the sheet so I could see her, I grabbed her hand, and she grabbed right back."
Despite all the hardships, Jerome Ferrell said he had no regrets for the past.
"I would give anything to have Audrey here, but I wouldn't change anything," he said. "We just focus all our energy toward Madeline because we can't look back. We have to move on the best we can."
As a teacher at Forbuss Elementary School, 8601 S. Grand Canyon Drive, Brittany Ferrell must wait until August to return to work. In the meantime, she enjoys reading and taking walks with Madeline and Gracie.
"I don't think I would have believed you if you told me this time last year that I would be holding my baby now," Ferrell said. "After everything we've been through, I think the best thing we can do is to just love Madeline, and that's the easy part."
Contact Southwest View reporter Caitlyn Belcher at cbelcher@viewnews.com or 702-383-0403.