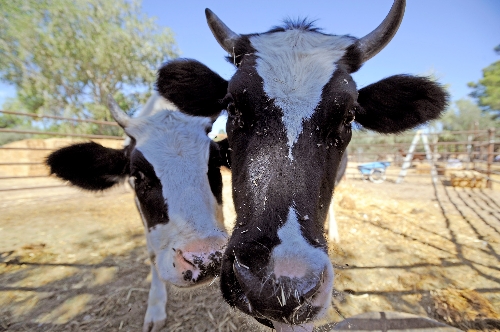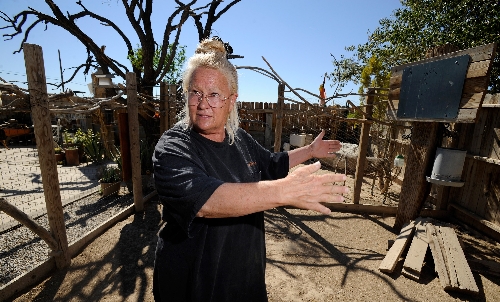 Plans are in the seedling state but big things could be blossoming at The Farm, 7222 W. Grand Teton Drive.
Sharon Linsenbardt, who has owned and operated the farm since the mid-1960s, is working to obtain permits and funding to revamp the 5-acre property into an educational, agricultural center in Centennial Hills.
An attorney for The Farm is helping Linsenbardt and her husband, Glenn, cut through Clark County's red tape so the couple can execute their vision.
The Farm sells its signature eggs, jams and honey on weekends and welcomes school groups and youth organizations to learn about the several dozen farm animals living or being fostered on the property. In October, it hosts its annual Fall Harvest Festival each weekend with animal rides, a hay maze, a pumpkin patch and concessions.
The Linsenbardts hope to up the ante of what they can offer .
Sharon Linsenbardt cast a critical eye on the lack of rural, real-world experience to which Las Vegans have access.
"Las Vegas is not a farming community," Linsenbardt said, "And there is a generation that didn't learn about the value of it. We have to reach their kids."
She would build on decades of experience that she, her husband and her part-time staffers possess.
"I get chapped lips having conversations about this stuff," she said.
She hopes to open the land for monthly educational programing and regular events ranging from school trips to weddings. A vintage school bus is being eyed to turn into a coffee shop for the busy corner.
In addition, Sharon Linsenbardt plans to turn her current 6,300-square-foot home into an events center to host parties and weddings. The building is one of about eight structures on the land. Its artisan barn also would be revamped for educational or event use.
She hopes to build on her food sales to sell from a general store-type establishment on site. Food would go from farm to shelf instantaneously, she said.
Linsenbardt acknowledged that the permit process could be lengthy but said she has allies in the county who want to see her vision through.
County Commissioner Tom Collins, whose district encompasses The Farm , said the Linsenbardts have great potential on their land.
"It's user friendly and (Linsenbardt) is good to the kids and she's good to the community," he said. "It's just a very good experience for kids to see a rural setting in the Las Vegas Valley."
The couple is looking to raise funds via sales of goods — the fees from which have mostly covered just animal feed in the past — or private donors.
"If anyone has a couple million dollars, that would be nice," Sharon Linsenbardt said.
In the meantime, the Linsenbardt are working to establish nonprofit status for The Farm and create an endowment for the future to see their vision through. The couple are in their 60s and have no children.
"If I could get it today, I'm ready and willing to lead," Sharon Linsenbardt said. "The quicker the better."
For more information, call 982-8000 or visit thelasvegasfarm.com.
Contact Centennial and North Las Vegas View reporter Maggie Lillis at mlillis@viewnews.com or 477-3839.