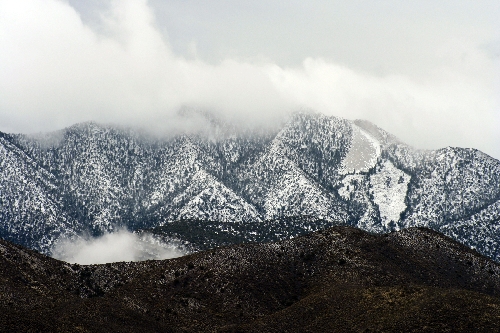 A staple in Las Vegas scenery and history, Mount Charleston, is known for a lot of things: its height, skiing, hiking trails and being a respite destination during sweltering summer months. Yet many residents – native or newcomers – do not know how the valley icon got its name.
Clark County Museum System administrator Mark Hall-Patton said he has heard a lot of tall tales about local history, but there is no mystery in Mount Charleston's .
"We get a lot of stories out here," he said.
Part of Hall-Patton's job is to clear up the rumors.
Mount Charleston was named by a member of the U.S. Army Corps of Engineers group surveying the area in 1869, named for the member's hometown of Charleston, S.C., Hall-Patton said.
Hall-Patton said the surveyors came through the region between 1872 and 1879, but he is unsure of the exact date when someone stepped onto the mountain and named it for one of the country's oldest cities.
Kelly Turner, a district archaeologist with the Spring Mountains National Recreation Area, said the survey group that came through to map the area for railroads was le d by 1st Lt. George Wheeler and assisted by 1st Lt. D.W. Lockwood with the engineers and 2nd Lt. D.A. Lyle of the second U.S. Artillery during the summer and fall of 1871.
While Wheeler was exploring the area, the only other people he may have encountered would have been members of the Paiute tribe and a few people wandering west, Turner said.
As to the rumor that John Fremont named Mount Charleston? That's all it is ­- ­a rumor, Turner and Hall-Patton said.
"Who knows? maybe the cannon is up on the mountain, too," Turner joked. "Fremont, he was roughly in the area, but roughly in the area could mean hundreds of miles away."
West Charleston Boulevard, an artery of the city, is connected to the mountain, too.
"The street name takes its name for being the road you would take out to Mount Charleston," Hall-Patton said.
Mount Charleston is in a central region of the Spring Mountains and is the largest and highest mountain mass in Southern Nevada. Charleston Peak, near the head of Kyle Canyon, reaches an altitude of 11,912 feet. It is part of the Humboldt-Toiyabe National Forest.
For more information on Mount Charleston, visit gomtcharleston.org.
Contact Centennial and North Las Vegas View reporter Laura Phelps at lphelps@viewnews.com or 702-477-3839.