Mountains Edge, Providence hit top 10 list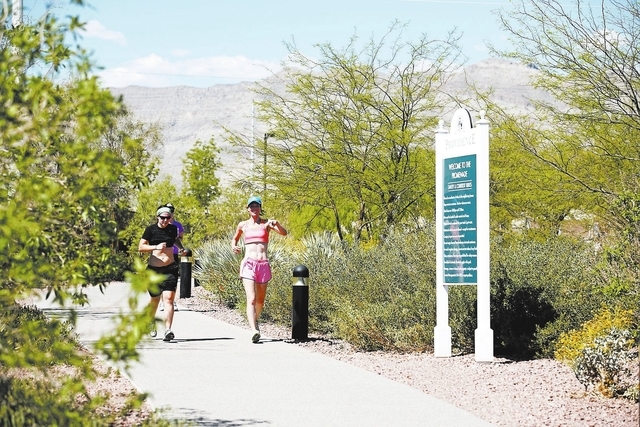 Two Southern Nevada master-planned communities being developed by Las Vegas-based Focus Property Group, Mountain's Edge and Providence, are among the nation's fastest-selling, according to annual surveys of net sales by two real estate industry research and consulting firms, John Burns Real Estate Consulting LLC and RCLCO.
Mountain's Edge, a 3,500-acre master-planned community in southwestern Las Vegas, was the fourth fastest-selling master plan in the country in 2013 with 841 net sales. Providence, a 1,200-acre master plan in northwest Las Vegas, was the seventh with 726 net sales last year.
"Two master-planned communities in the top 20 list is an amazing accomplishment," said Kenneth S. Perlman, senior vice president of consulting for John Burns Real Estate Consulting, an independent research provider and consulting firm focused on the housing industry that publishes an annual Top 20 Master Planned Communities list. "John Ritter and the Focus Property Group team have worked diligently to make the Mountain's Edge and Providence master plans successful, in spite of the many challenges the Las Vegas market has faced in recent years."
Mountain's Edge and Providence are the only Nevada communities in the national top 10, and are the state's top sellers. Both have consistently been new-home sales leaders, nationally and locally, since they began selling homes in 2004 and 2006, respectively.
The complete surveys are at www.realestateconsulting.com or www.rclco.com.
"Our team continues to be thankful for the recognition homebuyers have shown in the lifestyle and community design we've created for them at Mountain's Edge and Providence," said John Ritter, CEO of Focus Property Group. "Buyers are even more appreciative now that they can afford a new home in an established community with mature landscaping along its streets and wide sidewalks, as well as numerous parks and trails, schools and other amenities. This is in addition to many floor plan and pricing options offered by our builders, and nearby employment, schools, shopping and freeway access.
"Mountain's Edge and Providence really are ideal for people whether they are starting a family or getting ready to retire."
Mountain's Edge has sold more than 10,000 homes. Upon build-out, it will be home to about 12,500 units of residential development in more than 60 single and multifamily subdivisions. Other recent community milestones include the beginning of construction of the first phase of the 200-acre Mountain's Edge Regional Park being developed by Clark County. The community has the 80-acre Exploration Park with 2,846-foot-tall Exploration Peak and neighborhood Nathaniel Jones Park.
Mountain's Edge is near the Red Rock National Conservation Area, major employment and transportation, and Strip entertainment. Homebuilders include DR Horton, KB Home, Lennar, Pulte Homes, Richmond American Homes, Ryland Homes and William Lyon Homes.
The Mountain's Edge Information Center is open daily from 10 a.m. to 4 p.m.. It is at 9275 S. Buffalo Drive. For more information, call 702-898-5777 or visit www.mountainsedge.com.
Providence has sold more than 4,000 homes and will have about 7,500 single and multifamily units in 39 subdivisions at build-out. The master plan recently broke ground on Huckleberry Park, the first phase of which will open later this year. This is the community's third park, joining The Promenade and Knickerbocker parks with panoramic views of the city.
Builders include KB Home, Lennar, Pardee, Richmond American Homes, Ryland Homes, Warmington Residential Nevada and Woodside Homes.
Providence is near schools, shopping, dining and the 215 Beltway and U.S. Highway 95 access; and close to Nellis and Creech Air Force bases. To learn more, visit the information center from 10 a.m. to 4 p.m. daily. The center is at 7181 N. Hualapai Way, Suite 150 (northwest corner of the Las Vegas Beltway and Hualapai Way), call 702-433-5084 or visit www.providencelv.com.
Focus Property Group specializes in acquiring vacant land throughout the southwestern region of the country and creating successful communities.
The Las Vegas-based company has developed projects totaling more than 10,000 acres in Las Vegas, including Mountain's Edge and Providence, and throughout the Southwest, and has been involved in transactions exceeding $6 billion since its inception.
For information, visit www.focuspropertygroup.com.