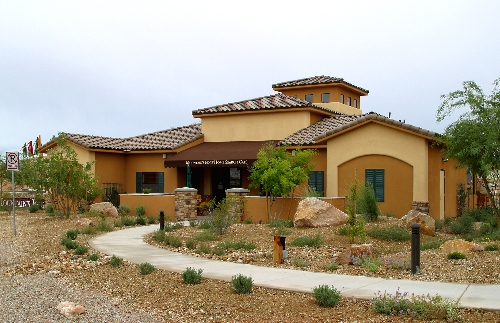 The master-planned community of Mountain's Edge is hosting a workshop to educate homebuyers on how to navigate the home-buying process in the current real estate environment. The event will be held July 24 from 10 a.m. to 3 p.m. at the master plan's Home Search Café located on Buffalo Drive and Blue Diamond Road.
The workshop will inform homebuyers on how to prepare financially to qualify for home loans, provide buyers with methods to improve their credit and explain the difference between purchasing a new home in comparison to short sales and foreclosures. The workshop will feature experts from consumer advocacy groups, as well as lenders who will prepare homebuyers for the loan process.
"We wanted to hold this workshop to connect homebuyers with experts who can explain the processes with clarity, as well as offer other information specific to the benefits of purchasing a new home," said Deonna Stocker, manager of Mountain's Edge information center operations. "Many homebuyers who visit the Home Search Café at Mountain's Edge are asking questions about how the process of buying a new home differs from buying a foreclosure or short sale."
According to Stocker, questions that will be answered include the difference in timelines between buying a new home, short sale or foreclosure home as well as costs that can be incurred or saved.
According to Stocker, there are many benefits to buying a new home versus resales, short sale homes, foreclosures and auction block homes because often older homes require additional cash beyond the down payment. These purchases may include closing costs, auctioneers fees and refurbishing of a home that can range from cosmetic to major structural work.
Additionally, purchasing a brand-new home may take less time than waiting for banks to choose from multiple offers on a short sale and foreclosure.
Many new homes are built with new green products and technologies that don't emit harmful chemicals, while including efficiencies that save homebuyers money on their gas and electric bills.
According to Stocker, many homebuilders are offering cash incentives such as covering closing costs or providing upgrades to the new home at no additional cost to the buyer. Another benefit is that new homes are tailored to the homebuyer while providing a long-term home warranty.
"There are many reasons for homebuyers to consider buying new homes that benefit them financially," Stocker said.
"The workshop is designed to help buyers understand these benefits, as well as educate them on how to prepare to buy a home in this market so that they can be empowered to make decisions that work best for them and their families."
According to Ron Rulof, president of Team Power Marketing, homebuyers that purchase a short sale or foreclosure often find that the savings they gained at the purchase is mitigated by repairs that are found later and are now the responsibility of the new homeowner.
"We've seen instances where foreclosures were inspected top to bottom before the purchase closed, but were not aware, for instance, that a summer storm will result in a leaky roof," Rulof said. "In this example, a buyer is left to resolve these issues without the safety net of a builder to hold accountable for the damages or a warranty in place."
Rulof's firm also has found that most problems with short sales or foreclosures arise during the first couple of years of homeownership.
According to Rulof, an example would be a resale home may have a seven-year-old air conditioner running perfectly the day the home closed, but after the harsh summer heat arrives, the air conditioner may malfunction or break, without the homeowner having a builder warranty in place to remedy the situation.
"Having a warranty can save people from paying thousands of dollars to make repairs to their homes and a homebuilder warranty is one of the main reasons potential buyers should consider a newly constructed home," Rulof said.
"Removing uncertainty is always beneficial and a homebuilder warranty guarantees that certainty."
Those looking to learn more about the homes offered within Mountain's Edge or to learn more about the upcoming homebuyer workshop are invited to visit the development's Home Search Café, located at the community's entrance on Buffalo and Blue Diamond or visit mountainsedge.com. The Café is open to the public from 10 a.m. to 4 p.m. daily and can be reached at 898-5777.