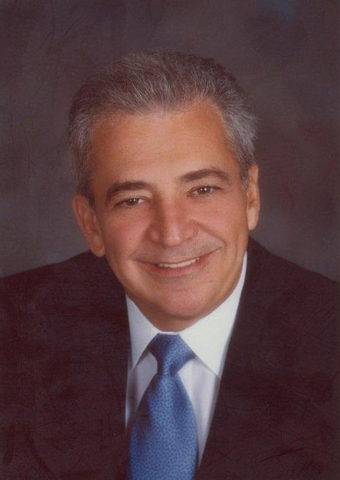 Tony Alamo, 72, is living the American dream. In 46 years, he moved up from a casino janitor to senior vice president, managing many casinos in Las Vegas.
In 2001, Alamo Elementary School, 7455 El Camino Road, was named in his honor.
"He wants to get kids educated," said his son Tony Alamo Jr. "He believes everyone needs to get a education, or they won't survive in this world."
Born in Isabela de Sagua, Cuba in 1941, Alamo fled to United States in the early 1960s after the Cuban Revolution, according to Alamo Jr.
"He came with no money, no English and was barely 20 years old," Alamo Jr. said. "He married my mother, who had some friends in Reno, and moved to Nevada."
Once in Reno, Alamo taught himself English and found work as a janitor at Harrah's. He also ran a paper route.
"As soon as he turned 21, he went to dealer school," Alamo Jr. said. "He also signed up for classes at (the University of Nevada, Reno) because he was learning at the University of Havana in Cuba before the move.
"Even as a kid in a new country, he knew he had to get an education."
Alamo juggled his paper route, college classes and dealer school for about a year when his wife Maria was laid off from her job.
"My mother was pregnant with me at the time she was laid off," Alamo Jr. said. "My dad understood the financial reality of the situation and dropped out of college to support his family."
Alamo moved to Las Vegas in 1974 when his boss began running Circus Circus. Over the years, he worked as a dealer, craps boxman, shift manager, assistant manager and general manager at many casinos in Las Vegas.
"Through his work ethic, he climbed the corporate ladder," Alamo Jr. said. "That man finished his casino and gaming career as senior vice president of the Mandalay Resort Group."
According to his son, Alamo was involved in the expansion of Circus Circus, the Desert Inn and the MGM Grand. He also helped run the Monte Carlo, the Luxor and Mandalay Bay.
Alamo retired in 2005 when the Mandalay Resort Group was sold to the MGM Resorts International for almost $8 billion.
"He worked graveyard and swing shift my whole life, working every job in the casino he could," Alamo Jr. said. "In the middle of all that, his biggest push was to make sure his kids got educated."
Alamo Jr. attended UNLV and the University of Southern California's Keck School of Medicine. He opened Alamo Medical Clinic in Henderson in 1994.
"People want to give me credit for all that I did, but I have to stop them," Alamo Jr. said. "That's my father, not me. He pushed my sister and me and placed an enormous value on education.
Alamo's daughter Nancy works for the Clark County School District as a coordinator for the English Language Learner program. She attended Loyola Marymount University in Los Angeles and Nova Southeastern University online.
"My father played a large role in my choice to take the educational route," Nancy said. "He wasn't able to achieve what he pushed and instilled in my brother and me, but he made sure we got educated."
In 2001, Alamo Jr. and Nancy, along with supporters from the community, pushed to have a school named for their father. With the help of former school board trustee Larry Mason, the school was named and dedicated for Alamo.
"My father is a firm believer and supporter of public education," Nancy said. "With all the things he's accomplished and had to overcome, he's a great role model for the community and for the children. I think it's appropriate that a school be named after him."
Principal Todd Lindberg transferred to the school in August and met Alamo before classes started.
"I wanted to make sure he felt part of the school still when I moved in," Lindberg said. "He's definitely been a positive influence. Anything I need, I just email him or call him, and he does what he can."
Alamo Elementary School opened in 2002 and has more than 900 students enrolled this year.
"From the conversations I've had with him, (Alamo's) made a big impact in the city," Lindberg said. "He's played a big part in the casino industry, and he's been an advocate for schools and education. We truly appreciate him."
Alamo was unavailable for comment.
Contact Southwest/Spring Valley View reporter Caitlyn Belcher at cbelcher@viewnews.com or 702-383-0403.
Naming Las Vegas
The history behind the naming of various streets, parks, schools, public facilities and other landmarks in the Las Vegas Valley will continue to be explored in a series of feature stories appearing in View editions published on the first Tuesday of every month. If you're curious about how or why something got its name, post a comment on our Facebook page, facebook.com/viewnewspapers, or email sblust@viewnews.com.