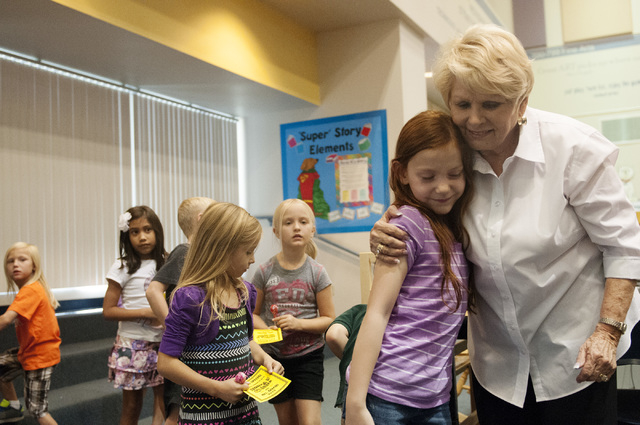 Linda Givens Elementary School opened in 2004. Its namesake is a woman who spent her life teaching young children.
What flash of memory comes immediately to mind when thinking of teaching?
"The kindergarteners. I wish that I had a tablet to write down the funny things that they'd say," Givens said. "It would come out so cute."
Born Linda Rankin, her parents were Jack and Dorothy. Jack Rankin worked for the city of Phoenix in the Right of Way Department. In 1954, the family moved to Las Vegas, where her father worked for an insurance company. Dorothy Rankin was an office worker, first for the city of North Las Vegas and then for the Water District.
"It was much smaller then," she said of Las Vegas. "Nothing was past Rainbow (Boulevard). When I was a senior in high school, I dated a boy who lived on Arville (Street). We thought that was a long way."
Givens was at Las Vegas High School from 1954 to 1958. She was involved in various clubs and was senior class vice president.
She received her bachelor of arts degree in 1962 from Arizona State University (where she was homecoming queen) and her Master of Science degree in 1987 from Nova University. She began teaching for the Clark County School District in 1963, and her 30-year career saw her at five elementary schools: Lincoln, 3010 Berg St. in North Las Vegas; Fyfe, 4101 W. Bonanza Road; McMillan, 7000 Walt Lott Drive; Tate, 2450 Lincoln Road; and Williams, 3000 E. Tonopah Ave. in North Las Vegas. Mostly, Givens taught kindergarten and first and second grades.
At Williams Elementary, she was assigned to teach fourth grade, which caused her initial panic.
"I'm under 5 feet tall," she said. "I came back after a pregnancy, and my principal didn't have a kindergarten opening, but he had a fourth-grade opening, and he said, 'I want you to try it.' I said, 'The kids will all be bigger than me.' "
Givens ended up hitting the playground at recess to play tether ball and softball alongside her students. She had a good time that year but went back to teaching kindergarten the next school year.
The school district was growing faster than schools could be built. For a couple of years, the school district had to put her school, Lincoln, on double sessions. She taught her students in the morning and a different teacher came in with different students for the afternoon session.
"There are always budget issues with the school district," she said.
She met her husband, Kenneth Givens, a dentist, when friends set them up on a blind date. He impressed her as being friendly, kind and considerate. They've been married 25 years and have two children — Michelle, who followed in her mother's footsteps and became a teacher, and Mike, a certified public accountant.
What did she like about teaching elementary school?
"I just loved getting the children first, being the first one to teach them everything and watch them grow," she said. "With kindergarten, you can honestly see them change, like, every day, every week. They learn so much."
Though she's retired, Givens Elementary, 655 Park Vista Drive, sees a lot of her. She tries to be there for every function and event. Principal Dan Hungerford said that in his 16 years with the school district, he's never seen a namesake at school as much as he sees Givens.
"When she comes, the kids look at her like she's a celebrity," he said. "You would have thought Justin Bieber was here."
Hungerford said Givens was embedded into the fabric of the school and is not just a name on the side of the building.
"I got a school named after me not just because I taught in the district for 30 years but also I've done a lot of volunteer work in Las Vegas," Givens said. "I've been with Junior League and the Assistance League, and I served on a lot of education boards that were not paid things."
She joined both in 1967, and her contributions through the years are too numerous to list.
Givens retired in 1993, and these days, golf and bridge are her hobbies. But that doesn't mean she is finished at her school. She lives 10 minutes away, and every Friday, she hosts "Story Time and Snack with Mrs. Givens." Two children from each class are chosen for their outstanding behavior that week and get to leave their classroom for the special honor.
She does two sessions, the first for kindergarten and first and second grades and the second for older children. Each child gets a card to commemorate that they got the special recognition.
"I run into parents all the time who say, 'We still have our Story and Snack Time card on our refrigerator, ' " she said. "I love to do it. I told the principal, 'I will be there unless I'm in the hospital or out of town.' "
Givens Elementary School will mark 10 years in 2014.
Contact Summerlin/Summerlin South View reporter Jan Hogan at jhogan@viewnews.com or 702-387-2949.