Nellis Air Force Base squadrons help battle hunger
December 9, 2013 - 3:00 pm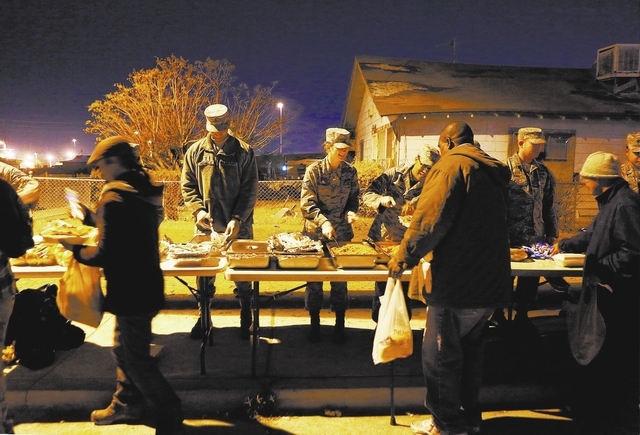 Every Monday night at the corner of McWilliams Avenue and G Street, members of different organizations join efforts to bring warm food and clothes to an area densely populated by a homeless community. By the time tables are set up and food is ready to be served, the line extends down the block.
Volunteers from Nellis Air Force Base assist with the outreach event every last Monday of the month. The joint effort also involves Saint Benedict Labre Homeless Ministry and other church groups and organizations.
The relationship with Nellis Air Force Base began after a military sergeant and his wife volunteered at one of the events and became aware of people's dire need for food.
"I came out here with my wife once when she volunteered, and after seeing how many people needed help, I decided, why not get the military involved?" Master Sgt. Richard Buchalski said.
He asked the Rev. John B. McShane, who started the event 13 years ago, which days he needed the most assistance. McShane said the turnout was heaviest every last Monday of the month.
Buchalski pitched the idea to the Nellis Air Force Base Top-3 Council, and the council voted favorably.
The council funds him with $100 a month for food and water.
Since Nellis Air Force Base started volunteering at the program approximately two years ago, different squadrons have assisted, rain or shine.
"This place becomes like an orchestra," Buchalski said. "There are people serving food, handing out clothes and blankets and shoes. It's sad to see how many people are homeless. They come from all walks of life."
The base is split into different squadron volunteers. There are the military members who cook meals, donate items or serve meals at the event.
The typical food menu consists of pasta, chili or pizza and a side of bread.
"We want to feed as many people as we can," said Master Sgt. Shane Sneary, volunteer at the event. "We usually expect as many as 250 people to show up."
The volunteers prepare by setting up tables and bringing out water bottles, trays of spaghetti and dinner rolls.
"I've been volunteering since August," said 1st Lt. Indya Vernon. "It's really nice to be able to come here more than once because you start recognizing faces. I've talked to a wide range of people, even veterans."
On a typical Monday, McShane will say a prayer at 7:30 p.m. and bless the food before it is served.
Volunteer David Amour said the event is packed with people who run out of their Social Security funds and food stamps.
"By the end of month, we see the biggest crowds because by then, a lot of people are broke," Amour said. "The military volunteers have been really helpful because a lot of homeless people are military veterans. They are able to bond with each other."
The findings from the 2013 Southern Nevada Homeless Census & Survey stated there are 7,355 homeless people in the valley, including 3,034 who are unsheltered.
Although the survey indicated a 22 percent decrease in the number of homeless people compared to 2011, it estimated that 33,882 members of the Southern Nevada population have experienced homelessness annually.
Volunteer Liestela Baldivia has been assisting with the outreach event for 14 years. She is known as "the burrito lady" and claims to have made 38,000 bean, rice and homemade salsa burritos as a volunteer.
"All of these people are human beings; they're not bums," Baldivia said. "I've met veterans, professors, families and dentists. I know that they're not lying because I ask them certain questions that only someone in that profession would know. "
Baldivia also makes it a priority to help people spiritually, including Kathy Washington, who suffers from bone cancer and could not eat the food that was served to her.
"I come here because the father has been spiritual to me and has offered prayers for me," Washington said. "I know that I will be going home (to heaven) one day soon. Places like these just help me get by."
The event usually lasts about an hour.
"Almost every squadron on base has volunteered for this event," Buchalski said. "We just want to help our brothers and sisters at home."
Contact Sunrise/Whitney View reporter Sandy Lopez at slopez@viewnews.com or 702-383-4686.