Nevada Democratic caucus overlooks Sabbath observers
February 4, 2016 - 5:39 pm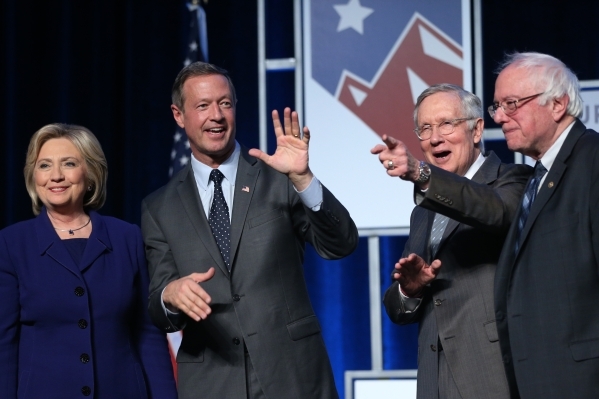 Observant Jews and Seventh-day Adventists who want to caucus with Nevada Democrats on Feb. 20 are out of luck.
The party's noon caucus falls squarely in the middle of a Saturday, a sacred day of rest and worship for both faiths.
Jewish clergy said the timing of the caucus disenfranchises those who want to participate and pointed out that other high-profile early-state caucuses and primaries don't fall on a Saturday.
A party spokesman said the big event is set for that day and time to maximize participation.
"Saturday at 11 a.m. is the best time to increase access as much as possible for Democrats across Nevada to participate in our First in the West caucuses," said Stewart Boss, spokesman for the Nevada State Democratic Party. "Keeping this date is critical to preserving our early-state status in the presidential nominating calendar."
This isn't an issue for other early voting states. Iowans caucused on Monday. New Hampshire's primary, the first primary in the U.S., will be held Tuesday. South Carolina's Republican and Democratic primaries are both on Saturdays, Feb. 20 and Feb. 27. But that state's voters of both parties can cast absentee ballots in advance for a variety of reasons, including religion.
In Nevada, participating in the presidential caucus for both parties requires showing up in person, unless someone is in the military.
Nevada's caucuses will be the first indicators of which presidential candidates voters in the West favor and could be a key factor in whether a candidate secures the nomination. Nevada will be state No. 3 for Democratic presidential candidates and No. 4 for Republican candidates.
"I do think it's unfortunate that it does disenfranchise certain members of the Jewish community," said Rabbi Bradley Tecktiel, chairman of the community relations council for the Jewish Federation of Las Vegas.
Noting that not all Jewish people observe the Sabbath the same way, Tecktiel said: "There is a significant enough population that does that might want to be able to participate in the caucus but can't because it's on the Sabbath."
Stressing he's an independent who won't caucus regardless, he said Sabbath-keepers were able to participate in the Iowa caucuses earlier this week without it interfering with the Sabbath.
"It's not like it's unheard of around the country," he said.
Rabbi Shea Harlig of Chabad of Southern Nevada said there's "no reason" a caucus couldn't be on a weeknight. He noted that general elections, which also merit high participation, are on Tuesday nights.
He said it's surprising there isn't more sensitivity to the diversity needs of the community. Harlig caucused in 2012 with Republicans on a Saturday, when Clark County GOP leaders offered a special post-sunset caucus event tailored toward people who couldn't attend the daytime caucus for religious reasons. It was held at the Adelson Educational Campus, a private school in Summerlin.
At the time, Sheldon Adelson's spokesman put out a statement saying the billlionaire casino mogul and his wife, Miriam, had "no involvement" or input into the process leading to that special caucus. The Adelsons are active in Republican political circles and contribute generously to GOP candidates and causes.
This election cycle, the GOP faithful will caucus on Feb. 23, a Tuesday, rendering moot the question of whether Republicans need a post-Shabbat caucus.
Nevada Republican Chairman Michael McDonald said having the caucus on a Tuesday is part of the party's effort to be inclusive and "make it fair for everyone regardless of what religion you are."
The Review-Journal is owned by a limited liability company controlled by the Adelson family, majority owners of Las Vegas Sands.
— Contact Ben Botkin at bbotkin@reviewjournal.com or 702-387-2904. Follow him on Twitter: @BenBotkin1.