Nevada task force prepares for election contingencies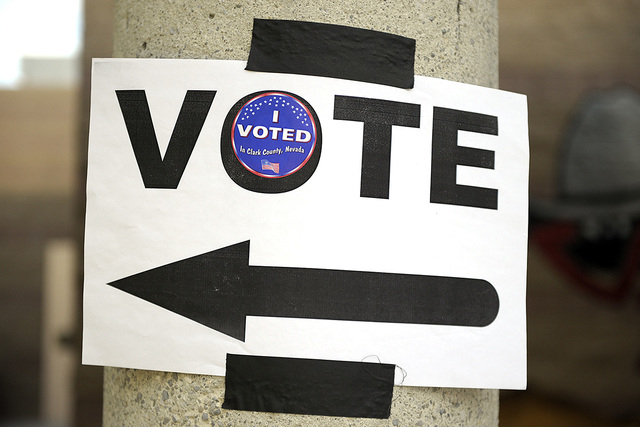 CARSON CITY — A task force of state, local and federal officials is preparing for contingencies to ensure Nevada's upcoming primary and general elections are fair and accurate.
At a meeting Monday, the multi-jurisdictional task force led by former Carson City Clerk Alan Glover discussed how to deal with a wide range of scenarios, from finding last-minute substitute poll workers to moving entire polling sites because of natural disasters or terrorism.
Wayne Thorley, elections deputy for the secretary of state's office, asked task force members for recommendations on development of a statewide emergency election plan.
Joe Gloria, Clark County registrar, said the county has four mobile voting rigs that can be dispatched around the Las Vegas Valley in the event of polling site problems.
There was also discussion on how to use absentee ballots for widespread power outages or inaccessible polling sites.
Mike Elliott with the FBI praised the election task force model that's been in use since 2008 to respond quickly to perceived problems. In many instances, he said, initial reports are unfounded.
As an example, he said a 2012 incident of a polling site going down in Las Vegas turned out to be caused by a drunken driver who crashed into a utility pole.
"We had officers out there within two to three minutes," Elliot said, adding operations were swiftly restored.
Elliott also referenced the 2010 U.S. Senate race, where allegations were raised of rigged voting machines in the heated contest between Democratic leader Harry Reid and Republican Sharron Angle.
Some people alleged the machines automatically checked Reid on the ballot.
"It was not what it was alleged to be," Elliott said. "We eliminated those fears within a week."
Angle, who lost that race, is vying for the GOP nomination again this election to replace Reid, who is retiring from the Senate.
Secretary of State Barbara Cegavske said she welcomes having the election task force command center headquartered at the secretary of state's office again this year.
Elliott said the federal government would assist state and local authorities if issues arose involving natural disasters or unintentional occurrences that affect voting.
"The major area we're interested in are the intentional or criminal acts," he said.
The task force plans to meet again in May.
Nevada's primary election is June 14. The general election is Nov. 8.
Contact Sandra Chereb at schereb@reviewjournal.com or 775-461-3821. Find @SandraChereb on Twitter.