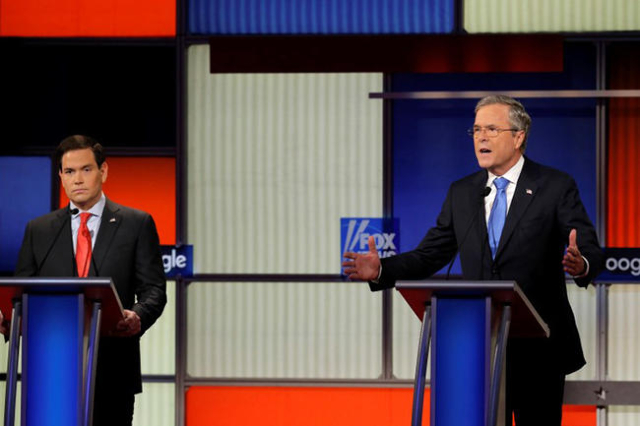 Nevada's top political donors so far this election cycle for presidential and congressional campaigns, PACs and Super PACs are the co-founder of a data center, the former head of Reebok and a casino magnate.
Super PACs, which operate independently of the candidate's own campaigns, are not subject to the federal contribution limits that regular political action committees have, but they are required to disclose their donors, according to the Federal Election Commission.
George Macricostas, CEO and executive chairman of RagingWire Data Centers, made America's Liberty the most funded Super PAC in Nevada in 2015, donating more than $2.1 million indirectly to U.S. Sen. Rand Paul, R-Ky., who dropped out of the presidential race on Feb. 3. Reached by phone, Macricostas' father confirmed that his son lives full time in Incline Village, at Lake Tahoe.
The overall second largest donor is not an individual, but a ranch in Montello on the Nevada and Utah border near Interstate 80.
Business records show Winecup Gamble is owned by Paul Fireman, a businessman who brought the Reebok shoe company to the United States. He and his wife, Phyllis, list their address in West Palm Beach, Fla. The $1 million donation went to America Leads, making it the second highest funded Super PAC in Nevada and single largest contribution amount in 2015. The Super PAC supports New Jersey Gov. Chris Christie, a Republican who dropped out of the presidential race on Feb. 10.
Casino billionaire Sheldon Adelson of the Las Vegas Sands Corp., along with four members of his family, are the next largest donors with a combined $533,600 in contributions. To date, Adelson has not officially endorsed a presidential candidate. The Adelson family owns the Las Vegas Review-Journal.
Just outside the top 10 on the list are Las Vegas investor and businessman William Walters and his wife, Susan, who made a $50,000 contribution to the Right to Rise Super PAC through one of their companies, BW Auto Ventures, in support of Republican presidential candidate Jeb Bush.
"We're not people that get involved with people on the far right or the far left," he said. "It's an investment in the future of my company and my employees."
"Early money is an order of magnitude larger than late money in the race," said Las Vegas political consultant Mark Fierro. Funding is one of the traditional indicators of who's going to lead, he said.
Contact Adelaide Chen at achen@reviewjournal.com or 702-383-0281. Find her on Twitter: @adelaide_chen