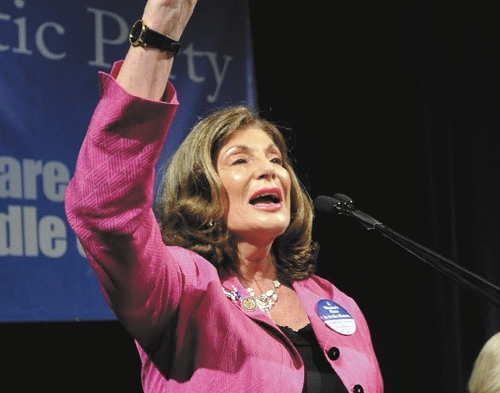 In a new ad targeted to Hispanic voters, Senate candidate Shelley Berkley says Democrats are the only hope of young "DREAMers" who want to remain in the United States.
The 30-second Spanish language commercial begins airing Wednesday statewide. It plays up Berkley's support for the DREAM Act that would provide a path to citizenship for young people who were brought into the country illegally as children but who have been raised and educated here.
The DREAM Act enjoys wide support among Latino voters, a key constituency in Nevada that Democrats need to turn out in big numbers on Election Day to help both Berkley and President Barack Obama.
This is Berkley's second Spanish-language appeal, following a statewide commercial in early August that also sought to contrast her support for the DREAM Act and student aid with Republican opponent Sen. Dean Heller.
In the new ad a female narrator speaks over snippets of young people in classroom settings and a shot of Berkley alongside Rep. Luis Gutierrez, D-Ill., a popular Hispanic leader. "Thousands of young people known as DREAMers now stand in line to work legally. It's a step in the right direction," the narrator says. "But their future depends on which party will control Washington."
While most Democrats have gotten behind the DREAM Act, most Republicans in recent Congresses have opposed it, including Heller, who has likened it to amnesty for illegal immigrants.
The Berkley spot repeats a charge from the earlier Spanish-language commercial that said Heller and Republicans "have already said they want to deport undocumented students." "Shelley Berkley and the Democrats keep fighting for the DREAM Act, so qualified young people can contribute to the only country they know and love."
Heller said in May he would be open to some form of relief for undocumented young people, but a Repubican bill never materialized. He subsequently accused Obama of working around Congress when the president put together a policy change in June that would issue work permits to qualified young immigrants.