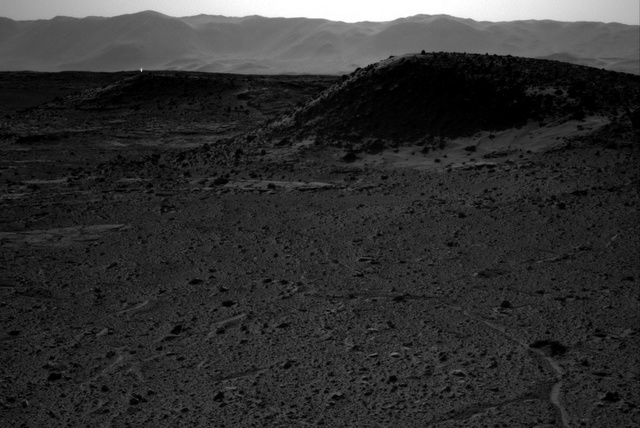 A NASA image taken from the Mars Curiosity Rover on April 3 is getting conspiracy theorists all excited about life on Mars.
The image shows a very bright beam of light off in the distance on the rim of a hill.
According to NBC News, the picture was captured by the right-handed navigation camera on NASA's Mars Curiosity Rover, but the left-handed camera doesn't capture the light in the image.
However, this hasn't stopped buzz on the Internet about the light in the new image.
A blogger for UFO Sightings Daily says the light, "could indicate there is intelligent light below the ground and uses light as we do."
NASA's Jet Propulsion Laboratory is looking further into the image and is set to release an update soon.
This isn't the first time a NASA image from the Mars rover has suggested life on the red planet.
An image from earlier this year of what appeared to be a jelly doughnut on Mars just turned out to be a rock. And a couple years ago people were clamoring about a rat or maybe a squirrel on Mars? That one got people talking about a secret NASA experiment to see if animals could live on the red planet, according to the International Business Times.
The Mars Curiosity Rover is currently exploring an area called 'The Kimberley,' and took the image a day after arriving in the unexplored area.
Contact Kira Terry at kterry@reviewjournal.com. Find her on Twitter: @kiraterry