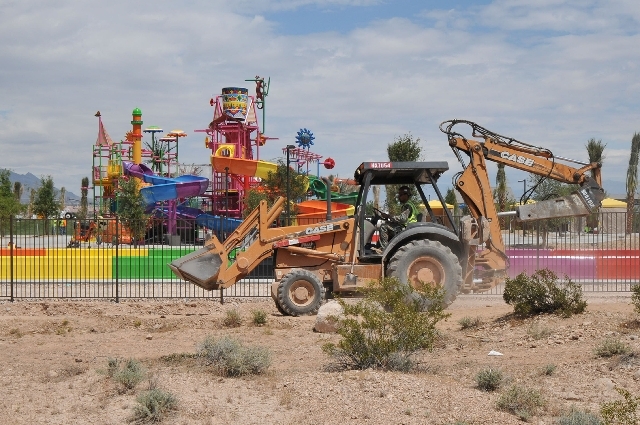 The southwest-area water park Wet 'n' Wild was scheduled to open its doors to gold and season pass holders over Memorial Day weekend, with a public opening scheduled for June 3.
Gold season passes are $95, and season passes are $75. Passes can be purchased at wetnwildlasvegas.com. Single-day general-admission tickets are $40 or $30 for seniors 65 or older and kids shorter than 42 inches.
The park will open to the public from 10 a.m. to 6 p.m. Sunday through Thursday and from 10 a.m. to 8 p.m. Friday and Saturday through Sept. 30.
Parking is $5 per vehicle or free for gold pass holders.
Wet 'n' Wild, 7055 S. Fort Apache Road, has more than 25 slides and attractions on 41 acres, including a 17,000-square-foot wave pool and lazy river.
Wet 'n' Wild spokesman Trevor Wilson said most rides require a height of 42 inches, and one, the Canyon Cliffs — a four-story slide that drops riders 33 feet per second — will require a height of 48 inches. There also will be an area for families with children shorter than 42 inches.
Wilson said the park will probably expand in the next few years, using adjacent land to the west and south of the $50 million development.
"When we open we'll see how the guests interact with the property," Wilson said. "There's always going to be something you want to enhance or do better and continue going that way. We'll hear from them — what they're missing from the park and that sort of thing."
The new Wet 'n' Wild was designed to be water-efficient, Wilson said in an April 14 Las Vegas Review-Journal story. It is expected to use no more than 10 million gallons of water per year, less than one-tenth the consumption at the former Wet 'n' Wild on the Strip that closed in 2004. Water for slides will be stored underground, and less will be lost to evaporation, Wilson said. Park water also will be filtered and reused before going into the valley's sewer system.
An average Las Vegas home uses about 150,000 gallons of water annually, said Southern Nevada Water Authority conservation manager Doug Bennett in the same Review-Journal story, and a fast-food restaurant uses a couple of million gallons annually.
Next door to the water park is Faiss Middle School, 9525 W. Maule Ave. Principal Nathan Miller said the park's management team has been a good neighbor and kept the school updated with its plans and timeline.
"I've been really impressed with their cooperation," he said. "They've been good partners."
Nothing is official, Miller said, but they have discussed potential field trips and other partnerships.
"There are potential future educational opportunities," Miller said. "They were talking about the potential for future field trips and involvement with the school district regarding educational mini-seminars on their campus."
Miller stressed these ideas are part of ongoing discussions, and nothing is finalized. Liability would be an issue depending on particular activities, he said.
"There would be educational value to the visit," he said.
Contact View education reporter Jeff Mosier at jmosier@viewnews.com or 702-224-5524.