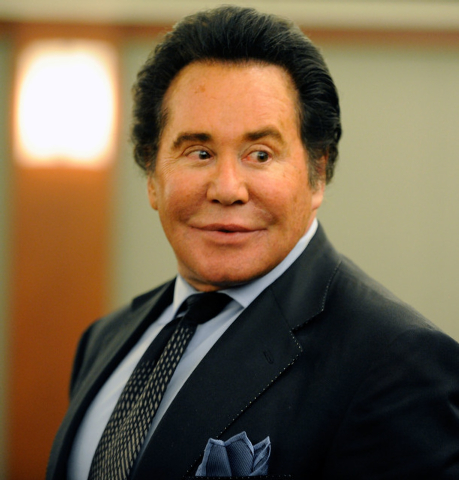 Wayne Newton couldn't help but notice the guy in the front row.
"As I walked onstage, he held up a sign that said 'US Guam,' '' said Newton.
In an instant, Newton knew the connection.
"So I did my usual show," he said, "and I paid tribute to the vets and this man got up out of his seat and came over and shook my hand and he handed me a letter toward the end of the show. I didn't read it until I was off stage and I'm glad I didn't because I wouldn't have been able to get through it."
The letter was dated Nov. 16, the date of Newton's show at a casino outside of Sacramento, Calif.
The single page typed letter, signed by Corp. Tracey Eveland of Rocklin, Calif., began:
"Mr. Newton: In 1983 aboard the USS Guam, I was a young U.S. Marine serving my country off the coast of Beirut, Lebanon. It was during one of the most difficult times in my life and I had never been so alone.
"It was Christmas and we were all feeling the pain of our fallen Marine brothers and we were so far from home and missing our families," wrote Eveland.
The reference to "fallen Marine brothers" was to the Oct. 23, 1983, Beirut barracks bombing that killed 241 American servicemen, including 220 Marines.
Eveland, then 19, and many of his surviving Marines were still in shock weeks later when they were shuttled over the Mediterrean to the USS Guam.
It was the highest single-day death toll involving Americans since World War II.
"You arrived along with several other celebrities to perform a USO show. I wasn't really up to the festive atmosphere and cheer at the time and I remained upstairs in my berthing area," Eveland continued.
"I decided to go eat something and was walking down the corridor toward the stairs when I encountered an unfamiliar wandering lost.
"You asked if I could help you find the hangar bay and I told you I could and offered to lead you down. We made small talk and you asked me why I wasn't attending the show. I told you I wasn't feeling up to it but I would have a look since I was taking you there.
"I found us a great spot off the left side of the stage and told you we would have a great view from there to see the show and that's when you identified yourself as Wayne Newton and told me you were going to be singing that night.
"Sir, having been through some of the worst days of my life and knowing there were many more ahead was what was on my mind then and I didn't recognize you because of that night.
"When you told me who you were, the lights came on right away and I recognized you for being you.
"I stayed and enjoyed your show and watched the rest of the entertainers that evening. That was 30 years almost to the day.
"I want you to know how much that meant to my brothers and me aboard that ship during those dark days. You and the USO brought a little bit of home and for a moment we were given a chance to put down our burdens and get lost in the show.
"Thanks for the memories and thank you for your continued support of the American troops. You are a hero sir. Semper Fi!"
"That letter," said Newton, who succeeded Bob Hope as chairman of the USO Celebrity Circle in 2000, "says more than anything I could ever say."
For the full story and the remarkable World War II heroics of comedy legend Marty Allen, go to normclarke.com.
THE PUNCH LINE
"I tell you, it's really amazing how popular baby Jesus was able to become without his mother posting a single picture of him on Facebook." — Jimmy Fallon
Norm Clarke's column appears Sunday, Monday, Wednesday and Friday. Reach him at 702-383-0244 or norm@reviewjournal.com. Find more at normclarke.com. Follow @Norm_Clarke on Twitter. "Norm Clarke's Vegas" airs Thursdays on the "Morning Blend" on KTNV-TV, Channel 13