Nonprofits work to improve community
September 26, 2013 - 9:44 am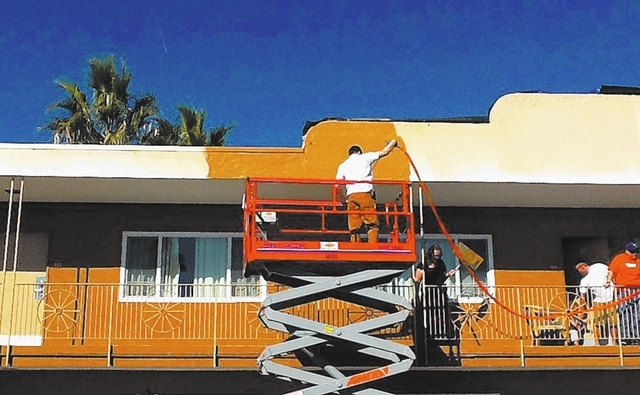 Downtown is home to many nonprofit organizations working tirelessly for community betterment. Some of the most familiar include Discovery Children's Museum, The Smith Center Foundation, Natural History Museum, the Springs Preserve Foundation, Catholic Charities, Veterans Village and The Shade Tree. Although many nonprofits have been part of the downtown community for decades, others are relatively new to the scene and each focuses on something different, from cultural enrichment to helping homeless veterans, women and children.
The latest group comes to downtown in the form of helpful heroes and ambassadors. The Downtown Las Vegas Dynamos was created through a partnership of the United Way of Southern Nevada and the city of Las Vegas to serve as the ultimate city ambassadors for visitors and locals alike, offering information on and guidance about the downtown scene.
DT|LV Dynamos give directions, answer questions and provide recommendations and assistance — anything to help make visits to downtown Las Vegas more enjoyable. DT|LV Dynamos serve as volunteer ambassadors and receive training to earn their stripes, learning everything they can about downtown, its visitors and those leading the area's urban renaissance.
DT|LV Dynamos have the opportunity to participate in DT|LV Dynamo Days, transforming city blocks with "clean-ups" meant to last a lifetime. To sign up to volunteer for DT|LV Dynamo Day on Oct. 12 or learn more about becoming a DT|LV Dynamo, visit uwsn.org/dynamos.
Veteran's Village is relatively new to the downtown scene but has made a huge impact in a very short time. Veterans Village is at 1150 Las Vegas Blvd. South in a repurposed Econo Lodge. It serves as a temporary housing facility for U.S. veterans and their families and provides a comprehensive and holistic roster of services to help vets heal and succeed.
Services are provided through public and private partnerships between community organizations and government agencies and include providing housing, nutrition, life skills instruction, employment training and referrals, continuing education and degree programs, exercise training, medical services, mental health counseling and special veteran-centric activities and events.
Veterans Village is managed by SHARE, a 501(c)3 organization founded in 1994 by Arnold Stalk and Karin Rogers to provide affordable housing for individuals in need. SHARE oversees all operations of services for Veterans Village residents. Residents are in need of donations of money, clothing, food and water. For information, visit www.vvlv.org
Downtown Cares is a community day of service led by the Moonridge Group and El Cortez, with support from dozens of downtown businesses and friends. This year, Downtown Cares is Nov. 9 at Veterans Village. Participants will plant flowers and trees, paint park benches, create a wall mural, clean the grounds and collect food and toiletries for low-income residents, U.S. veterans and their families.
Volunteers should register by Oct. 31. For questions, donations and/or to register your team of volunteers, contact event coordinator Cori MacFarland at Cori@moonridgegroup.com or call Kathleen at 702-778-3772.
Opportunity Village, one of Nevada's best known charities that assists and employs individuals with intellectual disabilities, has adopted downtown as the new location for its popular Santa Run. Set for Dec. 7, the Great Las Vegas Santa Run attracts more than 10,000 participants and starts at Fremont Street Experience. A must for visitors and locals alike, the Santa Run is a long-standing community tradition for both businesses and families. Details are available at www.opportunityvillage.org/upcoming-events.
Transition Services Inc. was established in 1988 with a goal of providing meaningful employment to those with developmental disabilities. As employment choices for people with disabilities are limited, the organization created six small-business enterprises to respond to the needs of clients and create meaningful and supportive job opportunities that give clients dignity. Today it serves more than 300 people with disabilities.
Studio 8Ten, located downtown at 810 Las Vegas Blvd. South, is a colorful and fun gift store, working studio, gallery and showcase for Transition Services' efforts. This is a great place to pick up a unique piece or art, see handcrafted paper being made, buy a greeting card, check out their famous alien doll or just take a tour and meet the artists.
Studio 8Ten is open Monday through Friday, 10 a.m. to 6 p.m., and Saturdays, 10 a.m. to 2 p.m. During every First Friday festival event, it remains open until 8 p.m.
Can't make it to Studio 8Ten? Visit it at many of the farmers markets held around Las Vegas. Call 702-644-9418 for current market locations and times. Or you can buy its products at its online Etsy Store.