NORM Q&A: Las Vegas entrepreneur Tony Hsieh talks Tyra, Twitter, his mom's dream
October 18, 2013 - 12:50 am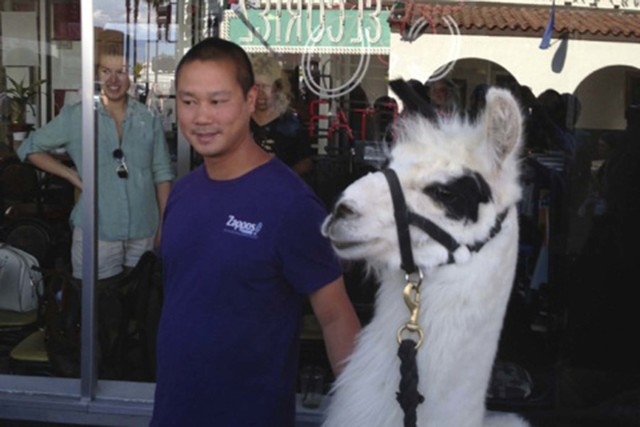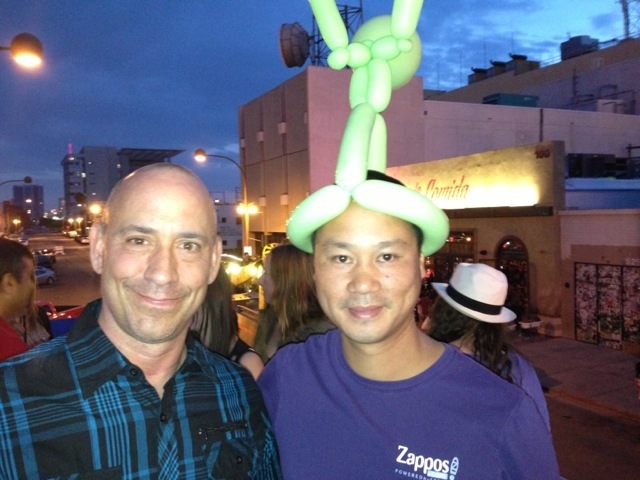 With the most ambitious downtown festival a week away, Tony Hsieh sees it as more than a cross-promotional concept among 200 on his Downtown Project's $350 million checklist.
The two-day Life is Beautiful festival, a four-festivals-in-one extravaganza, combines a big-name music and culinary lineup with arts and learning components.
Together, he said, they "fit in perfectly with the mission and purpose of the Downtown Project."
"We think it's a great opportunity to help showcase what's possible for downtown," said Hsieh, who moved Zappos, the e-commerce giant, to Henderson in 2004.
In a wide-ranging interview, Hsieh addresses the recent breakfast sighting with supermodel Tyra Banks, why he's cooled on Twitter and his mother's long-standing dream for her son.
Hsieh, a bachelor, said he owes his friendship with Banks to his 2010 book, "Delivering Happiness," about his entrepreneurial endeavors.
She tweeted about it, gave him a call to set up a meeting and "we've stayed friends."
Once a big fan of Twitter, Hsieh explains why he rarely joins the chatter on the social media network.
"When Twitter first launched, it was like being a regular at a great neighborhood bar that the rest of the world didn't know about. Now it feels more like a giant nightclub which is great for certain things but much less personal and intimate."
Q. There was a sighting of you having breakfast with Tyra Banks last week. What is the backstory there? Or was it business related?
"Tyra read my book 'Delivering Happiness' when it came out in 2010 and tweeted about it. She then called me and asked to meet up, and we've stayed in touch and have been friends ever since. She happened to be in Vegas for something else a couple weeks ago, so we met up for breakfast to catch up."
Q. The Life is Beautiful festival is shaping up as the most ambitious event ever held downtown. How important is it in your overall downtown plan?
"The purpose of Downtown Project is to help make downtown Vegas a place of inspiration, entrepreneurial energy, creativity, innovation and discovery, through the 3 C's of collisions, co-learning, and connectedness.
"Downtown Project is actually about 200 different projects happening simultaneously, of which Life Is Beautiful is one of them. Our model is to invest in entrepreneurs, so we decided to invest in Rehan's company (Rehan Choudhry is the founder of Life Is Beautiful) as we think it's a great opportunity to help showcase what's possible for downtown.
"The festival is actually four festivals happening in the same footprint: a music festival, a culinary festival, an arts festival, and a learning festival. Combined, the festivals fit in perfectly with the mission and purpose of Downtown Project."
Q. Not many cities have experienced the explosion of major music events that Las Vegas has seen in recent years. The Electric Daisy Carnival has been a huge success. The iHeart Radio Music Festival is now indoors and outdoors. Life is Beautiful is a mammoth first-year project. Can you put this trend in perspective and predict where it may be going?
"I think the trend is that people are craving unique, storyworthy experiences and as a result, new festivals have become much more experiencial and storyworthy. Life Is Beautiful will really take things to the next level on both of those fronts."
Q. Some people say regular festivals — of every variety — are the key to keeping the momentum going for downtown.
"I think festivals can help expose people to an area that they otherwise might not have visited on their own. Life is Beautiful will bring a lot of people downtown to the Fremont East area that have never been there before. We hope that many of them will return to explore the area after the festival is over."
Q. Do you have a favorite – or funny – story about moving Zappos into the former City Hall building?
"My favorite moment so far was the ribbon cutting we did in September. We set a new world record with a ribbon that was a mile long and over 1,500 people with scissors simultaneously cutting the ribbon."
Q. What is the single-most asked question or comment you hear? I've heard it has to do with shoes.
"Do you really live in the apartment that the Downtown Project tours go through? The answer is yes."
Q. You use to a be prolific tweeter. It appears you have slowed down. Why?
"When Twitter first launched, it was like being a regular at a great neighborhood bar that the rest of the world didn't know about. Now it feels more like a giant nightclub which is great for certain things but much less personal and intimate."
Q. It has been written that your parents had a different career in mind for you. Would you share that story?
"My parents wanted me to be a doctor or lawyer when I grew up, so they wanted me to get into a good high school in order to get into a good college in order to get into a good grad school or medical school. I wanted to go the entrepreneurial route instead. My mom says it's still not too late for me to become a doctor."
Q. What was the germ of the idea that led to the downtown move? Which came first: the idea to move Zappos downtown or the Downtown Project?
"We had always wanted to build our own permanent campus for Zappos the same way that a lot of other companies like Apple, Google and Nike have. Our original plan was to buy a large plot of land in the middle of nowhere and build it there. But over time, after hanging out in the Fremont East area, Michael Cornthwaite (owner of Downtown Cocktail Room) encouraged us to think about downtown instead. We also realized that most corporate campuses are really insular and don't really integrate or contribute to the community around them. We ultimately decided to take the opposite approach, and build a campus that would encourage employees to venture out into the community and where we could invite the community into our campus in order to encourage serenidipitous interactions and play a role in helping revitalize the surrounding area."
Q. Has the glitz and glamour of Las Vegas been helpful in recruiting fellow entrepreneurs and startups?
"I think the hardest part has been getting people to come visit in the first place, because not everyone is drawn by the glitz and glamour. But once they actually do come and see what's happening downtown, we've found that the place and people generally end up selling themselves. There's no other place in the world like it.
Q. I've seen you wear a balloon hat in public and take part in your employee llama parades. You seem to saying it's important to keep a work-hard, play-hard balance.
"Rather than focus on work/life separation or work/life balance, I think it's more important to focus on work/life integration. People should be doing what they're passionate about doing, and having fun doing it. At the end of the day, it shouldn't be about work vs. life — it should just be about life."
Q. What is your idea of a great night out in Las Vegas? Where would you go for dinner? Are you into the entertainment scene?
"For me, my favorite moments have been the serendipitous ones, when I run into people I wasn't expecting to run into and we end up having a great time. While that has happened all over town, it definitely happens a lot more frequently downtown."
Q. You share a birthday — Dec. 12 — with Frank Sinatra, who deserves a lot of credit for making Las Vegas what it is today. (It is Hsieh's 40th birthday). What would you bring back from Frank's era?
"I don't know a lot about Frank Sinatra, but I would imagine that he must have really connected with his audience. I think that sometimes that sense of connection and intimacy can get lost in today's world.
Q. You also have something in common with Howard Hughes, who invested heavily in the future of Las Vegas. You've committed $350 million to revitalize downtown. How and when did that idea materialize?
"Downtown Project is a separate company from Zappos that was formed because we realized that just relocating Zappos downtown wouldn't be enough. We also needed to help create a place where people had everything they needed to live/work/play within walking distance, so Downtown Project was formed to invest in small businesses to help make the neighborhood more walkable. One of the first small businesses we invested in was 'Eat' which just had its one year anniversary and has become a favorite breakfast and lunch place for lots of people in the community.
Q. If you could partner with a new company for the next phase of The Downtown Project, what kind of company would it be and why?
"It would be a company that isn't using short-term ROI (Return On Investment) or cash flow needs to drive its business, but instead wants to take a long-term approach approach and really more focused on maximizing the long-term ROC (Return On Community).
Q. What most impresses you most about the people who are moving to Las Vegas to be part of your vision of a new downtown?
"First, I would say it isn't my vision — the vision of what was possible was here already with a lot of people in the community such as Michael Cornthwaite. And the collective vision is constantly evolving. All we did was help accelerate things and raise awareness.
"But to answer your question as to what impresses me the most — it's that, for the most part, the people that move downtown generally want to contribute and have a bias to be friendly and to collaborate, and in the process become part of the downtown story. One of my favorite quotes is that 'a great brand is a story that never stops unfolding.' I think the same is true for a city and a community.
"That's why I'm so excited to be a resident of downtown Vegas. I can't wait to see what unfolds next."
Norm Clarke's column appears Sunday, Monday, Wednesday and Friday. He can be reached at 702-383-0244 or email him at norm@reviewjournal.com. Find more online at www.normclarke.com. Follow @Norm_Clarke on Twitter. "Norm Clarke's Vegas" airs Thursdays on the "Morning Blend" on KTNV-TV, Channel 13.