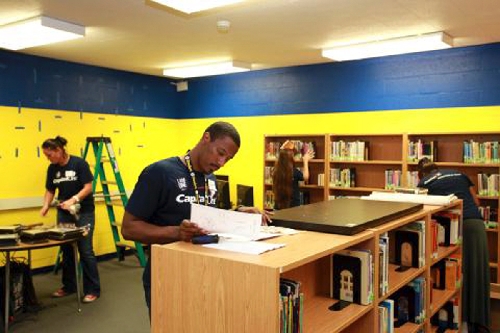 MISS NEVADA PAGEANT COMING
TO TEXAS STATION IN SUMMER
The Miss Nevada Organization announced that it plans to host the 2013 Miss Nevada and Miss Nevada's Outstanding Teen competitions at Texas Station, 2101 Texas Star Lane, June 14 and 15, 2013. Winners will represent Nevada at the Miss America and Miss America's Outstanding Teen competitions. Tickets for the pageant will go on sale in the spring.
For more information, visit missnevada.org.
SHORT SALE SYMPOSIUM scheduled
Gregory Smith of Keller Williams Realty plans to host a free short sale symposium at 5:30 p.m. Thursday at the Aliante Library, 2400 Deer Springs Way. The lecture is scheduled to focus on homeowners' concerns about short sales and taxes. For more information, call Smith at 702-824-4514 or 702-202-0971.
MGM RESORTS EMPLOYEES PLEDGE HOURS FOR MAKE A DIFFERENCE DAY
MGM Resorts employees pledged more than 2,000 volunteer hours, helping nonprofit organizations serve the communities for Make A Difference Day Oct. 27. Some volunteering took place during the week. Make A Difference Day saw more than 350 employees donate their time to organizations including Catholic Charities of Southern Nevada, Three Square food bank, Blind Center of Nevada, the Clark County Graffiti Abatement Program, Habitat for Humanity, the National Park Service and the Springs Preserve.
In addition to participating in Make A Difference Day projects, MGM Resorts employees volunteer regularly throughout the year.
So far, employees have logged more than 73,000 volunteer hours and have helped more than 820 nonprofit agencies meet community needs in 2012.
For more information, visit mgmresorts.com.
DOG RESCUE RECEIVES DONATION PRIZE
Doberman Rescue of Nevada has won the $1,000 state prize for Nevada in the third round of voting in The Animal Rescue Site's 2012 $300,000 Shelter+ Challenge, together with petfinder.com.
A complete list of all winners can be found at theanimalrescuesite.com.
Doberman Rescue of Nevada posts its pets online at petfinder.com/shelters/NV140.html.
CITY ANNOUNCES COMMUNITY DEVELOPMENT BLOCK GRANT PROGRAM
North Las Vegas' Housing and Neighborhood Services Division announced the availability of the Community Development Block Grant Public Service and Construction applications for 2013-14. The deadline for submissions is 5 p.m. Nov. 29, and applications are available at zoomgrants.com. Eligible organizations include public and private agencies and nonprofits with 501(c)(3) status. Projects and activities must serve low- and moderate-income residents and meet one of three objectives: benefit low/moderate-income persons; prevent or eliminate slum or blight; or meet other urgent community development needs.
For more information, call the Housing and Neighborhood Service Division at 702-633-1441 or visit cityofnorthlasvegas.com.
CHURCH schedules HOLIDAY FESTIVAL
Zion United Methodist Church plans to host a holiday festival from 8 a.m. to 4 p.m. Dec. 8 at 2108 N. Revere St.
The festival is scheduled to include educational activities, crafts, games and food.
For more information, call 702-808-9557.
Volunteers needed to transport patients to cancer treatments
Every day, thousands of Las Vegas cancer patients need a ride to their cancer treatment but don't have a means to get there. The American Cancer Society Road to Recovery program provides transportation to and from treatment for people unable to drive themselves.
The program has just 50 drivers enrolled and the current need demands at least 100 to meet all the requests. Volunteer drivers must have a valid Nevada driver's license, a safe, reliable vehicle, proof of automobile insurance, a safe driving history and be in good health. The commitment is about four hours a week however it works with volunteers' schedules. For more information, call Debra Armstrong at 702-891-9023.
FREE BEREAVEMENT SESSIONS OFFERED
The Center for Compassionate Care division of the Nathan Adelson Hospice is offering a series of free bereavement support groups for teens 13 to 18 who have experienced a significant loss.
The support group plans to meet from 6 to 7:30 p.m. Wednesdays, ending Nov. 14, at The Center for Compassionate Care, 4131 Swenson St.
To register, call 702-796-3167 or Christine Zazzeri at 702-796-3126. For more information, visit nah.org.
HELP OF SOUTHERN NEVADA
SEEKS HOLIDAY VOLUNTEERS
HELP of Southern Nevada is calling for volunteers to assist with a number of programs this holiday season. Assistance is accepted from individuals who can donate any amount of time.
Areas where volunteers are needed include: assisting clients with their applications for holiday programs at HELP's main campus, 1640 E. Flamingo Road; assisting with receiving donated Thanksgiving turkeys at various locations (turkeys will be given to more than 1,200 families); and assisting with receiving holiday gifts for selected clients in the Adopt-A-Family program.
To volunteer, contact Joan Lima at jlima@helpsonv.org or 702-369-4357.
HELPING HANDS SURGICAL CARE PLANS SECOND ANNUAL CHARITY SURGERY DAY
Dr. Kevin Petersen and his wife, Kelly, co-founders of Helping Hands Surgical Care, plan to host the second annual Charity Surgery Day Nov. 13.
Helping Hands Surgical Care is a nonprofit organization with the mission to fund and facilitate surgeries for uninsured Nevadans without the means to pay for medically necessary procedures. HHSC doctors will provide 10 free surgeries Nov. 13 to uninsured Nevadans without the means to pay and who do not qualify for government assistance.
HHSC is seeking patients who may qualify. Applicants must qualify financially and medically. To review patient eligibility requirements and apply, visit helpinghandssurgicalcare.
com and click on the "How to Apply" link.
IN PURSUIT OF EXCELLENCE GALA
TO RECOGNIZE NOBEL PRIZE WINNER WIESEL
The eighth annual In Pursuit of Excellence Gala is planned from 6:30 to 11 p.m. Nov. 17 at The Venetian, 3355 Las Vegas Blvd. South.
It will honor Holocaust survivor, Nobel Peace Prize winner and "Night" author Elie Wiesel for his literacy and activism in human rights. Live and silent auctions, a dinner and dancing are planned.
Tickets start at $250 per person. To purchase tickets or make a donation, visit adelsoncampus.org or contact Davida Sims, Adelson Educational Campus director of development, at 702-515-8203.
MASTER GARDENERS PLAN TOURS
OF DEMONSTRATION GARDENs
The Master Gardeners of Southern Nevada plans monthly tours of the Demonstration Gardens at the Clark County/University of Nevada Cooperative Extension Lifelong Learning Center, 8050 Paradise Road. Tours are free and open to the public. Groups of five or more are requested to call program coordinator Ann Edmunds at 702-257-5587 at least two weeks in advance.
AARP TAX-AIDE SEEKING VOLUNTEER HELP
AARP Tax-Aide NV, which prepares free personal income tax returns for residents in the lower- to middle-income brackets, is seeking unpaid volunteers to prepare taxes, greet clients and program computers in early 2013. Training is scheduled for Jan. 7-11 on the west side of the Las Vegas Valley and Jan. 21-25 on the east side. For more information or to volunteer, email taxesbarb@cox.net or jerrytaxes@cox.net.
DONATIONS ACCEPTED TO AID NONPROFIT
Help homeless, pregnant and parenting teens by donating time, money or new or gently used items to assist clients of Southern Nevada Children First, 720 W. Cheyenne Ave., Suite 30.
Volunteers and donations are always needed to support the nonprofit.
For more information, visit childrenfirst-nv.org or call 702-487-5665.
KIWANIS CLUB WELCOMES NEW MEMBERS
The Kiwanis Club of North Las Vegas, a chapter of the international service organization, is scheduled to meet at
6:15 p.m. each Tuesday at T.G.I. Friday's in Aliante Station, 7300 Aliante Parkway.
Club community projects have included canned food drives, car shows, kites in the park events and charity fundraisers.
The fourth meeting of the month is limited to members only.
For more information, visit nlvkiwanis.com or call 702-399-0332.
LOCAL ROTARY CLUB TO MEET
The North Las Vegas Rotary Club of Las Vegas meets at 7:15 a.m. Fridays at the Painted Desert Golf Club, 5555 Painted Mirage Road.
The weekly breakfast meetings include guest speakers, networking, education workshops and service projects.
For more information, visit nlvrc.org/newsite or call Bob Lillis at 702-340-9735.