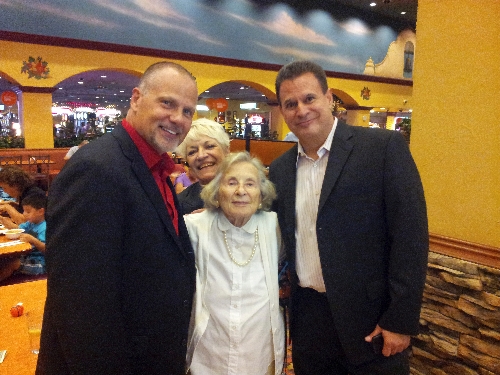 GOLDEN HAND SERVICE AWARDS PLANNED
The Cultural Diversity Foundation has announced its fifth annual Golden Hand Service Awards, set from 5:30 to 8 p.m. Wednesday at Nevada Partners, Culinary Academy of Las Vegas, 710 W. Lake Mead Blvd.
The Golden Hand Service Awards honors individuals who have contributed outstanding service to the community and have gone above and beyond the call of duty to lend a helping hand to someone in need of support.
The event's master of ceremonies is set to be Clark County Commissioner Lawrence Weekly. Tickets are $50 or $500 for a table of 10. For more information, visit cdfnv.org/goldenhand.html.
FUNDRAISER FOR HOMELESS VETS PLANNED AT CLARK COUNTY SHOOTING COMPLEX
The Las Vegas Valley Vets annual Nancy Gass Turkey Shoot is planned from 10 a.m. to 3 p.m. Saturday at the Clark County Shooting Complex, 11357 N. Decatur Blvd. The fundraising event is to benefit Las Vegas homeless veterans. A Corvette corral, vendors and the Sin City roller derby team are set to be on hand. Participants will be shooting at paper targets, and the BB closest to the center wins. Those younger than 18 must be accompanied by an adult. For more information, call 702-455-2002.
LONE MOUNTAIN REGIONAL PARK EXPANSION TO BE DEDICATED SATURDAY
The dedication of the 20-acre expansion project at Lone Mountain Regional Park is planned from 9 to 11 a.m. Saturday at 9825 W. Lone Mountain Road. The expansion covers more than 375 acres and doubles the developed acreage of the park from 23 to 45 acres. Improvements include four basketball courts, six tennis courts, seven horseshoe pits, seven bocce courts and 11 new picnic pavilions.
There are two new restroom buildings, a 164-space parking lot, a new plaza with barbecue grills and drinking fountains, a walking trail and full landscaping with trees, shrubs and turf play areas. A large shaded playground has two play areas, one for younger children and one for children 5 to 12 featuring a rocks and ropes course and a climbing/balance beam structure.
Visitors should park in the north parking lot off Lone Mountain Road for best access to the event. For more information, call at 702-455-4901 or email ccdistc@clarkcountynv.gov.
COMMUNITY DAY OF SHARING
TO ASSIST FIVE NONPROFITS
Albertsons Sav-on's CommUNITY Day of Sharing will combine five nonprofit groups for a donation drive, culminating Saturday.
The effort will unite Catholic Charities, The Salvation Army, Three Square food bank, United Way of Southern Nevada and Goodwill of Southern Nevada, with the goal of impacting the lives of those who need help with shelter, food, employment or other basic needs. Donate gently used clothing, home goods, nonperishable food items and new hygiene products to any Albertsons location from 9 a.m. to 4 p.m. Oct. 20. The Albertsons store at 4055 S. Durango Drive at Flamingo Road will serve as the main event site from 11 a.m. to 3 p.m. that day, with music, prizes and a community barbecue planned.
SOUTHERN NEVADA CLEANS UP SCHEDULES OCTOBER EVENTS
The first Southern Nevada valleywide community beautification project, Southern Nevada Cleans Up, plans to host events throughout October, leading up to Make A Difference Day on Oct. 27.
Volunteer opportunities will be hosted by Southern Nevada businesses and organizations from Mount Charleston to Lake Mead. A desert site cleanup is planned for the area of Maule Avenue and Pearland Street from 8 to 11 a.m. Saturday. Join The Howard Hughes Corp. in sweeping the area and removing trash items that impact safety and the aesthetics of the desert environment.
Other area cleanups planned Saturday include a cleanup at the Overton Wash, a large drainage area and unofficial shooting range north of North Las Vegas, from 7 a.m. to 10:30 p.m. If possible, volunteers are encouraged to arrive in pickup trucks to that area to assist in transporting trash. Advance registration is required. To register and for a list of upcoming events and maps, visit donttrashnevada.org/make-a-difference-day-events.
MAKE A DIFFERENCE DAY
AND TRUNK OR TREAT PLANNED
North Las Vegas plans to hold an event to honor Make A Difference Day from 7 a.m. to noon Oct. 27 in Windsor Park at the northwest corner of Cartier Avenue and Clayton Street near Gilbert Elementary School. The Parks and Recreation Department also plans to host the annual "Trunk or Treat" event at the Silver Mesa Recreation Center from 5 to 8 p.m. the same day at 4025 Allen Lane. At this event, trick-or-treaters go from one decorated car to the next to collect candy. For more information, visit cityofnorthlasvegas.com.
SAFE HALLOWEEN EVENT SCHEDULED
The city of North Las Vegas plans to host its annual safe Halloween event for trick-or-treaters on from 5 to 8 p.m. Oct. 31 in the Home Depot parking lot at 1275 W. Craig Road near North Martin Luther King Boulevard. For more information, visit cityofnorthlasvegas.com.
YMCA OFFERS NEW MEMBERSHIP DEAL THROUGH OCTOBER
Discover a brand new you when you join the YMCA of Southern Nevada by Oct. 31 and save up to $75 on a new individual or family membership.
As a new member, you will also receive a free YMCA logo arm band to keep cards and mp3 players handy while you work out, while supplies last. The offer is good at all YMCA of Southern Nevada locations: Heinrich YMCA, 4141 Meadows Lane; Durango Hills Community Center YMCA, 3521 N. Durango Drive; Centennial Hills Community Center YMCA, 6601 N. Buffalo Drive; and the SkyView YMCA in North Las Vegas, 3050 E. Centennial Parkway.
To join the YMCA, visit a branch location. For more information, visit lasvegasymca.org.
RED ROCK CANYON ANNOUNCES FALL HOURS
Red Rock Canyon National Conservation Area plans to close the Scenic Loop Drive at 7 p.m. through October. Beginning Nov. 1, the drive will close at 5 p.m.
The drive opens daily at 6 a.m., and the Visitor Center is open from 8 a.m. to 4:30 p.m.
For more information, visit blm.gov/nv or friendsofredrockcanyon.org.
WINDER FARMS USING STRAWBERRY MILK TO RAISE FUNDS FOR BREAST CANCER RESEARCH
Winder Farms, Las Vegas' "Farmers Market on Wheels," continues to raise money and awareness for Susan G. Komen for the Cure through sales of its pink strawberry milk. Through October, a portion of strawberry milk sales will benefit breast cancer screenings, treatment programs and research. For more information, visit winderfarms.com.
HEALTH CARD PROCESS CHANGES
As of Oct. 1, the Southern Nevada Health District has streamlined the health card process for most applicants, who will no longer be required to receive hepatitis A immunizations.
As part of the restructuring of the program, the health district will also discontinue providing TB tests for health card applicants as of Nov. 1. Individuals who require a TB test for licensing or other purposes will be referred to other resources for their tests. For more information, visit snhd.info.
As a result of the changes, the cost of the health card has been reduced by $10, with the exception of the child care card, which remains the same at $40. Food handlers and child care staff must complete the online training before they come to the health district to apply for the card. The cost of the online training is $20 and must be paid at registration, and the $20 balance must be paid at the health district when applying for the card.
HELP OF SOUTHERN NEVADA
SEEKS HOLIDAY VOLUNTEERS
HELP of Southern Nevada is calling for volunteers to assist with a number of programs this holiday season. Assistance is accepted from individuals who can donate any amount of time.
Areas where volunteers are needed include: Assisting clients with their applications for holiday programs at HELP's main campus, 1640 E. Flamingo Road; assisting in receiving donated Thanksgiving turkeys at various locations (turkeys will be given to more than 1,200 families); and assisting in receiving holiday gifts for selected clients in the Adopt-A-Family program.
To volunteer, contact Joan Lima at jlima@helpsonv.org or 702-369-4357.
HELPING HANDS SURGICAL CARE PLANS SECOND ANNUAL CHARITY SURGERY DAY
Dr. Kevin Petersen and his wife, Kelly, co-founders of Helping Hands Surgical Care, plan to host the second annual Charity Surgery Day Nov. 13.
Helping Hands Surgical Care is a nonprofit organization with the mission to fund and facilitate surgeries for uninsured Nevadans without the means to pay for medically necessary procedures. HHSC doctors will provide 10 free surgeries Nov. 13 to uninsured Nevadans without the means to pay and who do not qualify for government assistance.
HHSC is seeking patients who may qualify. Applicants must qualify both financially and medically. To review patient eligibility requirements and apply, visit helpinghandssurgicalcare.
com and click on the "How to Apply" link.
FREE BEREAVEMENT SESSIONS OFFERED
FOR TEENS
The Center for Compassionate Care division of the Nathan Adelson Hospice is offering a series of free bereavement support groups for teens 13 to 18 who have experienced a significant loss.
The support group plans to meet from 6 to 7:30 p.m. Wednesdays, ending Nov. 14, at The Center for Compassionate Care, 4131 Swenson St.
The program will explore grief, loss, emotional responses to memories and events surrounding loss, and coping skills.
To register, call 702-796-3167 or Christine Zazzeri at 702-796-3126. For more information, visit nah.org.
IN PURSUIT OF EXCELLENCE GALA
TO RECOGNIZE NOBEL PRIZE WINNER WIESEL
The eighth annual In Pursuit of Excellence Gala is planned for 6:30 to 11 p.m. Nov. 17 at The Venetian, 3355 Las Vegas Blvd. South.
It will honor Holocaust survivor, Nobel Peace Prize winner and "Night" author Elie Wiesel for his literacy and activism in human rights. Live and silent auctions, a dinner and dancing are planned.
Tickets start at $250 per person. To purchase tickets or make a donation, visit adelsoncampus.org or contact Davida Sims, Adelson Educational Campus director of development, at 702-515-8203.
MASTER GARDENERS PLAN TOURS
OF DEMONSTRATION GARDEN
The Master Gardeners of Southern Nevada plans monthly tours of the Demonstration Gardens at the Clark County/University of Nevada Cooperative Extension Lifelong Learning Center, 8050 Paradise Road. Tours are free and open to the public. Groups of five or more people are requested to call program coordinator Ann Edmunds at 702-257-5587 at least two weeks in advance.
HELP OF SOUTHERN NEVADA DISTRIBUTES DONATED WATER BOTTLES
HELP of Southern Nevada, in partnership with Whole Foods Market and Real Water, acquired 14,784 bottles of water, or 616 cases, during its HELP2O bottled water drive this summer.
From June through August, the nonprofit teamed up with all four Whole Foods Market locations in the Las Vegas Valley for the effort. Real Water, a Las Vegas-based bottled water company sold at Whole Foods Market, matched all Real Water purchases made during the campaign.
HELP of Southern Nevada staff members are regularly distributing the bottles to homeless citizens around the valley. The inventory is expected to last into the winter season.
For more information, call HELP of Southern Nevada at 702-369-4357 or visit helpsonv.org.
MASTER GARDENERS PROGRAM OFFERING FREE CLASS
The University of Nevada Cooperative Extension Master Gardeners program, 4600 Horse Drive, is offering a free class, the last of a series, at Acacia Park, 50 Casa del Fuego, in conjunction with the Henderson Parks and Recreation Department. The class, Safe and sound insect control, will be taught by a Master Gardener instructor and is scheduled to start at 9 a.m. Saturday.
For more information, visit tinyurl.com/NLVchamberevents. For general gardening questions, contact the Master Gardener Help Line at 702-257-5555.
COATS FOR KIDS DRIVE PLANNED THROUGH NOV. 3 AT ALBERTSONS
The 13th annual Coats for Kids drive is scheduled through Nov. 3 at Albertsons stores across the valley.
Bring gently used coats to any Albertsons store and place them in the marked box at the front of the store. Aramark Uniforms will pick up the coats and drop them off at Al Phillips The Cleaner, which has cleaned all the coats free for the past 13 years. They are distributed to children in need by The Salvation Army's Family Services.
As part of the Lucky 13 theme for this year, anyone who donates a coat can enter a drawing for one of 13 pairs of free tickets to see Carrot Top's show at the Luxor. Entry forms are available at the Albertsons service desks.
AARP TAX-AIDE SEEKING VOLUNTEER HELP
AARP Tax-Aide NV, which prepares free personal income tax returns for residents in the lower- to middle-income brackets, is seeking unpaid volunteers to prepare taxes, greet clients and program computers in early 2013. Training is scheduled for Jan. 7-11 on the west side of the Las Vegas Valley and Jan. 21-25 on the east side. For more information or to volunteer, email taxesbarb@cox.net or jerrytaxes@cox.net.
DONATIONS ACCEPTED TO AID NONPROFIT
Help homeless, pregnant and parenting teens by donating time, money or new or gently used items to assist clients of Southern Nevada Children First, 720 W. Cheyenne Ave., Suite 30.
Volunteers and donations are always needed to support the nonprofit.
For more information, visit childrenfirst-nv.org or call 702-487-5665.
KIWANIS CLUB WELCOMES NEW MEMBERS
The Kiwanis Club of North Las Vegas, a chapter of the international service organization, is scheduled to meet at
6:15 p.m. each Tuesday at T.G.I. Friday's in Aliante Station, 7300 Aliante Parkway.
Club community projects have included canned food drives, car shows, kites in the park events and charity fundraisers.
The fourth meeting of the month is limited to members only.
For more information, visit nlvkiwanis.com or call 702-399-0332.
LOCAL ROTARY CLUB TO MEET
The North Las Vegas Rotary Club of Las Vegas meets at 7:15 a.m. Fridays at the Painted Desert Golf Club, 5555 Painted Mirage Road.
The weekly breakfast meetings include guest speakers, networking, education workshops and service projects.
For more information, visit nlvrc.org/newsite or call Bob Lillis at 702-340-9735.