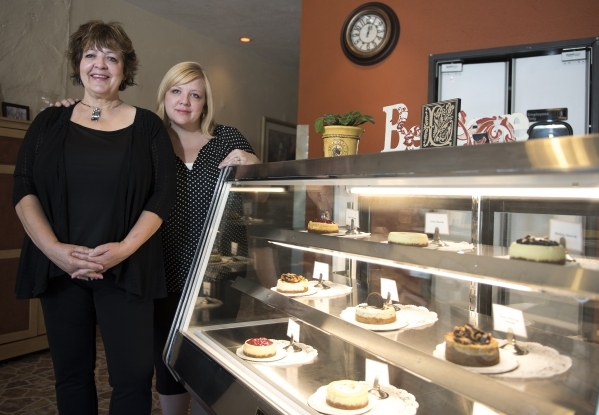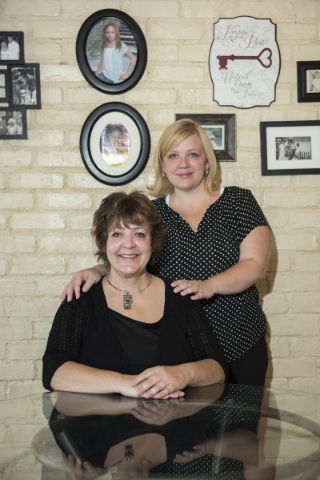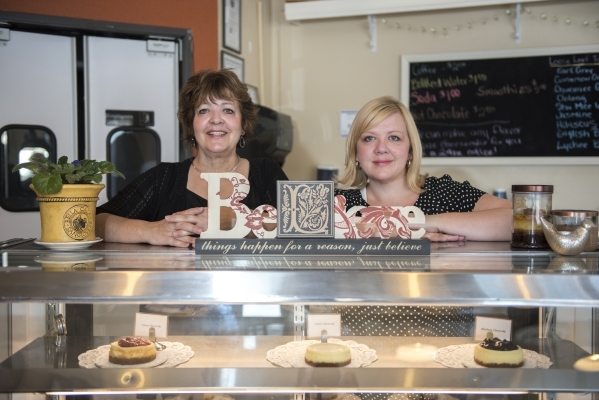 As the economy shows signs of revival, people are stepping up from under the rubble and dusting off their old jobs with a new calling.
Kathy Bastian, 61, is one of those people.
The co-owner of the northwest bakery Gotta Love Cheesecake, 5081 N. Rainbow Blvd., No. 100, has created a community hub and second home with her Midwestern personality and with the help of her daughter and co-owner Heidi Heath.
"I'm like the grandma or mom of the neighborhood," Bastian said. "I wanted this place to be everybody's second home, a place where people can come in if they are sad or have good news or bad news. I wanted it to be a safe haven, and so far, it's worked out that way. It's quite touching. People have been really good to me here."
Bastian was laid off from her job at Lowe's in Detroit in March 2014. She ventured to Las Vegas where her daughter was living to try something new.
"I had just turned 60 months prior to losing my job. It came without warning. I figured I'd retire with the company I've worked for," Bastian said. "That was an eye-opener. Finding a job making the money I needed to make was not going to happen in Michigan, so I decided to try something new."
The bakery was inspired by the simple creations of a Michigan waitress named Helen Steel. Before she died in 2010, Steel shared her recipes with her daughter, Bastian, and granddaughter, Heath, who promised to carry out the dream she had of opening a small bakery.
"My grandmother was such a beautiful soul and worked so hard to take care of her family, and to be able to fulfill her dream is priceless," Heath said. "One of the promises I made her was that one way or another, we would open a bakery. I know that she would be proud, and that makes it worth it."
"I'm sure she's looking down and going, 'Damn, kid, you actually did it,' " Bastian added. "I can actually hear her say that. I truly believe she watches over us."
Heath is in charge of baking the cheesecakes in the evening after she leaves her job at Circus Circus, where she works as a senior human resources business partner.
With more than 52 flavors, holiday favorites include pumpkin and eggnog. Heath is working on a chai latte option, layered with chocolate and peppermint flavors. She also said she has some new ones in the works: cranberry and a hot buttered rum.
"We get a lot of ideas from our customers, and I try to make the flavors that they think would be good," Heath said. "But mostly, I get bored with making what I have on the menu and try to add variety."
Recently, the bakery started selling Italian, turkey, ham and tuna submarine sandwiches featuring fresh baked bread.
Bastian also plans to expand the menu to feature soups and chili for the wintertime.
She admits she wasn't always this optimistic about her newfound venture.
"When I first came to Las Vegas, people weren't generally warm and friendly; they were kind of standoffish, and I like to talk," Bastian said. "My daughter would say, 'The customers don't want to talk to you,' but I'd still talk to them and walk them to the door or to their car. Now customers come in, and they just want to talk. Everyone has a story, and I just happen to listen well. I think I've left my mark here."
The bakery has had its ups and downs, Bastian said. She didn't expect business in the summer to be so slow but has high expectations for the winter.
The upcoming holidays have kept Bastian busy, too.
As Nevada's mild winter weather approaches, so do the "snowbirds" — Bastian's senior citizen customers who come to Las Vegas to escape the harsh East Coast winters.
She plans to sell pumpkin rolls — a Midwest favorite — along with cookie trays, air-popped popcorn and gift baskets.
Wi-Fi is available for those who want to take a seat inside the cozy interior decorated with family photos and a bookshelf. The bakery also offers catering.
After being in the area for almost a year in December, Bastian has made plenty of memories. She's held a wake inside the shop, shed tears for her elderly customers who have died and shared joy with a customer who shared the news of becoming a grandfather.
"I got to watch this place start from nothing," Bastian said. "It was a dirty, nasty building that turned into a second home. I had people come in and tell me I wouldn't last more than six months. I guess I proved them wrong."
Gotta Love Cheesecake is open from 10 a.m. to 6 p.m. Tuesday through Saturday. Visit gottalovecheesecake.com.
— To reach North View reporter Sandy Lopez, email slopez@viewnews.com or call 702-383-4686. Find her on Twitter: @JournalismSandy.
Gotta Love Cheesecake
5081 N. Rainbow Blvd., No. 100
Open 10 a.m. to 6 p.m. Tuesday through Saturday
gottalovecheesecake.com
702-272-0044