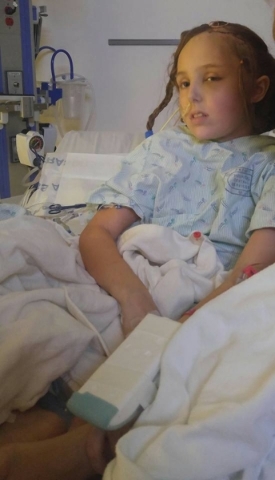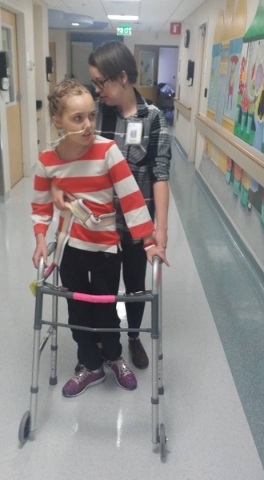 At 12, northwest resident Avery Driscoll has already fought her share of battles.
For the last three years, the former St. Baldrick's Foundation ambassador has been fighting a brain tumor that has taken over her family's life. Despite her pain and struggles, Avery has proven to be a champion.
"She is a great example of, no matter our circumstances, we choose our attitude," said her father, Chris Driscoll. "To have her ask you daily how your day is going, with no regard of her current condition, helps you put into perspective what's really important in life. We have found in our darkest moments that when we get involved, volunteer, care about others and work together that the light generated far exceeds the dark, perilous conditions of cancer."
The family's life changed in 2010 after moving to Washington state from Las Vegas during the economic recession. Six months after relocating, Avery began having seizures that lasted between one to three minutes.
"It just looked like she was staring into space," said her mother, Stephanie Driscoll.
After talking to a pediatrician, Avery was immediately sent to Seattle Children's Hospital. Despite running multiple tests, doctors couldn't find anything wrong with her.
A month later, the seizures came back.
That's when Stephanie decided to have an MRI done on her daughter.
"A few years ago, right when I met my husband, my father-in-law had a brain tumor removed," Stephanie said. "I just wanted peace of mind. We weren't in a rush to get the MRI done because we didn't think Avery had that problem."
Two months later, the results came back, and the radiologist said he wanted to do some contrast materials. Then the family met with a neurologist at the hospital.
"That's when we knew it was something serious," Stephanie said. "They found a tumor that was 10 centimeters long on the top of the optic chiasm."
The optic chiasm, also known as the optic chiasma, is an X-shaped space located in the forebrain, directly in front of the hypothalamus. It is crucial to vision, according to healthline.com, a consumer health information website.
At first, doctors believed the tumor to be benign or noncancerous, but things proved to be more serious in August 2011 after the family noticed that Avery was starting to lose her vision.
A biopsy was immediately performed, and doctors recommended that she undergo surgery to remove the tumor, which they said would not respond to chemotherapy or radiation.
Avery underwent a 12-hour surgery to remove 60 percent of the tumor.
"She was acting normal within a month," Stephanie said. "Just like any 8-year-old kid, she was playing and running. She lost a little vision, but she seemed perfectly fine."
Six months later, at a regular checkup, Avery's doctor found that she had no peripheral vision. She began a year of chemotherapy in February 2012, and the family returned to Las Vegas.
"That was a really rough year," Stephanie said. "Avery was sick most of the year. She lost a lot of her hair, and she had to have a feeding tube because she wasn't eating."
That same year, she underwent a second surgery to install a shunt to drain fluid from her brain.
This past October, Stephanie noticed that Avery was losing weight and having trouble in school. At first she shrugged it off to typical adolescent behavior but soon realized her daughter was having trouble with her short-term memory.
The tumor was back and was rated Grade 3, or fairly aggressive.
Since her last MRI in December, the tumor has grown back to almost its original size, Stephanie said.
Avery received a medical flight to the Seattle for further care, where she has a team of roughly six doctors.
She underwent another surgery, and her doctor, Jim Olson, used tumor paint, a drug that finds and attaches to tumor cells, illuminating them to show surgeons exactly where to cut.
They were able to take out 90 percent of the tumor, and Avery has started radiation.
"This is the third time she has dealt with these big issues," Chris said. "Each time, she gets older and understands more the impact and recovery it will require. The night prior to her surgery, around 12:30 a.m., when we were alone, she asked, 'Is it OK to be scared?' It broke my heart, and I shared with her that I was scared too, but together, we'll be strong and get through this. This was one of the only times she showed her vulnerability."
Avery and Stephanie spent the holidays in the hospital while Chris and their three other children stayed in Las Vegas.
"Cancer takes away things that you can't bring back," Stephanie said. "No amount of Make-A-Wish trips can bring back the amount of sacrifices you have made."
Stephanie admits that there are moments when ugly cries, panic and guilt creep over her and Chris, but one thing is for certain: "You can't fall apart," she said.
"What else would you do if it was your kid? Give up? I don't think we're doing anything different than any other family would," she said. "I've said this before, but everyone has their challengers, either financially, in relationships, with health issues or depression. They're all hard to see. You just have to deal with it."
For more information about Avery's journey or to make a financial donation to help her recovery, visittinyurl.com/jt9c4p3 or moveyourmountain.org/3307.
— To reach North View reporter Sandy Lopez, email slopez@viewnews.com or call 702-383-4686. Find her on Twitter: @JournalismSandy
Recovery fund
To donate to Avery's recovery fund, visit moveyourmountain.org