Other cities find ways to reduce deadly confrontations with police, preserve safety
December 1, 2011 - 12:00 am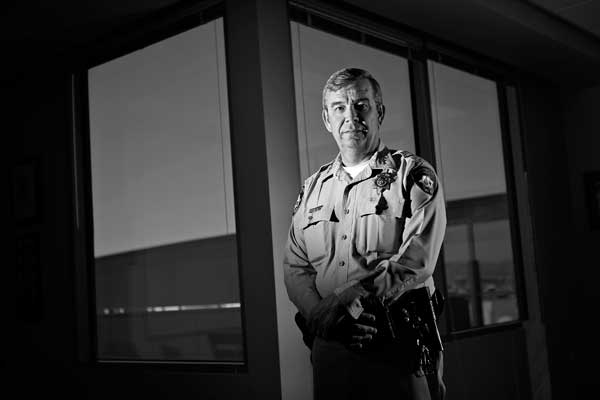 Denver had seen its share of controversial police shootings, but Paul Childs' was different.
He was 15 and mentally disabled. He loved cops, his family said, and would never hurt anyone.
When he threatened his mom with a kitchen knife one day in July 2003, his sister called the police. A handful of Denver Police officers showed up. In minutes the teen was dead.
In the days and months that followed, hundreds of people attended a candlelight vigil, famed lawyer Johnnie Cochran filed a lawsuit, and activists called for change.
John Hickenlooper, then Denver's mayor, announced sweeping reforms aimed at restoring public confidence in the city police. He pushed his plan through the City Council and got enough votes to change the city charter to create a more transparent and open system of police oversight than most cities ever see.
In the years after those reforms took effect, officer-involved shootings in Denver, while still significant, fell by more than 25 percent.
"Effective and robust civilian oversight has to be a critical component of any law enforcement agency," Hickenlooper once said of reforms such as creation of an independent police monitor.
Clark County now faces its own crisis.
The Review-Journal has found that Las Vegas police use their guns more than those in many other large cities. A comparison of statistics for 2001 to 2010 from 16 cities showed the Metropolitan Police Department ranked third in shootings by police per capita and per reported violent crime.
Local officials revised the county coroner's inquest process last year, aiming to bring transparency to the only public forum devoted to police shootings. But even that modest reform is mired in lawsuits brought by police officers. In the meantime, police continue to shoot — Las Vegas police have killed a record 11 people this year — and prosecutors have not reviewed a single case.
Las Vegas civic leaders can learn much from Denver and other cities that have found ways to reduce deadly confrontations with police while maintaining public confidence, preserving order and keeping officers safe. Here are some ideas that work:
INDEPENDENT WATCHDOGS
Independent auditor's offices have existed for two decades, though that model of civilian oversight remains rare in American policing. About a dozen have been created, notably in Western cities such as Los Angeles; Denver; San Jose, Calif.; Portland, Ore.; and Boise, Idaho.
Independent auditors, sometimes called monitors, serve a critical watchdog role. Unlike other versions of civilian oversight, such as review boards and commissions, an auditor doesn't focus on individual cases of misconduct but identifies systemic problems with department training and policies. By suggesting fundamental changes, an auditor seeks to improve the entire agency and prevent future incidents instead of meting out individual punishment, said Samuel Walker, a University of Nebraska, Omaha, professor and author of books on police accountability.
"The problem is, community groups want justice in this (particular) case. They want this officer punished," Walker said. "I'm not sure that accomplishes anything."
The Las Vegas police Civilian Review Board was born in the late 1990s following the death of Daniel Mendoza, 21, who was killed in a drive-by shooting by two off-duty Las Vegas police officers, Ronald Mortensen and Christopher Brady. The independent board of volunteers reviews internal affairs investigations and can recommend officer discipline and policy changes, but it can only review cases if someone files an official complaint.
In a dozen years, the Review Board has looked at a handful of police shootings and has always found the actions of police were justified, said Andrea Beckman, the board's executive director.
"I wish we had the authority to investigate any shooting," she said, noting the controversial deaths of Trevon Cole, Erik Scott and Swuave Lopez.
An independent auditor's office might be a hard sell in the current recession, but Las Vegas and Clark County ordinances could be tweaked to give the board more oversight, she said.
In many cities, an independent auditor co-exists with a civilian board.
Some cities have given police auditors additional power to oversee individual investigations of police shootings and other critical incidents, such as in-custody deaths. The Police Assessment Resource Center, a Los Angeles-based think tank that helps police improve policies and procedures, considers civilian oversight crucial to the integrity and thoroughness of internal investigations.
In 2003, PARC noted that Portland already had a police auditor, but the official lacked authority to monitor the most serious internal affairs investigations.
"If investigations of rudeness and failure to follow procedures — as well as considerably more serious misconduct complaints — are worthy of civilian oversight, then surely investigations of officer-involved shootings and in-custody deaths merit such oversight," PARC wrote.
In Los Angeles County, Denver and Boise, auditors respond to every officer-involved shooting and monitor the investigation from beginning to end. They survey the scene and may suggest evidence to collect and witnesses to talk to.
Portland joined that list this year, eight years after PARC's recommendation.
In Denver the independent monitor, appointed by the mayor and supervised by a civilian board, watches via closed-circuit TV as homicide detectives interview officers and other witnesses, and can suggest questions for detectives to ask. At the end of the investigation, the monitor can disagree with the findings, identify shortcomings with the investigation, recommend officer discipline and suggest new training or policies.
After every fatal shooting, Denver's public safety manager, a civilian appointed by the mayor to oversee police and fire agencies, issues a report detailing the incident and investigation and addressing key questions, such as whether the officer properly used deadly force.
Civilian oversight bodies usually grow from controversy, as in Denver. But auditors can also be conceived in times of relative calm, as happened in 1992 when Los Angeles County supervisors hired Merrick Bobb as an independent auditor in hopes of reducing the cost of police misconduct lawsuits. A decade later, Sheriff Lee Baca created the Office of Independent Review, an agency of lawyers who monitor internal investigations, including those of police shootings.
Whether police auditors actually improve an agency and build community trust is difficult to measure because many variables influence policing, Walker said.
Denver's independent police monitor was created in 2005. Since then, the per capita shooting rate fell more than 25 percent compared to the previous six years. The shooting rate tied to violent crime fell even more — almost 30 percent. All told, shootings fell to 37 since 2005, down from 47 from 1999 to 2005.
Walker also notes that police dog bites in Los Angeles County fell 90 percent in the decade after Bobb called for stricter policies and training for K-9 officers.
He compared a police auditor to a doctor giving an annual checkup. Most people don't stare into a mirror and deem themselves fit and healthy, but that's what many police agencies do instead of relying on an independent outsider.
"You get an outside professional who's going to give us the bad news," Walker said.
POLICIES
A police department's policies set the framework for everything its officers can and cannot do.
The Metropolitan Police Department has been ranked among the most progressive agencies in America, but it lags many departments in tightening deadly force policies and adopting tactics to keep officers from needlessly putting themselves in positions where deadly force is their only option.
When it comes to the decision to shoot, Las Vegas' policy meets standards set by the U.S. Supreme Court. However, PARC recommends a policy that goes beyond the legal minimum to emphasize deadly force only as a last resort, or when all other reasonable alternatives fail. Although there is little consensus on this policy in police circles, that standard has been adopted in Portland, Los Angeles and New York, among other places.
Portland has adopted general policies to prevent officers from acting contrary to training and putting themselves or others in jeopardy. The L.A. Sheriff's Department and Denver Police limit when officers can chase suspects on foot.
The Review-Journal's analysis of 310 shootings by Las Vegas officers since 1990 revealed that 24 percent came after a foot chase. Often the crime that prompted the chase was only a minor infraction, such as jaywalking.
PARC recommends an International Association of Chiefs of Police model policy that all but bans solo foot pursuits and requires officers to stop if they lose sight of the suspect or lose contact with other cops, unless the suspect poses an immediate threat to others.
Bobb said tighter pursuit policies make for safer cops.
"Why run down the blind alley? What's going to happen?" Bobb said. "If the suspect has a gun, he's going to turn. He and the cop have no place to go, and there's likely going to be a shootout."
By restricting certain foot pursuits, police agencies can reinforce safe tactics and strategies that help minimize harm to their officers. That means backing off and using other resources, such as helicopters, dogs and extra manpower, to make the arrest.
"To some, letting a suspect go under any circumstances is an insult to one's manhood and a violation of the 'warrior's creed,' " while others intelligently weigh the safety risks with the seriousness of the suspected crime, Bobb wrote in a 2008 report on the Los Angeles sheriff's chase policy. "To these persons, brains count more than brawn. A safe capture is preferable to a foolish and dangerous one that ends in an unnecessary and avoidable shooting."
Some police agencies, such as Denver, follow PARC's recommendation for disengagement. This policy allows officers an alternative to forcing a fatal confrontation with someone who might be mentally ill or otherwise unable to understand police commands. Disengagement encourages officers to back off and find ways to de-escalate the situation, a mindset counter to most law enforcement training, Bobb said.
"Cops are not trained to retreat," Bobb said. "Cops are trained to stand their ground, to have overwhelming force on their side, and not tolerate people who are not following their orders."
Denver's controversial shooting of Paul Childs illustrated the need for a disengagement policy. The mentally disabled teen's family called police after he threatened his mother with a kitchen knife in their home.
The family ran outside as several officers took positions near the front door, behind which the boy was standing. One officer stood just outside, propping open a screen door. When the boy slowly walked around the door toward him, the officer killed him.
Critics said the officer could have retreated, taking cover while he and fellow officers tried a nonlethal weapon or another tactic to take the boy into custody.
Portland instituted many of these policies following a PARC assessment in 2003. In the seven years before the PARC report, Portland police shot at 59 people. In the seven years since, the number fell to 29.
Las Vegas police adopted a foot pursuit policy that mirrors the IACP model early this year, but it's only advisory. Clark County Sheriff Doug Gillespie said the new policy, coupled with training, has been successful. The department has had only two foot chases leading to a shooting this year.
AFTER A SHOOTING
In Clark County, coroner's inquest juries until recently heard evidence and determined if a fatal shooting was legally justified, excusable or criminal. The ruling was advisory only — the district attorney has sole discretion whether to file any charges, though the DA doesn't do a full review of any shootings to determine if criminal charges are in order.
In Denver, prosecutors investigate all shootings where a person is injured or killed, then issue a letter detailing the facts of the case and what, if anything, they intend to do. That typically comes within 30 days. The police case file, including video recordings of every officer and witness statement, is then opened for anyone to view.
"If you can think of a way we can legally or ethically make it more open, we'll do so," Denver Assistant District Attorney Chuck Lepley said.
The system provides far more transparency than Clark County's now-suspended inquests, where deputy district attorneys who present the evidence sometimes fail to introduce key details of the investigation.
Denver's model also offers another layer of independent oversight: Prosecutors go to police shooting scenes, observe and ask questions during interviews, and work closely with the detectives, just as they do in other homicide cases.
In Clark County, prosecutors have almost no involvement in the investigation of any police shooting. They don't go to the scene, rarely discuss the case with investigators, and do little more than receive files used to prepare for an inquest if the shooting subject dies.
Clark County District Attorney David Roger last month told the Review-Journal he has considered Denver's more proactive approach, at least in fatal shootings. Days later he announced he will leave office in January. He has a job offer from the Las Vegas Police Protective Association, the Metropolitan Police Department's rank-and-file officers union.
One big difference between Denver and Las Vegas is that Denver is both a city and a county, with a police department organized like any big city force where the chief is appointed by the mayor. The Metropolitan Police Department was formed in 1973 through a merger of the Las Vegas city police and the Clark County Sheriff's Office, and is run by an elected official with broad powers under state law.
"He's elected by the community," Roger said. "They have expressed a certain amount of confidence in the sheriff, and he can handle those cases that do not involve death."
Prosecutorial reviews require time and resources, though inquests do, too.
And as transparent as Denver can make it, there's still a perception by some that police and prosecutors work too closely together for one to hold the other accountable.
Still, Lepley, who has overseen Denver's process since 1979, said the public has confidence in the process because of the thoroughness of the prosecutors' reports. Rarely does anyone from the public bother to review the full investigative case file, he said.
INTERNAL REVIEWS
The criminal review is only half of the investigative process, however. The other is internal and focuses on whether the officer violated policy and if the department can learn from any mistakes.
That's lacking in Las Vegas, where the department's Use of Force Review Board is widely seen as offering little critical review in findings that are never made fully public. That in turn contributes to the department's reluctance to learn from mistakes and adopt new policies.
"I think when it comes down to it, citizens in general have a hard time telling a police officer they did something inappropriately under these circumstances," Gillespie said of the board, which has a majority of civilians he appoints.
Denver addressed similar problems in 2004. The city's independent monitor now participates in the board's deliberations and discloses decisions in a quarterly public report. Denver's board also has the ability to refer concerns to a separate Tactics Review Board.
Las Vegas homicide detectives do highly professional investigations of the actual incident, but they put little or no emphasis on the officer's tactics. It's not their area of expertise.
Last year the department created a separate tactical review team, but its review is secondary to the homicide investigation and can come weeks later. Other departments integrate the teams, and when Denver police started allowing internal affairs investigators and the independent monitor to watch interviews and suggest questions, detectives started addressing policy and tactics more often, PARC noted in a 2008 report.
COMMUNITY INVOLVEMENT
Creating any form of civilian police oversight takes political will from inside and outside the department, a commitment to spend the money to do it right, commitment to sustain the office and a community that demands it, said Kathryn Olson, president of the National Association for Civilian Oversight of Law Enforcement.
"It's really the community that empowers the police department," she said. "If the community wants civilian oversight, it will be a function of what the community needs to feel trust with the police department."
Civic leaders hoping to create a police auditor often must fight police unions, which may bristle at civilian oversight.
The largest Las Vegas police union resisted efforts to create the current, limited Citizen Review Board. But Chris Collins, executive director of the Las Vegas Police Protective Association, said an independent monitor could be a good idea if the person is knowledgeable and doesn't have a grudge against police.
Bobb said officers should accept that accountability goes hand-in-hand with the power of life-or-death decisions.
"You're going to be second-guessed," Bobb said. "That comes with the territory. That's being a cop."
Law enforcement leaders might also encounter resistance from their own commanders, who may fear exposure of embarrassing problems.
Overcoming that internal resistance requires a strong police executive committed to "do what needs to be done," Walker said. "It's leadership — leadership — and it's vision."
Former Undersheriff Rod Jett, who retired last year, echoed those comments.
"My concern is not Doug Gillespie, who I know in most situations has a genuine desire to do the right thing," Jett said. "My concern is the formal and informal leadership in the organization getting behind Doug Gillespie, supporting the change that needs to occur."
Gillespie, in an interview for this article, said he is reaching out to community groups to see what they would like to have instead of the inquest process and the current Use of Force Review Board. He doesn't automatically embrace independent monitors, but said he would like some civilian involvement in investigations. Gillespie wouldn't elaborate on the shape of the new process but said he wants one that withstands scrutiny after a controversial shooting.
"I don't think just because one place does it, that that's the best (practice)," he said. "I think you take a look at a number of things. But what I would see occurring is that there is that level of transparency … so that when it's all said and done, people feel comfortable with the process."
Resources Independent monitors and inspectors: LAPD Office of Inspector General Los Angeles County Office of Independent Review Los Angeles County Sheriff's Department monitor Denver Office of the Independent Monitor Denver District Attorney officer involved-shooting investigations Denver Manager of Safety shooting reports San Jose Office of the Independent Police Monitor Boise Office of the Community Ombudsman Portland Independent Police Review Austin Office of the Police Monitor Local departments and policies: Las Vegas Metropolitan Police Department use of force policy Metro post-shooting procedures Metro foot pursuit policy International Association of Chiefs of Police model foot pursuit policy Henderson Police Department use of force policy Nevada Highway Patrol shooting policy North Las Vegas Police Department policy manual Police department studies: Police Assessment Resource Center Portland reports PARC report on Denver police PARC report on foot pursuits Police Executive Research Forum San Antonio study Raw Data: Download the raw data collected from police departments across the U.S.