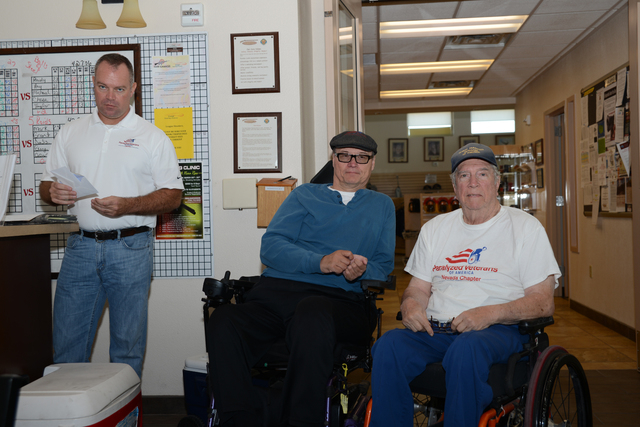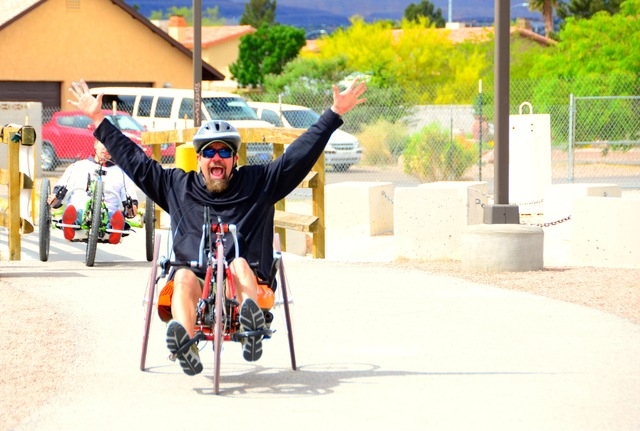 For years, Marc Fenn played as many sports as he could get his hands on.
He enjoys basketball, racquetball, tennis, track and field and cycling. He has even made national and world rankings in seven sports, all from the comfort of his wheelchair.
The 44-year-old Army veteran became paralyzed after he fell 30 feet while working on a roof a week after his 20th birthday.
"Maybe I can't walk right now, and I certainly didn't ask for this," Fenn said, "but I'm going to make the time I am in this chair fun and interesting."
Fenn credits the Paralyzed Veterans of America's Nevada chapter, 704 S. Jones Blvd., for helping him keep physically active and sociable.
"I'm a two-time Paralympic competitor, and I received a silver medal in Atlanta in 1996 for discus," Fenn said. "The PVA is actually trying to help me get to Brazil to compete in the 2016 Paralympics."
The nonprofit serves paralyzed and disabled veterans through advocacy, research, sports and recreation, education and communication.
Founded in 1946, the national group was one of the first service organizations chartered by Congress, according to Dan Kaminski, Nevada chapter president.
"It was started by paraplegic veterans that came back from World War II because society didn't know how to take care of them," Kaminski said. "They advocated for things like benefits and accessibility because they didn't have the proper support."
In 1999, Kaminski helped form the Nevada chapter, which now has about 170 full-time members.
"We're a small organization, but I like the idea that we're small," Kaminski said. "That means that we're not getting all these kids coming home that are paralyzed."
Kaminski, 57, a Navy veteran, became paralyzed at 23 when he crashed his motorcycle driving around a bend in Milton, Fla., he said.
"I was introduced to the organization when I was rehabbing in the hospital in 1980," Kaminski said. "They let me know that there was life after a wheelchair. No matter what disability you have, it's possible to have quality of life. You can still be a productive member of society in some way, shape or form."
Fenn, the organization's sports co-chairman, encourages members to remain active through a myriad of sports and entertainment programs.
An annual fishing day trip is planned for 9 a.m. May 31 at Willow Beach Marina in Willow Beach, Ariz., 25804 N. Willow Beach Road.
"We have tennis, soccer, cookouts, barbecues, fishing trips," he said. "We even can compete in national championships, like the PVA National Trapshoot Circuit or the National Veterans Wheelchair Games."
In addition, the organization is working with Congress and the North Las Vegas VA Medical Center, 6900 N. Pecos Road, to speed up the process of local claims.
Army veteran Lester Wood, 73, was diagnosed with multiple sclerosis while serving in the 1960s.
"The PVA has helped me immensely," Wood said. "If I ever need anything, whether it's with benefits or education or anything, I know I have someone who can advocate for me and who can get to the source of what I need."
For more information, visit nevadapva.org or call 702-646-0040.
Contact Southwest View reporter Caitlyn Belcher at cbelcher@viewnews.com or 702-383-0403.