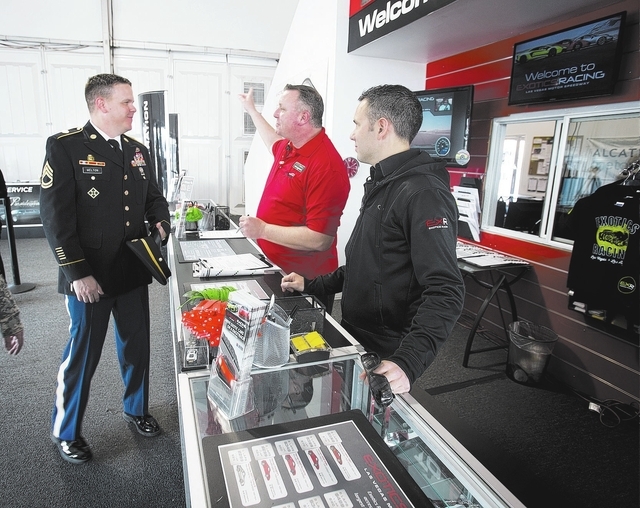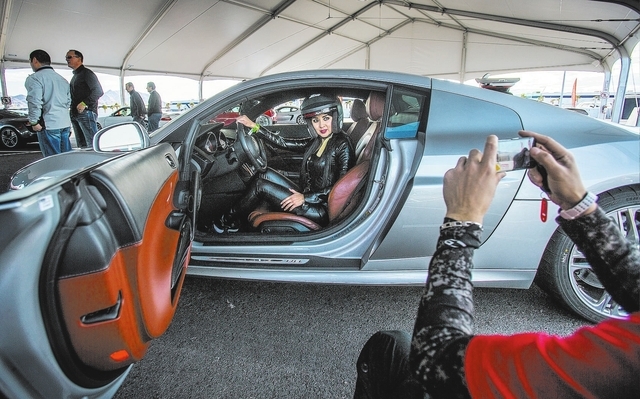 Las Vegas is known for its over-the-top shows, restaurants, nightclubs and attractions, so it perhaps comes as no surprise that on the outskirts of the Las Vegas Motor Speedway, there is a place where people can drive a $100,000-plus car at high speeds.
Exotics Racing at the speedway, 6925 Speedway Blvd., offers customers the chance to drive an exotic car on a 1.2-mile racetrack.
"The purpose of Exotics Racing is to make these dream cars available to everyone, whatever their level of driving is," said David Perisset, co-founder of the event. "We welcome people who have never been on the racetrack before and who never have been behind the wheel of such a car."
Customers who are 18 or older and have a valid driver's license from any country can choose from driving Ferraris, Lamborghinis, Porsches, Corvettes, Audis, McLarens, Aston Martins and Nissan GT-Rs.
Perisset, who previously worked in investment banking, teamed up with professional race car and stunt driver Romain Thievin. They started a racing school in 2005 in Paris.
Four years later, the duo decided to venture to Las Vegas and open Exotics Racing in 2009.
"We realized that there was more potential to grow in Las Vegas," Perisset said. "People come to Las Vegas to experience things they can't experience at home. They pay good money but expect the best service. We fit right in."
They sold their sister company in France in 2011 and signed a long-term agreement at the Las Vegas Motor Speedway that same year, allowing them to build a racetrack that opened in 2012. Since then, the attraction has been open seven days a week.
The company started with six exotic cars and five full-time employees. It has expanded to a second location in Fontana, Calif., with more than 40 cars and 110 employees at both locations.
The racetrack in Las Vegas offers drivers an approximately 1,800-foot-long straightaway for acceleration with seven turns.
Before heading out to the racetrack, drivers must go through a 30-minute group racing instruction class, which deals with safety and driving techniques.
Drivers then go on a discovery lap as a passenger in a Porsche Cayenne with a professional racing instructor to get a preview of the track before they drive.
Afterward, drivers are allowed to choose an exotic car and drive the racetrack with the instructor.
"The track is very secure," Perisset said. "We designed it ourselves for these types of cars. We've never had any accidents."
Perisset added that the cars undergo daily maintenance on the tires and brakes. There is also a fire and safety crew nearby in case of accidents.
Instructors include professional drifters and IndyCar, Daytona and NASCAR drivers, according to Perisset.
"There's no speed limit," Perisset said. "The speed limit is your level of confidence, the configuration of the track and the type of car you drive."
Xenia Sanchez of Mexico said she had driven a Lamborghini before but never on a racetrack.
"As I was driving, my heart was racing," Sanchez said. "Everything was great. I started off slow, but with practice, I kept going faster and faster."
Perisset said the top speed drivers can reach at the racetrack is 135 mph without braking hard at the turns.
He also added that women tend to be better drivers than men.
"Males often come with big egos," Perisset said. "At the end of the day, women are better listeners and quicker learners."
U.S. Army Sgt. 1st Class Bradley Melton visited the attraction as part of his re-enlisting ceremony.
"I have never been here before, but it's been something that I've always wanted to do," Melton said. "I'm a huge Ferrari fan. I'm looking forward to the experience. I'm going to try to get the most out of the car as I can."
The attraction also offers a drifting ride-along option, where children and adults 4-foot-9 or taller can ride with a professional drifter at speeds as high as 120 mph.
This summer, the owners plan to bring the Lamborghini Huracan LP 610-4 to their racetrack.
The price for Exotics Racing varies from $99 for the ride-along to $199 or higher for the driving experience.
Last year, the attraction had more than 41,000 drivers from all over the world, according to Perisset.
"We sell dreams to people," Perisset said. "Where else in the world can you drive a beautiful Ferrari or Lamborghini at full-speed on the racetrack?"
For more information, visit exoticsracing.com.
Contact Centennial and North Las Vegas View reporter Sandy Lopez at slopez@viewnews.com or 702-383-4686.