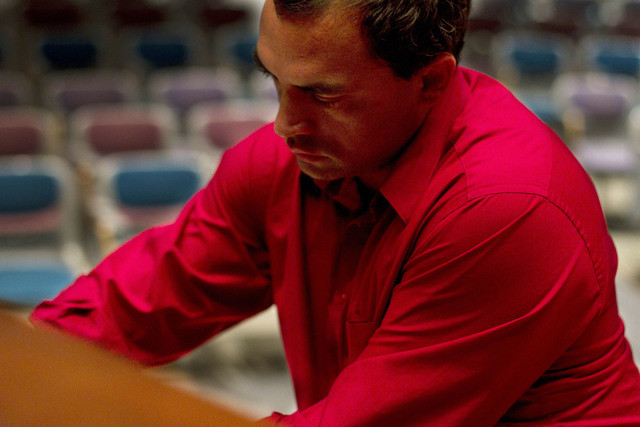 Carlos Mongrut is on a mission to inspire people. He wants everyone to reach inside themselves to find their passion.
His passion is music and poetry. Mongrut plans to offer free concerts from 3 to 4 p.m. Oct. 12 at the Sahara West Library, 9600 W. Sahara Ave., and from 3 to 4:30 p.m. Oct. 20 at the Rainbow Library, 3150 N. Buffalo Drive.
The Sahara West Library hosted his first event in June, which drew almost 75 people. Marcela Chiarandini, the library's scheduling specialist, checked him out online before booking him.
"Obviously, we want to put on programs with a performer who performs well, not somebody who, let's say, is not so talented in that field," she said. "He had a background in performing for the public, for the library community, so I knew he was aware of what audiences expected, what they like."
Chiarandini said she was pleasantly surprised when he told her there was no charge for admission.
"I thought, 'This is a really good person.' He's talented, and he really cares about sharing his talent with the public," she said.
Las Vegas resident Elyse Hughes attended Mongrut's first library concert this summer and liked it so much that she also attended the next two. Hughes said that filmmaker Eric Roberts' cinematography, which complements Mongrut's compositions, adds visual impact to the performance. His show is "inspirational, moving," she said. "… I expect to see him on even bigger stages in the future."
Mongrut found his passion at 17 while he was a student in his native Peru. Throughout high school, he was in choir, wrote poetry and participated in recitals. After his first private class with Peruvian pianist and composer Aldo Guardia, he returned the next day to play for him a piano composition called "Sensible Obra I."
"It was a moment of inspiration," Mongrut said of writing it. "It just came into my head, the moment of the muse."
Guardia saw the potential in it, and the direction of Mongrut's instruction changed from formal piano to composition. But writing music wasn't Mongrut's only talent.
He appeared in several television advertisements, soap opera projects and video productions for film students of the University of Lima. He was also part of the cast of the Modern Dance Group, choreographed by notable choreographer Beatriz Morachimo, and a theater group directed by celebrity director Pipo Gallo.
He played "Sensible Obra I" and performed as a mental patient who believed himself to be a pianist in the play "No todo Esquizofrenia," named the best Modern Dance Play Inter-Universities of 1997 in Lima. He also performed at the University of Lima, Instituto Cultural Peruano Norteamericano, Tarumba and on other stages in different plays.
Poetry took up more of his focus, though he said he sees it as a kindred discipline to piano composing "because music is a form of poetry."
A few years after moving to Florida, his poem "The Dance" was published by the International Library of Poetry as one of the best 33 new poems of 2004. He also appeared in the musical "Chicago" at the Lyric Theatre in Stuart, Fla., with Peter Jones Entertainment. He performed his "Sensibles" at the Orlando Main Public Library on several occasions and at the Windermere branch of the Orange County Library System for Valentine's Day.
In 2007, Mongrut discovered electronic music and developed a character known in the electronic music scene as CMongrooves. CMongrooves won the Playlist 7 Contest sponsored by Microsoft Windows and Reverbnation. He is also one of the founders of Revolectronic Society with Matt Alexander and has performed with several electronic musicians at the Deland Music Festival and on other stages across Florida. Mongrut promotes independent artists through his cross-promotional label "Mongrooves Productions."
He is accompanied on the guitar by Johnie Stomp. Stomp called Mongrut's work "very avant-garde, very artistic." He said that being on stage with Mongrut allows him to see the audiences' faces and their positive reactions.
"Every piece is very unique, but it has his signature on it," Stomp said. "If you heard (one of) his songs, you'd recognize it as his."
Everyone has a normal life, Mongrut said — working, keeping a house, raising a family — but there is also an element to people that is their "extraordinary life. It's our job not to ignore it but to reach inside (ourselves) and pull it out. There is something in everyone that makes us special."
He said he hopes his music inspires people to make "that cosmic connection, find what makes them special and bring it forward."
For more information about Mongrut's library concerts, visit lvccld.org/events. For more information about Mongrut, visit reverbnation.com/carlosmongrut.
Contact Summerlin/Summerlin South View reporter Jan Hogan at jhogan@viewnews.com or 702-387-2949.