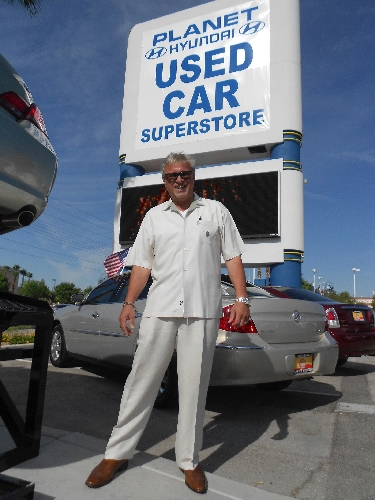 Planet Hyundai Used Car Superstore is off and running at 7100 W. Sahara Ave., and business has erupted in the initial weeks of operations, according to General Manager Mike Colaianni.
Colaianni said he is happy with the immediate results, adding that the success is based on the overall expertise that has come together in the dealership.
"We have automobile experts from all over the country who purchase vehicles for us," said Colaianni, who has 25 years in the car business. "They have a true pulse on the car business and bring us top-quality vehicles spanning all brands so we can find the perfect vehicle for our customers no matter what the model or price range."
The Planet Hyundai Superstore also offers parts and service.
"This is literally one-stop shopping. It's a beautiful building and we have everything, including an experienced, skilled sales staff," he said.
"We service all makes and models; literally everything we sell can be serviced here. In addition and most importantly, all of our vehicles, no matter what the price, come with warranties. There is significant peace of mind when buying a preowned vehicle from us."
Among the happy customers at the dealership are Tom and Kimbra Huskie, who recently purchased a 2004 Chevy Tahoe.
"They have everything here and the guys treated us very fairly," Tom Huskie said. "Overall, this is the third car that we have purchased from Planet Hyundai. Customer service is outstanding; it's hard to find good customer service anymore."
Kimbra Huskie concurred.
"We feel very comfortable coming here. It's clean and they treat us very well," she said.
Colaianni, a native of Rochester, N.Y., said many buyers today prefer to purchase a used vehicle for various reasons.
"We are the No. 1 certified Hyundai dealership in the Western region and we're No. 3 in the nation," Colaianni said. "The national rating encompasses more than 840 Hyundai dealerships, so we're very proud of what we have accomplished."
Further information regarding Planet Hyundai Used Cars can be found by calling 938-1400.
Other Planet Hyundai dealerships include Planet Hyundai Sahara at 7150 W. Sahara Ave. and Planet Hyundai Centennial at 6200 Centennial Center Blvd.
For more information, visit www.planetlv.com.