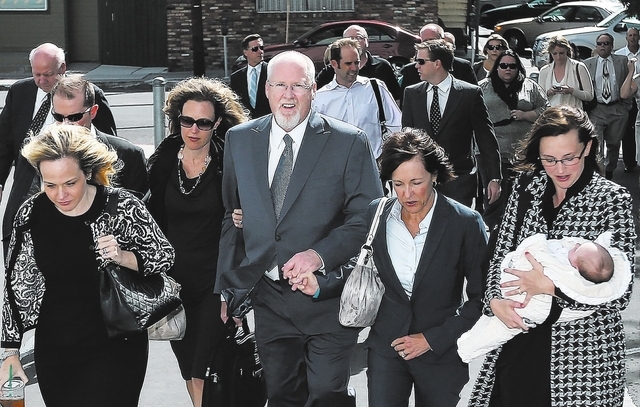 I drove from the Grant Sawyer Building, by City Hall and over to the Clark County Government Center on Tuesday morning just to make sure the flags weren't flying at half-staff.
With all the hand-wringing over the sentencing of corrupt Nevada political power broker and legislative bully Harvey Whittemore, you would have thought someone important had died.
Whittemore caught a big break Monday in Reno when U.S. District Judge Larry Hicks, after a five-hour hearing, sentenced him to just 24 months in prison after his May 29 conviction on three felony counts linked to the $133,400 in conduit contributions he funneled into Senate Majority Leader Harry Reid's campaign in 2007.
Reid wasn't charged, and I notice he didn't send a post-conviction letter to the judge praising Whittemore's character.
That two-year term is a fraction of the 51 months sought by First Assistant U.S. Attorney Steven Myhre and Eric Olshan of the Justice Department's Public Integrity Section. It's also a lot better than the 41 months Hicks estimated as the bottom end of the sentencing guidelines for crimes he said went "to the heart of our electoral process."
That 24 months seems reasonable, but what's hard to swallow is the over-the-top Whittemore makeover that proved an unsuccessful attempt to revise his career into something almost noble.
He wasn't a rapacious legislative hit man with a law degree, but Mother Teresa with male-pattern baldness. He just sort of, you know, fell from grace like some Shakespearean character.
Well, there were all those times Whittemore bullied and threatened legislators to make sure the state's poor, struggling casino industry didn't get hit with a tax increase. Thanks, Harvey. Nevada always did tax its casinos too much.
When gambling king Steve Wynn became an art collector and wanted to avoid the applicable state taxes, Whittemore carved out a handsome exemption. That's our man of the people: in your corner whether you're a billionaire or merely a millionaire.
Then there was the time Whittemore tried to ram through legislation that would enable him to build a private pier at Lake Tahoe for himself and his rich friends. But, hey, I'm sure your yacht would have been welcome, too.
He used his legislative swagger to try to reverse the judgment against the Las Vegas Hilton in the notorious and repugnant Tailhook sexual assault scandal. Just showing his feminist side, I suppose.
Whittemore racked up victory after victory on behalf of Gaming Inc. titans and Big Tobacco and became wealthy by most measures. In Nevada, that's like playing for the Globetrotters and bragging when your team wins.
He possessed the kind of grace you receive for playing your political connections like marked cards in a crooked pinochle game.
Whittemore hustled the old MX missile site land and grabbed a fortune in the accompanying water rights. Don't tell me, let me guess: He's just a misunderstood conservationist.
Only in Nevada is the criminal conviction of a fat cat lobbyist considered a "fall from grace."
Defense attorney Dominic Gentile on Monday argued, "Warehousing Harvey Whittemore isn't going to do anybody any good."
Not true. Sending Whittemore to prison will help Nevadans move one small step closer to thinking they aren't being played for carnival rubes by the Silver State's political barkers.
The only people who think Whittemore was ignorant of the laws he broke are members of his personal fan club.
Which has shrunk considerably in recent months.
If Whittemore's intellect is as incandescent as his friends contend, he will exit this mortifying stage and do his time.
In a quiet moment, he will reread the stack of letters he solicited in support of leniency and notice the vast majority of them were written by family members and not by all the politicians he courted and the super-rich swells whose dirty work he carried out with such arrogant zeal.
Harvey Whittemore made a score working for the state's shifty political machine and manipulating our dime-a-dance Legislature. Now he's paying a small price. That's no tragedy.
For the record, it's always a good day in Nevada when a corrupt political power broker is sentenced to hard time.
John L. Smith's column appears Sunday, Tuesday, Wednesday and Friday. E-mail him at jsmith@reviewjournal.com or call (702) 383-0295.