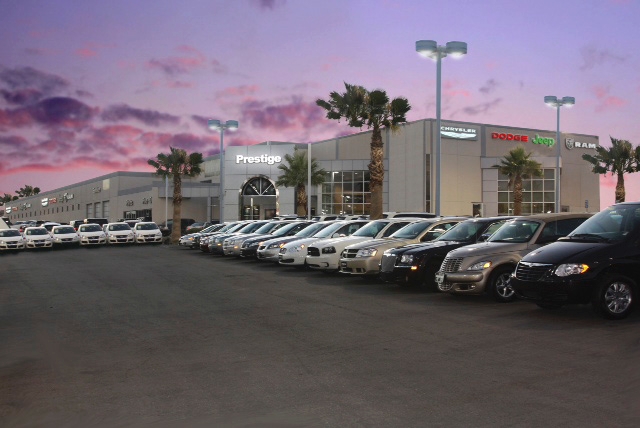 In an industry that has had its ups and downs the past few years, Prestige Chrysler Jeep Dodge in northwest Las Vegas has come out on top. It was the No. 1 ranked dealer in customer satisfaction by Chrysler Corp. The ranking is based on all Chrysler stores in the Las Vegas market.
Rennie Roopchand, general manager, said the dealership's success begins with its mission statement: "Our mission for our guests is for you to have an enjoyable experience. Giving you professional treatment and service is our goal. We are very appreciative that you chose us to do business with. We consider our guests part of our family."
All employees at Prestige Chrysler Jeep Dodge have dedicated themselves to providing a great customer experience to everyone who walks in the door or comes in the service drive. From the owner to the lot porter, and everywhere in between, the dealership focuses on treating guests right, he said.
Roopchand and Josh "Chop" Towbin, Prestige Chrysler Jeep Dodge owner, have the staff commit to this goal.
The Chrysler ranking is based on surveys answered by customers who shopped or had service at the dealership.
"Coming in first in customer service is a great way to help kick off our year," Roopchand said. "Plus these surveys provide us with feedback on areas we can improve our service to our valued customers."
Prestige Chrysler Jeep Dodge is part of the Towbin Automotive Group and is at 6510 Centennial Center Blvd. in northwest Las Vegas. Other stores in the Towbin Automotive Group have excelled in customer service rankings including Towbin Fiat of Las Vegas, which is ranked No. 1 in the state, and Towbin Dodge, which ranked above the national average of Chrysler Corp. customer service scores.
Josh Towbin recently sent a memo to Towbin Dodge employees thanking them for their dedication.
Prestige Chrysler Jeep Dodge opened in April 2010 and said it has almost doubled new-car sales each year.
For additional information, visit www.prestigecjd.com.