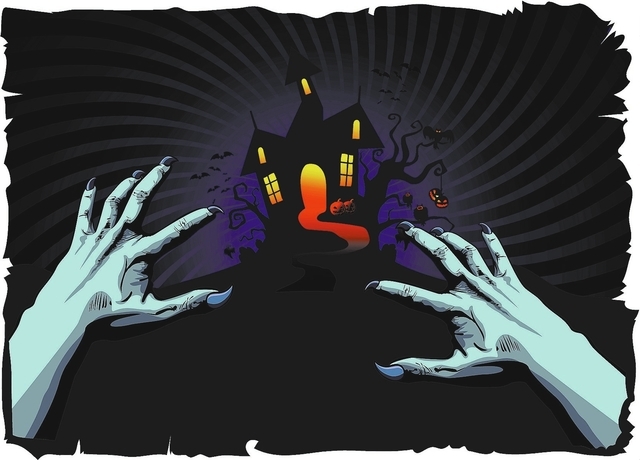 It's Halloween season — the perfect time for housing-market bogeymen to spook Southern Nevada's real estate sector.
California research firm RealtyTrac has quantified just how many local foreclosures are empty, and the company uses monster themes to distinguish default-resident status.
"Zombie foreclosures" are homes in the default process that have been abandoned. "Vampire REOs" are repossessed properties in which the foreclosed owner continues to live in the home.
The point of the analysis, RealtyTrac Vice President Daren Blomquist said, is to pin down just how much of a threat shadow inventory poses to the city's housing recovery.
Here's what the numbers show: Twenty-nine percent of local homes, or 2,395 units, in foreclosure are empty, or "zombie" homes. That's well above a national rate of 20 percent. And 40 percent of local homes, or 3,315 properties, are "vampire" properties, taken back by the bank yet with the former owner still living inside. That compares with a national rate of 47 percent.
Those rates are important because shadow inventory can be sneaky, Blomquist said. Take zombie foreclosures: They're the obvious face of the city's default crisis, the homes with the browned-out lawns and peeling paint. But RealtyTrac's numbers show that for every one of those homes you see, there are four others in foreclosure that look healthy, but are actually in trouble. It's the same story with former owners clinging to bank-owned homes, often as squatters.
Either way, RealtyTrac's figures show Las Vegans are quicker than average to abandon their home once they have loan trouble. That's partly because prices skyrocketed so much in the bubble that homeowners can't see a way out of their debt hole, Blomquist said.
But continual tweaks to the foreclosure process haven't helped, confusing homeowners about just how long they can stay, Blomquist said. They may have more time to hang around than they think; the average time to complete a foreclosure in Nevada has jumped from 280 days in 2010 to 420 days now, RealtyTrac's data show.
Even if it takes longer, that distressed inventory will eventually take a bite out of the market, Blomquist said. And that's where there's danger for the recovery.
"Foreclosure activity in Las Vegas has been going down on its surface, but beneath the numbers, there's still some distress that needs to be dealt with," Blomquist said. "The market has been gliding along over the past year and a half, not dealing with distressed homes. It's been able to disengage a bit from reality because these properties have been held back from being sold. It's helped prices accelerate very quickly."
That's not to say prices will plummet once shadow inventory reaches the market, Blomquist said. He said he believes the market is "pretty well-equipped" to handle any new inventory given strong demand. Look for vampire homes to hit the market in the next six to 12 months. Zombie homes could take longer, because they're still in a complicated foreclosure process, he said.
"This additional inventory will potentially be snapped up very quickly by buyers who still see the Las Vegas market as a great value," he said. "The flip-side is that this could be a good opportunity for people who may have felt like they missed out on the bottom of the market."
■ Ainsworth Game Technology has become the latest gaming business to make a land play in southwest Las Vegas. The gaming systems manufacturer closed in September on more than 23 acres of land on the north side of the Las Vegas Beltway east of Jones Boulevard.
John Glaser, manager of North American sales for the Australia-based company, said Ainsworth executives have no immediate plan to develop the property. It's leasing about 80,000 square feet nearby, at 215 and Decatur, and is in no rush to build. But rapidly increasing land prices coaxed the company into buying now, Glaser said.
"It's an investment. If the company decides to build out a facility, it will already have the land," he said.
The neighborhood is popular among gaming and entertainment businesses. Freeman Exhibit Services, Pepsi Bottling Co., SHFL entertainment and casino operator Golden Gaming are building or have opened operations along the beltway. Ultimate Fighting Championship parent Zuffa bought 24 acres in the area earlier this summer for a new corporate headquarters.
Records from the Clark County assessor show Ainsworth paid $7 million for its land. The previous owner, a limited liability company registered to Colony Capital, bought the property in a public auction in May 2011 for $5.28 million.
■ Commercial Alliance Las Vegas wants to help you help your community. The commercial real estate arm of the Greater Las Vegas Association of Realtors wants volunteers to help with its cleanup of West Flamingo Park, on Flamingo Road just west of Jones Boulevard. Volunteers will clean and paint over graffiti in the park beginning at 10 a.m. on Oct. 19. To volunteer, visit www.calv.org or call 784-5050.
■ NAI Sauter Cos. represented BNP Paribas VPG Brookline CRE LLC in its sale of 5.45 acres on Kelch Lane just north of East Tropicana Avenue. SID 52 LLC bought the land for $2.8 million, or $514,000 an acre.
Contact reporter Jennifer Robison at jrobison@reviewjournal.com. Follow @J_Robison1 on Twitter.