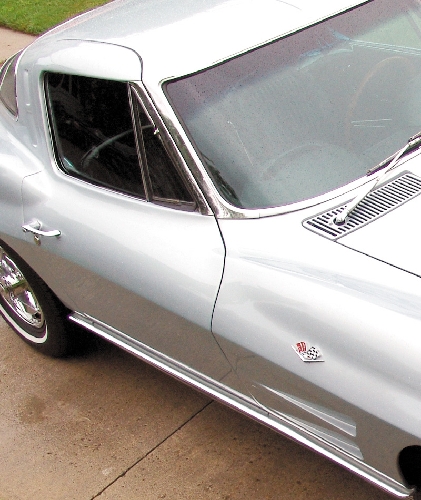 Evolution has a funny way of dictating what stays and what goes.
Aluminum siding went out with the eight-track player and vinyl became the hot commodity along with CDs. White-wall tires hit the scrap heap with chrome bumpers, the landau roof and full-size vans (for some strange reason, plaid interior fabric is still around, though).
Some other good ideas, however, like the proverbial baby thrown out with the bath water, have been discarded for no apparent reason. I don't mean fuzzy dice, whip antennas, chrome-reverse wheels and curb feelers.
Right about now, on this scorched strip of asphalt where the ambient temperature outside the moving vehicle is 100 F — and even higher inside — I'm speaking of the little triangular vent windows that would normally funnel in the outside air to make life in this nonair-conditioned road-test vehicle a little more bearable.
Do you remember vent windows? Right now, with four little dash vents, each no bigger than the lid of a makeup case, huffing and puffing and melted makeup and hair products drizzling down my face, that's all I can think of. OK, maybe an ice cream sandwich is on my mind, too.
Like all new high-tech cars, this test vehicle actually has small triangular windows that don't open or serve any other real purpose. They're inclusion is a complete mystery.
In a 40-year-old Ford Mustang, they pivot inward at the front once the little latch is, well, unlatched. Voila, instant relief from the sweltering heat.
Why doesn't this new, efficient, ergonomic and somewhat expensive car I have today come with this basic necessity?
I've heard many old-timers call these vent windows "poor-man's air conditioning." When vent windows disappeared sometime during the 1980s — along with roll down rear side windows — many people likely wondered if it was a big car-manufacturer conspiracy to force everyone into spending the extra money on air conditioning.
Right this moment, I'm also left wondering.
But, even with air conditioning, there are some days I would much rather funnel in some outside air instead of having the fake stuff from the dash vents blow cold spots on my hands and neck.
Like many things of an evolutionary nature, what stays and what gets left behind is sometimes a total mystery. When the change is so gradual that we don't really know it's even happening, all we have is a best guess and anecdotal information.
Some things go out of style, others are replaced with something better, but the little vent window of much cooler days gone by appears to be a complete mystery.
My boss, the editor, says one reason they fell by the wayside is because the vehicles of the day were just too easy to steal. He says that a good push from the outside would open them up, making it easy for your arm to slide through and unlock the door from the inside. How he knows this, we're not exactly sure. The copy editor thinks that too many accidents were being caused when the vent windows not only funneled in fresh air but every stinging insect with a five-mile radius. Too much time swatting and swerving and not enough time driving.
Most of you probably remember owning a car that had crank-out vent windows while cheaper versions merely pushed out.
They were great and then they were gone, now sorely missed in this uncomfortable four-door sweatbox.
So, help us out. What was the last vehicle you can recall that had vent windows and why do you think they were lost in the shuffle? What else went missing that shouldn't have? Is my boss, the copy editor or the conspiracy theorists (or none of the above) correct? Send me your thoughts.
Among her numerous accomplishments, Courtney Hansen is the author of the "Garage Girl's Guide," the host of Spike TV's "PowerBlock," the former host of TLC's "Overhaulin'" and a writer with Wheelbase Communications. You can e-mail her by logging on to www.wheelbase.ws/mailbag.html.