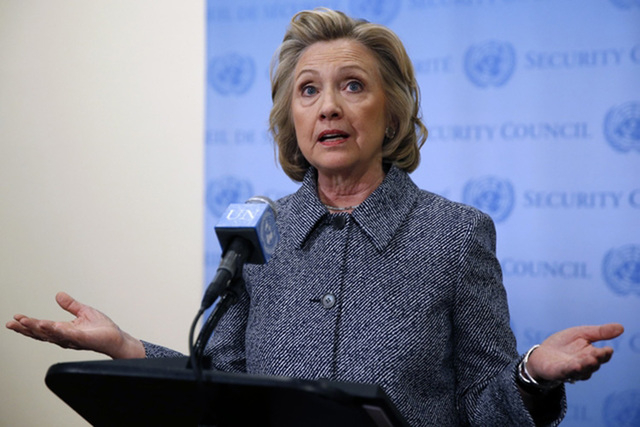 WASHINGTON — A leading Republican critic of Hillary Clinton said on Wednesday he wants the former secretary of state to testify about her controversial use of personal email for government work by April, timing that could coincide with her expected launch of a 2016 presidential campaign.
"I would like to have it done by April," Representative Trey Gowdy, a South Carolina Republican who chairs a congressional committee investigating the 2012 attacks on a U.S. diplomatic facility in Benghazi, Libya, said on Wednesday.
He told MSNBC he wanted answers on the emails "sooner rather than later," and said other congressional panels could also take Clinton to task over her use of a private email address and a private server at her home in New York state for official emails, rather than using government systems.
That could clash with Clinton's launch of her expected 2016 presidential bid. Democratic sources have said Clinton, who is the frontrunner among potential Democratic candidates, could formally announce her plans as early as April.
Her advisers were considering delaying the announcement until the summer, but many Democrats say the email controversy will force her to accelerate the timetable. A formal declaration that she is running would enable Clinton to hire a larger communications team and respond more readily to crises.
Clinton has come under fire for using a personal email address instead of a ".gov" one while she was secretary of state from 2009-2013. She defended the practice on Tuesday, saying it was a matter of convenience.
That did not satisfy critics, who say she avoided transparency and may have created unnecessary security risks.
Senator Rand Paul, a likely Republican presidential candidate, said on Wednesday Clinton's email practice raised issues about national security and classified information, telling NBC: "My sense of trust is a little bit lost."
Clinton has handed over 55,000 pages of emails to the State Department for a review that is expected to take months. The department said it gave about 300 emails related to Benghazi to the House of Representatives committee, but Gowdy says gaps remain.
Questions also linger over the computer server. Clinton said Tuesday she would keep the server, which contained communications with her husband, former President Bill Clinton.
But she also appeared to indicate that personal emails had been deleted. According to a Wall Street Journal report this week, Bill Clinton has not used email since leaving office.
Gowdy said his committee could not compel Clinton to hand over the server, but the full House might be able to address it.