Resident among 23 youth athletes to represent city's track and field team at Junior Olympics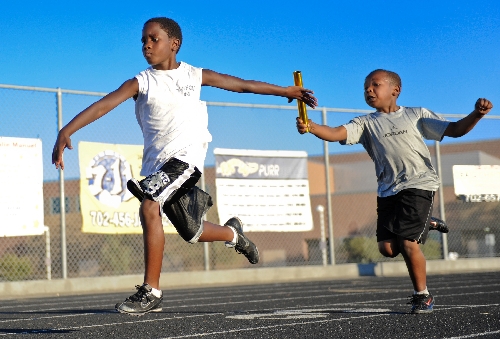 He has been a track and field runner for only five months, but North Las Vegan Jaylin Lowe is days away from participating in the USA Track & Field Junior Olympic program in Baltimore.
Seven-year-old Jaylin is among 23 youth athletes to represent the Las Vegas Heat track and field team, and he and his three fellow 4×100-meter relay runners are in the youngest overall division.
Jaylin began playing football three years ago and started track and field to enhance his footwork. Little did his family know his skills were natural.
"Running is fun to do," Jaylin said. "It makes me excited."
He excelled in his three events: 100-meter and 200-meter dashes and 4×100 meter relay. He is ranked first for the 100-meter race in the USA Track & Field Nevada Association's sub-bantam category.
"We didn't even know he could run," said his mother, Jackie Morrison. "We're really proud of him."
He breezed through the association's finals system but narrowly made the National Junior Olympic Track & Field Championships roster, Morrison said.
The top five competitors in each event during the June finals in Cerritos, Calif., were selected to move on the national event. Competition was tough, Morrison said.
"The California kids are a different breed," she said. "They're much more athletic; maybe it's because they can run all year; maybe it's because they have homegrown veggies."
Jaylin and his 4×100 relay teammates Amari Gatewood, Markail Wilson and Nicholas Youngblood placed fifth in their event.
"We were ecstatic," Morrison said.
The National Junior Olympic Track & Field Championships begin Monday and end July 29. Jaylin's events are slated to take place July 25-27.
Jaylin, Jackie and Bryant Morrison plan to travel to Baltimore this weekend. Jaylin is to participate in the opening ceremonies and events similar to the London Olympic Games, Morrison said.
Competition takes place in six age divisions through age 18. Jaylin and his fellow 4×100 meter relay runners are in the sub-bantam division, the youngest age level.
"I don't know what to expect," Jaylin said.
Twenty-three youth athletes are expected to represent the Las Vegas Heat team for USA Track & Field Region 15, said team coach Cedric Williams. It is the largest number of athletes who have qualified for the National Junior Olympics Championships, he said.
"Our region is one of the toughest to come out from," he said, estimating there are about 3,500 athletes in the association's Region 15.
The team practices from 6 to 9 p.m. Monday through Thursday at Legacy High School, 150 W. Deer Springs Way. The National Junior Olympics Championships are the team's final event of the season.
No matter the outcome, the Morrisons say Jaylin's devotion to the sport – he hates to miss practices – have led to many teachable moments.
Morrison said he's much more apt to eat a healthy diet and heed sage advice as it pertains to his new passion.
"We always let him know he's not always going to be the fastest, and just because you're first doesn't mean you'll win," Morrison said. "The goal is to always try your best."
Jaylin, a second-grader at Antonello Elementary School, already loves math, but track times were a real-life lesson. He shaved six-tenths of a second of his 100-meter dash time and said he would count and subtract the number of runners he had to pass during races.
"There was one race, he was about 10 yards behind, and he made up the space and won," said Bryant Morrison. "I was jumping up and down when I realized the speed he had."
The family prays before races, and Jaylin and Bryant work out together at home.
"He'll listen, and you can tell he's paying attention," Williams said. "He's a good kid."
Contact Centennial and North Las Vegas View reporter Maggie Lillis at mlillis@viewnews.com or 477-3839.